Men, even if you hate grooming, shaving your beard from time to time is necessary. Else, you'll end up with a rough and fuzzy beard. For that purpose, nothing can be more suitable than an electric razor, which will not only give you desired results in a second but will also make your work incredibly easier and hassle-free. If you have made up your mind to get the one, check out this list of top 10 best electric razors for men. It will help you to get the best one. 
List of the 10 Best Electric Razors for Men in 2020
10- Barun Series 9 9290 ee electric razor for men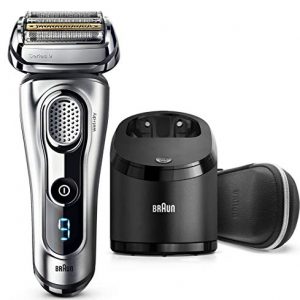 When it comes to the most efficient eclectic razor, Barun series makes a surefire place on the list. The thing that makes it efficient is its user-friendliness and exceptional gentleness to your skin. It features 5 synchronized shaving elements, which help you capture more hair in every stroke. It also features 2 specialized trimmers. With the help of that, you can shave even the trickiest hairs. It autosensing motor ensures a smooth shaving experience overall. 
9- Barun Series 7 790cc electric foil shaver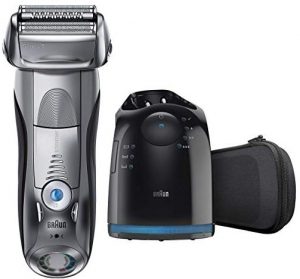 An advanced electric razor for men by Barun Series. The unique feature of this electric razor is that it is designed with an ActiveLift trimmer, which helps you capture the flat-lying hairs in sensitive areas easily. With the fact that it is inbuilt with Intelligent Sonic Technology, you can increase the power if you want while shaving the dense hairs. After using it, you can clean its every part without any worries because it is waterproof and can easily be assembled again.
8- Barun Electric razor for men, series 5 5190cc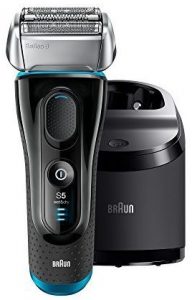 If you have sensitive skin and it easily gets rashes, you should consider buying this electric razor because it is designed with skin sensitive technology. Given the fact, it will work smoothly on your skin without leaving any rashes or skin irritation behind. Its flexible head can be turned in 8 different directions smoothly enabling you to shave even in difficult areas. In addition to that, it is designed with FlexMotion technology, which provides a smooth shaving that too with less pressure on the skin. 
7- Philip Norelco electric shaver 2100, S1560/81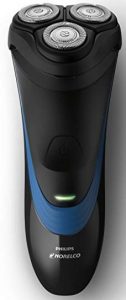 For the people who are looking for a small-sized electric razor for men, Philip Norelco razor can be the best fit. It is small in size and equipped with all essential features. The razor smoothly turns around in 4 directions making it easy to flawlessly shave your face and neck. Its self-sharpening blades allow you further functionality and its lithium-ion battery is powerful enough to last for hours. You would need nearly 8 hours to get it charged fully. Once it is full charged, you can use it for hours. Given the fact, it is worth the price by all means. 
6- Venyn 4 in 1 Richor Rotatory electric shaver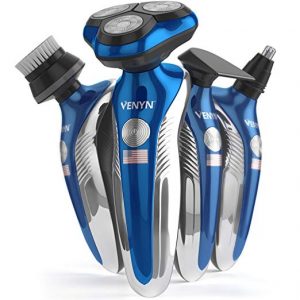 It is not just an electric razor for men but a complete kit that provides more functionalities as compared to other electric razors. The kit includes a shaver head, trimming head, beard brush, and a nose hair remover. You can use each of them as per your needs. All razors are designed with efficient battery backup, which enables you using them cordless for 60 continuous minutes. Its rotatory heads automatically adopt the contours of your face ensuring a smooth and flawless shaving experience. 
5- Remington F5-5800 Foil Shaver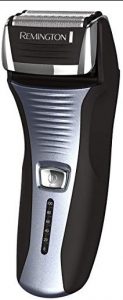 The simplicity of design and complexity of technology is combined in this electric razor for men. Unlike other electric razors, it is designed with 'Intercept Shaving Technology', which pretrims the longer hairs and makes them suitable for a seamless shaving. Moreover, it is also featured with 'Pivot and Flex Foil Technology'. Given the fact, the razor stays close to the skin and provides impressive results. The battery is rechargeable and has a cordless runtime of 60 minutes. 
4- Remington PF7500 F5 comfort series foil shaver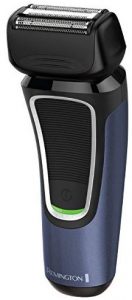 If you want a low-priced Remington electric razor for men, turn to this one. It is equipped with almost all features that you need for a smooth and flawless shaving. Still, it is low in price. The razor is designed with 'intercept shave technology' and 'pivot and flex technology', which enhance its functionality. It also features a pop-up trimmer. With the help of that, you can easily trim your beard, sideburns or any other body hairs. 
3- Remington XR0 Verso Wet & Dry Man's Shaver140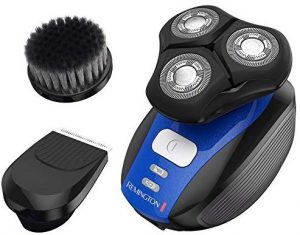 This Remington electric razor for men is probably the most stylish razors on this list. Its ergonomic design doesn't only make it fit smoothly in your hands but also adjust the shaver head to any angle. Given the fact, it never fails to give a smooth shaving experience. The rubberized grip on both sides allows you further control over the razor while shaving. Furthermore, it is designed with PrecisionPlus Heads, which seamlessly shaves the long hairs and short stubbles together at the same time.  
2- Philips Norelco OneBlade hybrid electric shaver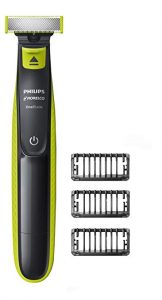 If you have a rapid growth of beard but you're too lazy to shave it regularly, get this electric razor because it can efficiently shave the hairs of any length. The razor remains close to the skin and does its job precisely providing a smooth finish. With this electric razor, you can even trim or edge the hairs. To add more, the razor features a rubberized handle, which ensures a firm and smooth grip. The blades are replaceable just in case you got them damaged somehow. 
1- Panasonic Arc5 electric razor for men

Here comes the most advanced and stylish electric razor for men. It is designed with Shave Sensor Technology, which detects the density of beard and automatically adjusts the cutting power for the smooth and flawless results. It is also equipped with a built-in pop-up trimmer. With the help of that, you can trim your beard, mustache, and sideburns. In addition to that, the razor also features a linear motor, which keeps the peak power up to the very last moment of battery charge. Its multi-flex pivoting heads seamlessly turns around and adjusts the contours of your face. 
Conclusion
Though girls find men with beard desirable, the clean-shaven men are just irresistible. Interestingly, shaving your beard with an electric razor is as easy as pie. So boys, get one these top-quality electric razors and sweep the girls off their feet with your killing looks.