A home security alarm is as important as the locks. It adds an extra layer of security to your house by detecting unauthorized entry or intrusion. So, if you want to protect yourself against theft and intruder, get a reliable home security alarm and handle these mishaps like a boss. We understand, choosing the best one can be difficult as there are piles of home security alarms in the market. But, our list of top 10 best home security alarms will help to make your decision instantly.
List of the 10 Best Home Security Alarms in 2020 
10- Ring Alarm 14 pieces kit+ echo dot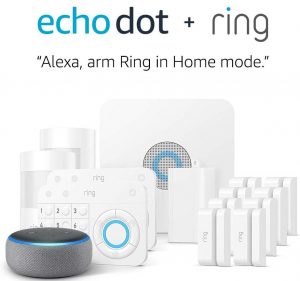 Keeping eye on your house when you're away is not practically possible but this Ring home security alarm makes it possible technically. Just mount it on the wall and configure Ring app with your phone. That's all. Now, you'll get alerts on your mobile each time when a window or door is opened. It even sends you an alert when little motion is detected in the house. You can customize the setting of device as per your needs in minutes. 
9- LifeShield, DIY smart home security system

True to its name, LifeShiled home security alarm truly shields your home from intruders. It is equipped with 2 pet-friendly motion sensors, 4 door sensors, a smart camera, and a fire safety sensor that can work smoothly with your fire alarm. Speaking of its security levels, it provides 4 layers of security. Its mobile app will keep you updated with every single movement and happening of your house. You can even view the live video of your house from anywhere with the help of its app.
8- SimpliSafe 10 pieces wireless home security system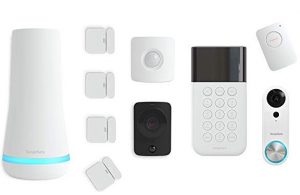 SimpliSafe wireless home security system is one of the most expensive and advanced home security alarms on this list. It features 4 entry sensors and 1 motion sensor and 1 panic button. Unlike many other home security alarms, it is designed with a base. Given the fact, you don't necessarily need it to mount on the wall. You can place it anywhere you want. To ensure the top-notch security, it is equipped with HD security camera and HD video doorbell. 
7-  Thustar home alarm system wirelss GSM security system kit remote control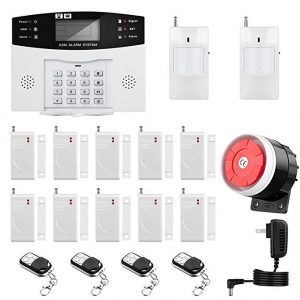 Another powerful home security alarm, which can be a savior for you. The device supports 6 groups calling phone number and 2 groups help SMS number, which you need to preset while configuring the device.. You just need to press the alert button and the device will automatically dial the preset emergency numbers. In addition to that, it features AAA Ni-Hi rechargeable battery that can last up to 8 hours without power supply.
6- AG-Security high-efficiency home security system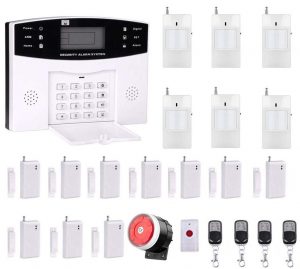 If you have to leave your little kids or the oldies behind in the house and you're really concerned about their security, consider buying this home security alarm. This security system is designed in such a way that it sends a call and a message to you and your other family members when it detects danger. The device supports up to 6 groups of alarm phone numbers that are meant to be preset.  Furthermore, it is inbuilt with GSM functionality, so you can a GSM Sim card if you need. It is surely one of the best home security alarms out there. 
5- Fortress Security-classic home security system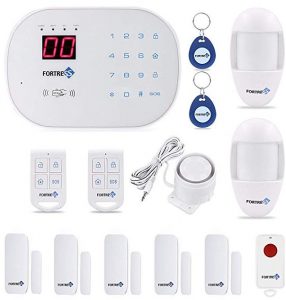 Fortress security classic home security system is a fully programmable home security alarm. It comes with 14 pieces kit, which you need to assemble appropriately while installing the device. To allow you more flexibility and security, it is equipped with an auto-dialer function, which will dial the designated numbers automatically when the device will detect any breach or theft. Along with sensitive sensors, the device is designed with a loud alarm of 110 dB too. 
4- Thustar professional home office security system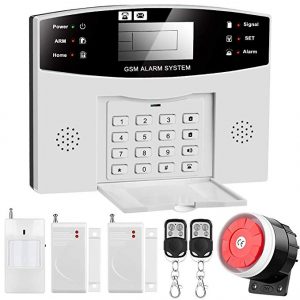 If you can't compromise with your tight budget, turn to Thustar professional home office security system. It is extremely low in price yet offers pretty decent services. It features all basics features such as auto-dialer, LED light, voice prompt, and GSM module. The sensor does its job so beautifully that it can detect even the little motion. As soon as it detects any suspicious activity, its powerful alarm of 110db beeps loudly and lets you know about the danger. 
3-  DIGOO HOSA 2G Wireless home and business security alarm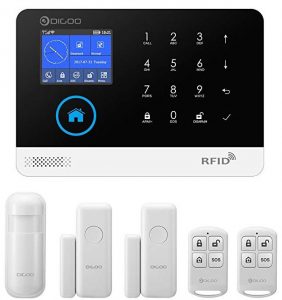 Operating high-tech and complex devices are not always easy. If you also think so, here grab an easy-breezy and reliable home security alarm. Its user-friendliness makes it one of the loved home security alarms. It is equipped with no advanced features yet does its jobs flawlessly. The device is Wi-Fi compatible, so you can configure it with your phone and control all security of your house at your fingertips. Whenever it detects any suspicious movement, it sends you an SMS. In this home security alarm, you can preset 5 emergency calls. 
You may like: Top 10 Best Home Security Cameras in 2020
2- LifeShield- 15 pieces DIY smart home security system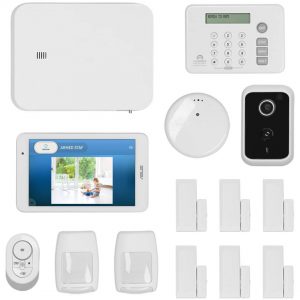 LifeShiled DIY smart home security system is an advanced home security alarm featuring 15 pieces of accessories. It features 8 sensors, which never fail to detect even minor movements. Moreover, it also features a smart camera that ensures top-notch security. To enhance the functionality further, configure your phone with Life Shield's app. Unlike other home security alarms, it provides you a long battery backup of 24 hours. Given the fact, you don't need to worry if power is cut for long hours. 
1- Fortress Security Store home security alarm system with a basic kit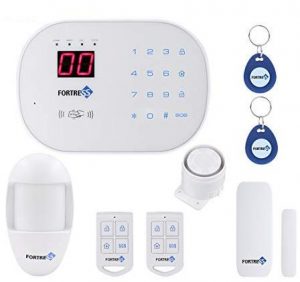 Fortress Security Store offers top-level security at an amazingly low price. It is designed with wireless sensors and an autodialer, which do their job without fail whenever needed. To enjoy advanced functionality with this device, install MyFrotress app on your mobile and keep a constant watch on your house. With the help of the app, you can get a quick real-time view of your house from anywhere at any time. You'll also receive a notification whenever a suspicious activity or any change in the setting of the device is detected. 
Conclusion
Alone locks are enough to secure your house and personal property. If you want unbreakable security, go a step ahead and get one of these reliable home security alarms. It will add multiple layers of security to your house and save you from burglary and breaching.