Giant bean bag is considered as one of the most comfortable and relaxing chairs of the present time. Let's imagine you are coming back home from a tiring working day or sport activity, then you have a soft and comfy giant bean bag to lay down on. That's the heaven right? If you already feel the comfort out of it, let us introduce you the top 10 best giant bean bags which our team has spent quite a mount of time to research and select them here for you.
These giant bean bags can be used at home, office and restaurant as well. The bag can also be used for napping, sitting to work, meditation and more. Moreover, the bean bag chair can also be a couch for a house decoration, seats for home theater or even a couch for your picnic in front of the lake or inside the park. This article will be giving you more insights to about the product and its specialties. Check them out!
What to Consider when Buying a Giant Bean Bag
When it comes to something related to home decorations or comfort zone, we need to be extremely decisive in picking them. Just like a giant bean bag, we need to be careful otherwise we won't the best quality one for ourselves. So, below are the key factors you should consider before buying the bean bag.
It is very important to make sure the bag's fabric is made out of microsuede, pebbles, soft faux linen or ultra-fur to ensure long-lasting usage. These materials also provide a comfort to the bean bag to sit or lay on.
It is even better if the bean bag sack is made with a double stitched for extra strength. The stitch ensures the durability of the bag. Therefore it's good to note it.
We always want the bean bag that we can use for long time. However, we as human always mess up what we sit on. So, it is great to find a giant bean bag chair with a removable cover and machine washable as well as having tough zippers provided. This will bring you a long term happiness.
The most recommended length is either 6ft or 8ft in terms of size of a giant bean bag. However, it depends on your need anyway. It's not always a must for the length and height as our body is different.
Choose the bean bag which is filled with the shredded foam or poly foam, so that it doesn't change its shape much after a long period of usage.
List of the 10 Best Giant Bean Bag Chairs in 2023
10. Comfy Sacks Giant Bean Bag: 6 ft Lounger Memory Foam Bean Bag Chair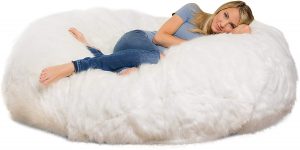 Comfy Sacks Gian Bean Bag is coming in the very first list of our its kind. The Comfy Sacks offers this giant bean bag with various colors for the customers to select based on their preferences. Moreover, it comes with 6ft lengths that allows you to rest yourself on that peacefully without hurting your back, since the inner material is covered by soft cushion.
The cover of this giant bean bag is removable so you can take it off and wash it when you want to. The inside of the bean bag chair is filled with a memory foam that does not change its shape after a long usage. You can use this giant bean bag to sleep on for napping or sleeping in when you want to change the sleeping environment asides from your bed. If you want more options of the bean bag chair from Comfy Sacks, you can check out its bean bags list here.
9. Lumaland Giant Bean Bags: Luxury 7-Foot Bean Bag Chair with Microsuede Cover Dark Grey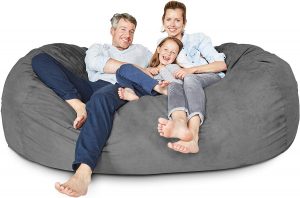 This next product is another giant bean bag chair made by Lumaland. The Lumaland bean bag is available in various lengths and colors for you to choose based on your preference and heights. The bag is vary between 3foot up to 7foot selections. Moreover, the cover of this giant bean bag model is made out of microsuede and is washable in the washing machine. They are soft and durable as well. The inner material of Lumaland bean bag is made out of an extreme quality cushion, a kind of memory foam filling, which ensures long-time use.
On top of that, the Lumaland giant bean bag would be a perfect decoration for your bedroom, living room and meeting room since it comes in 8 colors to fit in most environments and spaces. It's for both a single use or small family use. But if you have a small baby, you may consider one of these Infant Bean Bag Chairs instead.
8. Cozy Sack 6-Feet Giant Bean Bag Chair for Home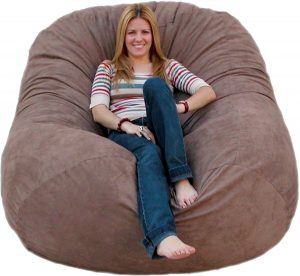 Are you afraid of getting a giant bean bag chair that comes with unreliable materials that makes you feel itchy or uncomfortable? Not to worry, Cozy Sack is here to help you by providing high-end products that are durable, reliable and good as of price, too. It comes in various sizes and colors for you to choose that varies from 3feet up to 8 feet and 14 choices of colors.
Moreover, the materials of this bean bag model are being certified that doesn't contain any harmful chemicals that could damage your health. This model ensures that customers receive a high-quality cushion that you could ever asked for as well as a soft and sleek cover that is removable with tough zippers and washable too. It's known for being among the most comfortable and safe giant bean bag chair of its kind.
Watch the video to see how people enjoy themselves with the giant bean bag in the family
7. Chill Sack Giant Bean Bags: 8′ Memory Foam Furniture Bean Bag Sofa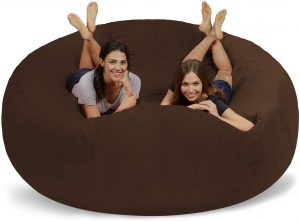 Chill Sack offers a giant bean bag sofa alike. This bean bag model is the biggest chair so far in this review with the actual size of 96 x 96 x 34 inches. Moreover, the bean bag comes in 20 colors for you to choose. On top of that, it provides 2 choices for the customers to choose when it comes to the fiber cover- microsuede or pebbles which are all durable and soft too.
Chill Sack comes with a shredded, soft memory foam that is durable and it still stays in shape even after a long time of using. The best part about this giant bean bag model is that it is resistant to stains. You will feel confident in using laying down on it.
6. Sofa Sack Plush Bean Bag Sofas with Super Soft Microsuede Cover – XL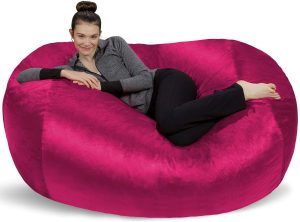 This might be an ideal pick for you if you are looking for a giant bean bag that could fit up to 2 people in one chair. Well this is not the only kind, but this Sofa Sack giant bean bag provides customers with durable, soft and high-quality materials that have never disappointed anyone who purchase it so far. The bean bag comes in 13 colors for you to choose based on your preference and XL size (6feet) chair that is spacious and clean design too. You can explore other colors to find your favorite with the click on the button above.
Moreover, the foam that is stuffed in this model comes in a really high quality that doesn't change the shape after a long-term usage as it is a memory foam and double stitched to ensure the chair's durability too. Sofa Sack has a high portability and versatility that can be furnished beautifully anywhere you want to.
5. Jaxx 7 ft Giant Bean Bag Sofa Charcoal for Couple or Single Use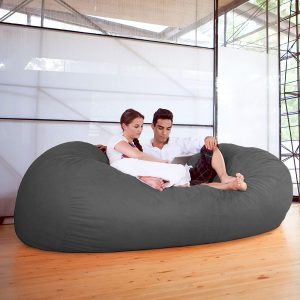 Looking for a warranty for your cute couch? Not worry, unlike any other giant bean bag chair, this model provides customers with a year warranty for higher maintenance. Jaxx bean bag chair comes with a full-size 7ft couch that serves customers with 16 choice selections and 2 choices of covers – microsuede or micro velvet.
Moreover, Jaxx provides a soft and memorable foam that is durable and pressure relieving support too. This would be a nice decoration for your home, living room and house yard. This giant bean bag is an ideal chair for relaxing couple!
4. Chill Sack 6′ Bean Bag Chair: Memory Foam Furniture Bag & Large Lounger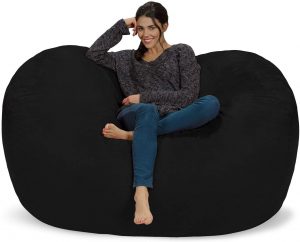 Here comes another model of Chill Sack but in a smaller size of 6feet. This model comes in uncountable colors for you to choose and 4 fiber choices too- such as micro suede, pebbles, soft faux linen and ultra-fur. These choices allow you to pick your desired product based on your own preferences.
Moreover, the filling of the couch is made out of shredded, foamy and memorable cushion that doesn't hurt your back or changing the form of the couch. It comes with a durable and soft cover that is durable, removable and washable in the washing machine with tough zippers too.
3. Big Joe Lenox Fuf Foam Filled Bean Bag, Extra Extra Large Bean Bag Chair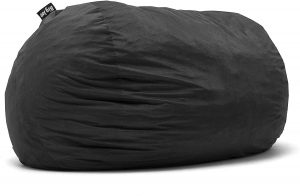 If you are looking for different styles bean bag chair, this might be an ideal pick for you. Big Joe consists of high-quality fabric and 3 chair styles for you to choose- lenox, comfort suede and union. Not to mention that, it also comes in 15 colors for you to choose as well as many sizes for you to choose too. The filling of this model is made out of Ahhsome Foam that is soft, memorable and durable too.
Moreover, it is mentioned that, the filling can be refilled too, if you feel like it is soaking down. This would be a great decoration for your apartment, living room or bedroom.
2. Christopher Knight Home David Faux Suede 8 Feet Lounger Bean Bag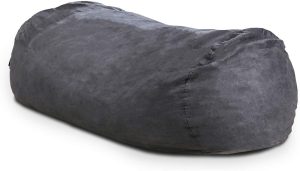 Christopher Knight Home consists of high-quality and durable materials that satisfies the customers needs. It serves you with 3 different sizes- 5ft, 6ft and 8ft and 6 color choices. Not to mention that, this model comes in a comfort suede and a recycle foam filling that is being certified. Therefore, you don't have to worry since it couldn't harm your health.  Moreover, the cover of this model is removable, washable and durable too as it is being double stitched.
1. CordaRoy's Giant Bean Bag, Convertible Chair Folds from Bean Bag to Bed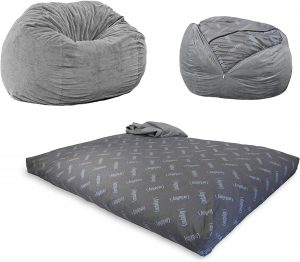 Moving on to the very last product of the review, which is a versatile bean bag chair that is made by CordaRoy's. It comes in 3 sizes for you to choose- full, king and queen size. The filling of this chair is filled with polyfoam that doesn't go flat and still stays in shape even after a long-term usage.
Moreover, this chair is convertible to a flat mattress that is soft and easy to lay on so as the cover that is durable and washable too. Due to its high-quality and versatility, it is considered as the best product of this article.
---
Frequently Asked Questions about Bean Bags
What is a bean bag?
Bean bag is a chair which is made of a tough fabric bag and filled with with beans, rice or other beads such as EPS, EPP or compressed form. Unlike other solid furniture, the bean bags are designed to be flexible and comfortable for people to sit in, lay down and even sleep in it comfortably. You can use the bean bag chair for relaxing in a backyard, working and even for the kid to jump in for their fun activities. It's the most flexible and relaxing seat and bed combined for me.
Is bean bag chair comfortable?
Bean bag chair is very comfortable for laying down for a short period of time or napping. For us, the best bean bags you can rely on as as following brands: Comfy Sack bean bag, Lumaland Luxury bean bags, Cozy Sack bag bean chair, Sofa Sack giant bean bag, Jaxx Giant Bean Bag Sofa and more in the list.  These big bean bags are very comfortable for a long time relax. Yet, please noted that nothing can beat your bed if you need a peaceful and healthy sleep.
How long does a bean bag last?
Normally, the best bean bag can last between 3 to 4 years. However, the lifespan varies depending on the materials used to made it, and how the people use it. For instance, if we aggressively use it without proper care, it might be teared down quickly. But if you use the bean bag with proper care, regularly wash and keep it out of the sun light and rain, then it will be your best companion for a long period of time. Some bean bag allows you to change the outside cover as well. So, you can always feel the newness of your seat all year round.
Are bean bag chairs good for gaming?
Well if you are a gaming addict like me, you know how many hours we need to sit in front of our computer or on smartphone everyday. That puts a lot of burden on our back. That's why getting the most comfortable chair is my best option. Now, imagine if you have a giant bean bag chair for you to lay on while enjoying your competitive gaming activities with your peer? Man! this is going to be a heaven. The bean bag allows us to rest our back comfortably while we are using our computer or phone. So, why not get one?
Why are the giant bean bag chairs so expensive?
Well, because it is a giant, right? Actually, there are three factors that make the bean bag chair expensive. First of all, it is made from expensive materials. The bean bag is built to handle the extra weight of our body because we like to jump into it rather than gently sit in it. Therefore, the manufacturers need to use a strong and tough fabrics, such as high quality cotton, nylon or leather to handle that. These materials are costly.
Second is the bag's filling. Most bean bags are filled with Expanded Polystyrene (EPS Beads), Expanded Polypropylene (EPP), Micro-Beads and, Compressed Foam and other natural material such as beans, rice and so on. These fillings are also expensive. And when you built a huge bean bag, you are going to need a lot of them to provide comfort to your body.
Last but not least is the making process. The bean bag production has to go through different steps before you get the final product. And that's the labour cost plus machine cost. These are the three main reasons that make the giant bean bag expensive. But it's a comfortable chair, right?
Conclusion
We've finally come to an end of the article. Just to wrap things up once again, it is a really good idea for everyone to have a giant bean bag chair in each of your home. Not only the chairs are huge, but they also make you feel comfortable, relaxed with their soft cushion and durable materials. I'm sure that they would absolutely bring your a fully relaxing day at home into another new level with its comfort and coziness.
The 10 products that were just reviewed above are all great in size, quality and price and I'm sure that getting one of these won't be a disappointment for you guys.
Last update on 2023-11-30 / Affiliate links / Images from Amazon Product Advertising API