We all know how important the health of our teeth is! Nice teeth gives us a beautiful smile, while healthy teeth give us a good bite of every food we like. Therefore, we need to look after both the beauty and the health of our teeth for a long run. You don't wanna have a smile without teeth soon, right? 😉
To me, I always have a proper plan to look after my teeth every year. A few days ago, I went to see my dentist as I always do twice a year. My dentist said my teeth are still in good condition, yet I need to take care of them more than the previous year as my age is adding up. So what should I do? Let me share with you the THREE important things the dentist advised me to use for the health and beauty of my teeth. And I'm sure you need them, too. Let's begin!
1. Choose a Toothbrush with Softer Bristles
As we grows older, so do our teeth. Therefore, the dentist recommends that we choose the toothbrush with softer bristles than before. We all learn that we should brush our teeth at least twice a day; early morning before breakfast and before bed after our dinner. The soft bristles are kinder on our teeth and on our gum. If your mouth is small like me, then the small head toothbrush is also recommended. We need to brush our teeth thoroughly but gently.
There are many kind of toothbrush on the market nowadays. Yet, you can choose between the two kinds: the Manual Toothbrush or Automatic Toothbrush. If you like something automatic, go for the electric one. I just bought a manual one anyway. If you are curious which one I chose, I found the below Colgate Total Advanced Floss-Tip Toothbrush for myself. It works good to me so far. You can click on either manual toothbrush and automatic toothbrush for more option for yourself.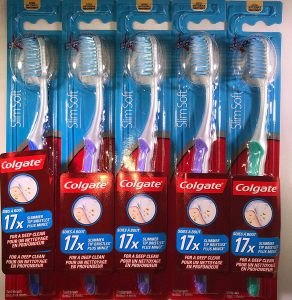 2. Choose Fluoridated Toothpaste
Besides toothbrush, using the a good quality toothpaste is also necessary. As recommended, fluoridated toothpaste helps strengthen our teeth and reduce the risk of teeth's decay. The ingredients in fluoridated toothpaste help make our teeth healthy. There are many toothpastes which are made with fluoride element. If you like, click on here List of The 10 Best Fluoridated Toothpastes I have compiled for you. But if you like to follow me, I just chose to buy Crest ProHealth Advance below as it focuses on tooth and gum protection. And that's what I need for mine!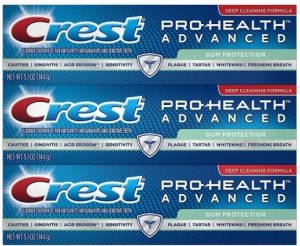 3. Use Floss for Additional Cleanup
Sometimes, toothbrush and toothpaste cannot do all the job to clean our teeth, especially when we eat tough meat. There is always a tiny piece of meat hiding deep between our narrow teeth. Here come the role of the floss. It helps us to clean our tooth where the brush cannot reach. Anyway, if you don't feel a need for it, it's ok for not using it. I have never used it before. I just give it a try for now, and start learning to use it. You can find the Top 10 Best Teeth Floss here if you would like to give a try as well. Below is what I am using.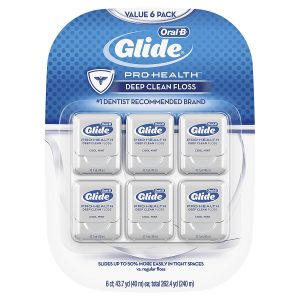 The above three items are what I learn that we need. Yet, there are more products if you want to do more such as refreshing mouthwash and teeth whitening kit as well. Yet, to me, the three above is enough for now as my teeth's color is good enough and my mouth doesn't have bad smell. But do remember that we need to check out our teeth regularly with the dentist in order to prevent any incident on time. Twice a year is good if there is nothing serious happen to our teeth. Most importantly, limit sugary foods, acidic drinks such as soft drink and fruit juices at night. Last but not least, don't bite anything which is stronger than your teeth 🙂
Have a healthy teeth with a big smile 😀