Are you an artist, who can't compromise with your drawing? Yes? Well, then you don't only need a fully-equipped drawing kit and supplies but also a comfortable and adjustable drafting table. A drafting table will make your work smoother by providing you essential support and comfortable working space. So, go ahead and invest in an adjustable drafting table. The umpteen brands of drafting tables in the market might confuse you. That's why here we have listed down the top 10 best adjustable tables in 2020 for you. 
List of The 10 Best Adjustable Drafting Tables in 2020
10- ZENY Height adjustable drafting desk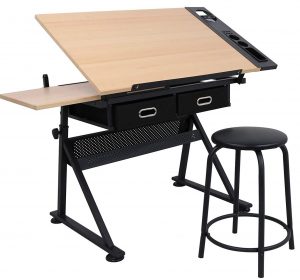 If you love wooden tables, ZENY height adjustable drafting table is made for you. It is constructed of high-quality MDF and powder-coated iron legs. To keep the drawing supplies handy, it features 2 front drawers, which do their job seamlessly. The height of the table is adjustable. Given the fact, it can be set in different work positions, offering you the utmost comfort. Adding more to its features, its iron legs are designed with footpads that are helpful to protect your floor from unwanted scratches. 
9-Stand Up Desk Store height adjustable drawing and drafting table, silver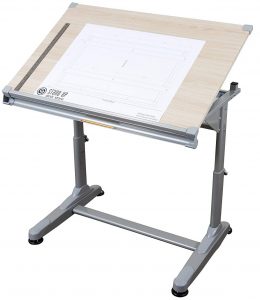 Stand Up Desk Store adjustable drafting table is a simple, robust, and reliable drafting table. Unlike other adjustable drafting tables, this one features some advanced functionalities, which provide you an increased focus and comfortable support. Moreover, its large thumbscrews offer you the right angle for a perfect drawing. You can also adjust the height as per your needs. Other than its versatile design and advanced functionalities, its sturdy steel construction makes it more desirable. 
8- Stand Up Desk Store height adjustable drawing and drafting table, black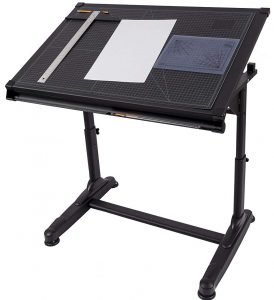 If the classiness of black color attracts you, Stand Up Desk Store black-colored adjustable drawing table will please you to the core. Packed with lots of features, this drafting table is user-friendly and never fails to offer you comfortable support when drawing. You can adjust the height of the table according to your needs and make it a standing desk or sit down desk. Furthermore, the table is designed with rubber feet, which stabilize the table even on uneven ground. 
7- ZENY Glass Top adjustable drawing desk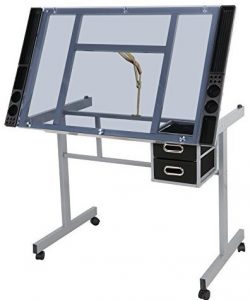 Get ZENY glass top adjustable drawing desk and take the flexibility and adjustability to the next level. Yes, unlike other adjustable drafting tables, you can even adjust the angle of desktop in this drawing table. Given the fact, it can be used in different positions for different purposes. Another good thing about this drafting table is that it is designed with 4 rolling casters. With the help of them, you can move it around without any hassle. The table also features 2 big drawers. 
6- Super Deal adjustable drafting table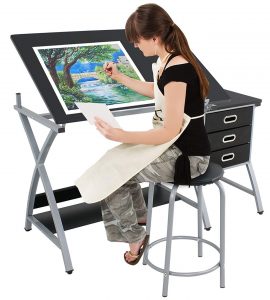 Super Deal adjustable drafting table is the perfect blend of stylish design and robust construction. From adjustable height to mind-blowing versatility, solid construction to chic design, and rubberized footpads to a comfortable footrest, this adjustable drafting table features all. In fact, it is made keeping your needs and comfort in mind. The table also features 3 drawers, where you can keep your drawing tools and supplies. To your surprise, the tables comes a cozy and soft-padded stool to ensure you the best drawing experience. 
5- Adjustable drafting table by Nova Microdermabrasion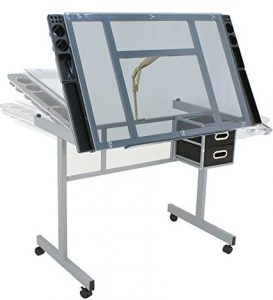 Nova Microdermabrasion will take your drawing experience to the next level with its outstanding features and remarkable versatility. The table offers you a wide range of height adjustments from different angles. To ensure reliable and firm support in every position, it is designed with an inner carrier hinge. Speaking of construction, it is made of heavy-gauge steel and features 8mm tempered glass top. For easy mobility, legs are inbuilt with 4 smooth-rolling casters. 
4- Tangkula Drafting desk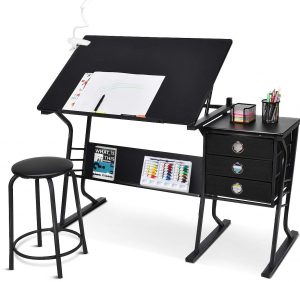 Another adjustable drafting table that comes with a sleek and comfortable stool. Speaking of functionalities, the table allows you the flexibility to adjust the height in different positions. Moreover, it features 3 drawers and 1 handy open shelf, where you can keep the stuff like your books, drawing sheets or the paint set. Adding more to it, the table is designed with the non-slip padded feet, which don't only prevent the floor from scratches but also keep the table stable on its place. 
3- Tangkula adjustable drafting table with side shelf white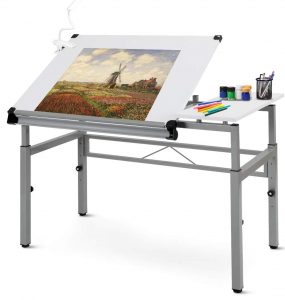 Tangkula adjustable drafting table is a sturdy drafting table with a classic antique design. It is made of 18mm thick wooden tabletop and robust metal frame, which together provide you durable service. The height of the table can be adjusted in 4 different positions. Even after that, if the height is not suitable for you, you can adjust the angle of the desktop according to your needs. For easy and handy storage of drawing supplies, it also features an open shelf and a little slot specifically for the pens. 
2- Studio Designs 13346 Solano adjustable height drafting table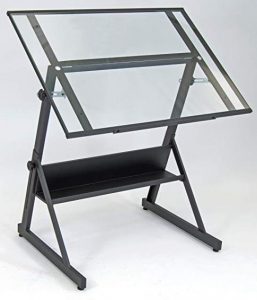 If you choose quality over fancy design, go for Studio Designs 13346 Solano adjustable drafting table. It might look simple and conventional but it is unbeatable when it comes to reliability. You can adjust the height of the table and angle of desktop according to your needs. Just below the tabletop, there is a large open shelf, which helps you to keep your drawing essentials, tools, books, and other such stuff handy. The table features 2 legs and they are designed in such a way that you can fold the table when not in use. 
1-  Studio Designs vintage rustic Oak drafting table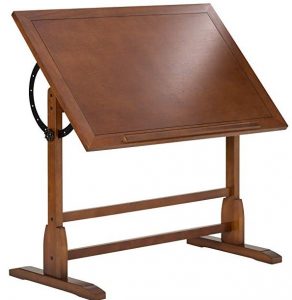 Get the Studio Designs adjustable drafting table and add a vintage charm to your room décor. Completely made of oak wood, this drawing table has a robust construction, which can easily withstand the daily wear and tear. The table features 2 footrests in order to provide you relaxing comfort. In addition to that, you can also adjust the tabletop, which will provide you a comfortable drawing experience preventing the back strains. Its alluring design is further beautified with the captivating cherry-colored sleek finish. 
Conclusion 
These are the top 10 adjustable drafting tables right now. They are the best value for the money and the trust you put in them. So, don't hem and haw. Just get the most suitable one for you and transform your drawings into the masterpieces of art.