Ask a girl about hair styling products and a hair dryer will inevitably find a place on her list. Seriously, hair dryers, especially BaByliss hair dryers, have become highly demanding in recent few years. They don't only allow you to dry your hairs fast but also style them in different hairdos. However, you need to buy top quality BaByliss hair dryer for that matter. Wonder, what are the top-notch BaByliss hair dryers? Well, go ahead and check out this list of top 10 BaByliss hair dryers in 2020 as follows.
List of the 10 Best BaByliss Hair Dryers in 2020
10. BaByliss Hair Dryer, PRO Ceramix Xtreme Dryer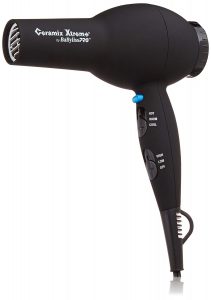 Let's start up the list with an unbeatable hair dryer by BaByliss. This hair dryer is a rare combination of class and fashion. Featuring 2000-watt power and 6 heat settings, BaByliss PRO Ceramix Xtreme Dryer is versatile. You can adjust temperature, speed, style, and heat setting as per your needs.  The best thing about this BaByliss hair dryer is that it is designed with 'Ionic and Porcelain Ceramic Technology', which ensures extra gentle heat and protects hairs from heat damage. If handheld hair dryer is your preference, then you can pick up this one or go down further in the list. Yet, you might also consider bonnet hair dryer if you want to change the way to dry your hair.
9. BaByliss Hair Dryer Tourmaline Titanium 3000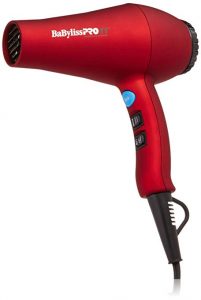 If you're afraid of excessive heat and want something less than 2000-watt power, turn to BaByliss Tourmaline Titanium hair dryer. It consumes 1900-watt power and works like a breeze. To add further, it is extremely lightweight and ultra stylish. The thing that makes it stand unique from others is its rubberized finish. Yes, unlike many other BaByliss hair dryers, it has a rubber finish all through, which ensures a tight, snug, and comfortable grip. It also features a cold shot button, which is meant to provide cool air.
8. BaByliss Hair Dryer Nano Titanium Portofino Full-size Dryer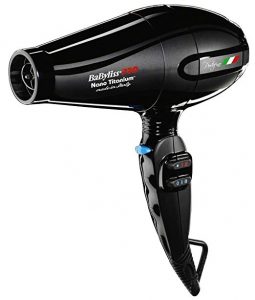 BaByliss Nano Titanium Portofino full-size dryer is a bit pricey as compared to other BaByliss hair dryers, but it is worth the money. The reason being, it is equipped with a 2000-watt Italian motor, which is more powerful and durable. To add further, it is designed with Nano Titanium Technology, which gives the optimal results by distributing heat evenly. You'll hardly find this feature in any other BaByliss hair dryer. With this hair dryer, your hairs won't tangle no matter which hairstyle go for.
7. BaByliss Hair Dryer Pro, BABNT053T Nano Titanium Travel Dryer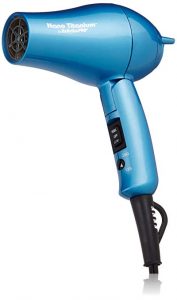 If you're the person who often travels around and need a hair dryer in your makeup kit all the time, consider buying BaByliss Pro BABNT053T Nano Titanium because this one is incredibly lightweight and compact. It also features a folding handle and a concentrator nozzle. However, you have to compromise in the heat setting. Unlike many other BaByliss hair dryers, this one is designed with 2 heat settings and a 1000-watt motor. Nevertheless, it features everything whatever you need in a perfect blow dryer.
6. BaByliss Hair Dryer PRO Tourmaline Titanium 5000 Dryer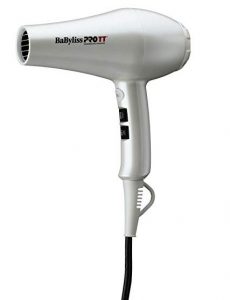 Another BaByliss hair dryer with tourmaline titanium technology, which will allow bright and long-lasting shine to your hairs. Its far-infrared heat dries hairs quickly and makes the process smoother. The amazing thing about this BaByliss hairdryer is that it is designed with a high torque, which delivers the drying power smoothly as well as evenly. Furthermore, if you want to enhance its flexibility, adjust the heat distribution in 6 different heat modes.  Given its top-notch quality, it is surely worth the price.
5. BaByliss Hair Dryers Nano Titanium Volare Full-size Dryer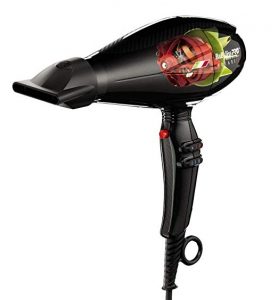 This one is unique in its own way. Unlike other BaByliss hair dryers, it is designed with Ferrari engine. Given the fact, it ensures a smoother performance, stronger air pressure, faster airflow, and lesser noise. To add further, it features nano titanium infused grille, which provides a superior heat transfer and professional hair drying experience. Use this hair dryer as many times as you want. It will retain natural hair shine and smoothness of your hairs
4. BaByliss PRO Ceramix Xtreme Hair Dryer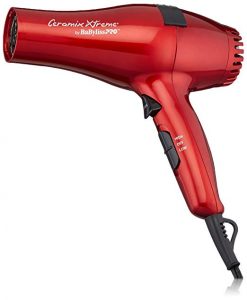 If you want to treat your dry, rough, and brittle hairs, turn to BaBylissPRO Ceramix Xtreme dryer. It is a savior indeed. The reason being, it is designed with ceramic technology, which protects your hairs from heat damage by producing gentle and far-infrared heat. Interestingly, it costs much cheaper than other BaByliss hair dryers. Though it is designed with 2 temperature settings, it meets the needs perfectly. To enhance the functionality, it also features a cool shot and a concentrator nozzle.
3. Revlon One-step Hair Dryer& Volumizer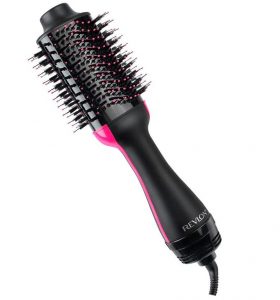 If you have been using a simple hair dryer, Revlon One-step hair dryer might seem you different. Yes, it is different in design and functions differently too. It is actually designed with an oval brush and round edges, which make it easier to lift the hairs. With its powerful motor of 1100-watt and 2 heat settings, Revlon one-step hair dryer does its job perfectly. Given the fact, it is suitable for all types of hairs. So, just go for it even without a second thought.
2. BaByliss Porcelain Ceramic 2800 Dryer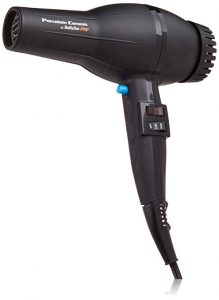 If you're looking for good quality and reliable hair dryer at an affordable rate, have a look at this BaByliss hair dryer. Designed with ionic and porcelain ceramic technology, this hair dryer is a head-turner in the market. The beauty of this BaByliss porcelain ceramic hair dryer is that it dries the hairs in a fraction of moment without letting them lose their natural shine. Experiment in its 6 different heat settings and achieve the stylish hairs the way you want.
1. BaByliss Hair Dryer Pro Turbo Professional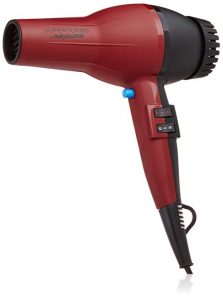 After looking at this BaByliss pro turbo dryer, you won't wonder why it topped the list. To sum it up in a sentence, it is the perfect blend of class and technology. From its ultra-stylish design to classical look and from reliable services to amazing durability, it really deserves to be on top on the list. It has an AC motor of 2000 watt, which ensures smooth performance all through the process. You can adjust the settings in 4 temperature modes. So, don't hem and haw. Just get it and say bye to your frizzy hairs.
Conclusion
Now it comes down the list. If you can not find the right one for yourself, then you can check out Dyson hair dryer brand. You can find many brands of hair dryers in the market. Nevertheless, it is only the few that actually meet the needs. We have already told you about them. So, check out the list again and get the one that is meant for you.