Having a trampoline setup for your kids already bring smile and laugh on their faces to you. However, this playing equipment does not limit your kids to only jumping and rebounding but bringing much more enjoyment to them if you add some extra accessories to it. So, here are the best trampoline accessories you know, and probably consider to add more for your children.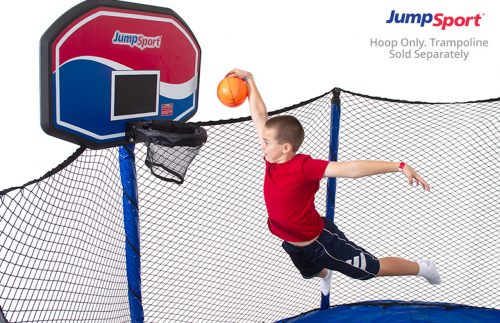 Basketball hoop is normally placed and installed on the playground so that you can run and challenge one another to throw the ball into the ring. However, there is a special designed of basketball hoop for trampoline, and it can add extra fun to your boys to play with. It is considered as one of the most wanted trampoline accessories for boys. But first, you might need to ask if your kids love basketball or not? Well, most boys do right? As we know, kids who love basketball love to slam dunk the ball like the professional one. With the help of the trampoline's springboard, your kids can fly to dunk the ball step by step, and make it possible after days. So, what you need to do as the parents is to buy one hoop along with the ball and basketball landing pad, then get them setup, and let the kids to enjoy their sport activities.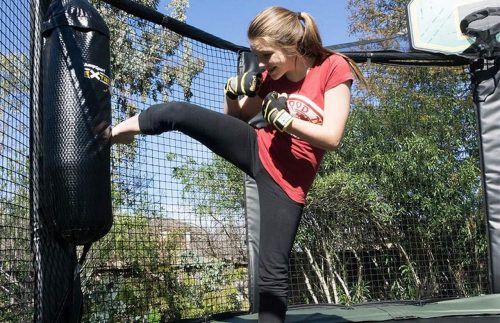 Do you know that you can attach the training bag to your trampoline for training as well? This accessory setup is not for only your little boys or little girls, but for you as well. It depends on what type of trampoline you own. If you own a big trampoline for adults, then you can practice boxing and kicking with your kids. It gives you a new experience of training than just doing it in the club or on the floor. With the bouncing springboard, you will learn how to balance your body while kicking or boxing the bag. Try it and you will feel another level of exercise and training for yourself. Your little boy and girl will love it even more, unless they don't like boxing thing.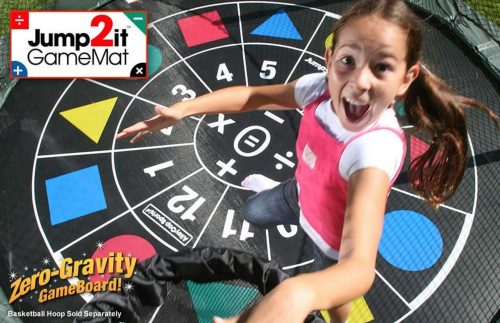 Assuming your kids don't like the training bag; so here is the simpler but better option of trampoline accessories for them. This gaming mat is used to place on the trampoline's springboard for kids to jump play with. It contains the clock face, math symbols, numbers, various color shapes and other educational game cards. You kids can learn to calculate maths in the trampoline, challenge one another with game board, and more. Can you imagine how your children are gonna like it? You'll never know unless you give them such a surprising gift.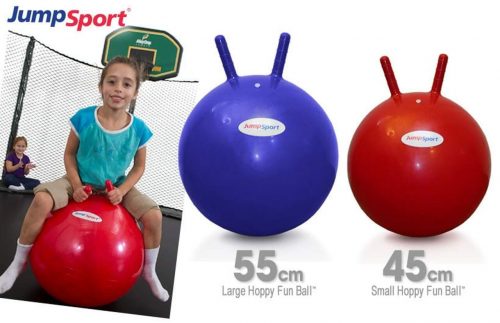 Have you ever seen how much the kids love sitting and jogging on the hoppy ball like they ride the horse? Yeah those hoppy balls you see can be used on the trampoline as well. Adding the bouncing fun balls into the trampoline will bring more options for activities to your kids, and they won't feel bored. They can enjoy riding on them as if they are riding on the real horses. Kids love such an imagination, right? Unlike other normal balls, the hoppy balls have two handles for children to hold while sitting on them. However, please make sure you have the safety net enclosure setup on the trampoline before you let your kids to hop on it.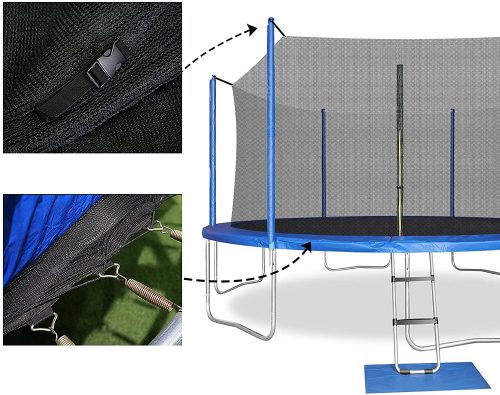 Yes this is the trampoline enclosure we talked just above. It is for ensuring the safety of your kids as it plays role as the protective fence. You might think it doesn't add more fun as we promise? But safety is a fun itself, right? The safety net makes sure your kids' playing without worry. That will allow them to enjoy themselves to the maximum. However, make sure you get the right enclosure that fits with your trampoline's size and shape. We have compiled various types for you in the link. Feel free to go through and find your right one.

Water sprinkler is the best trampoline accessory for summer time. In a hot weather, it is hard for children to play on the trampoline. But imagine if you have the water showering like the rain, it will chill the kids right? Yes, the kids will happily jump and rebound on the trampoline like in the rain. It is well-recognized that attach water sprinkler to the trampoline will help reduce temperature by 25º, making it among the most needed accessories for trampoline in every summer. The water sprinkler can be setup and removed easily when the summer ends. Keep it for later use.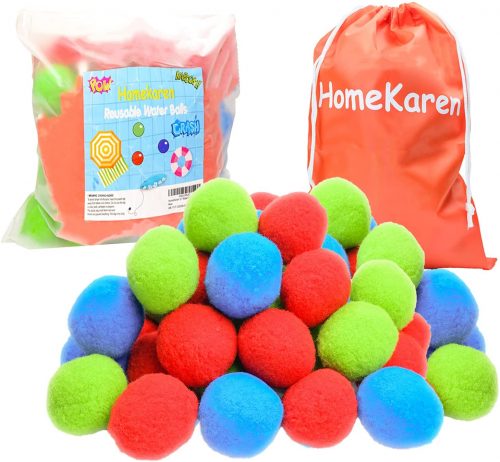 These water balls are normally made of cotton which cam absorb water very well. Kids loves to splash water at each other when they play in water. So, imagine to have these colorful balls spreading on the trampoline springboard under the shower from the sprinkler? You know what your kids will do right? They will splash these balls or throw at one another like in the battle field. That's gonna be so much fun! I'm feeling so real while writing this article. These water splash balls can played in the pool and at the beach as well.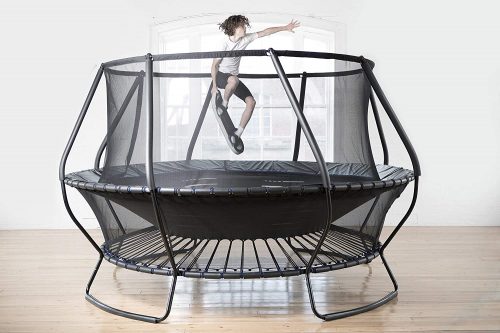 Bounce board is a jumping board for trampoline built with an adjustable velcro straps. It is for made for kids to learn new skill or play by attaching their feet to the board and then rebounding and jumping on the trampoline springboard. It is made of durable soft foam that allows the kids to try various tricks safely. The kids can make movement freely in the air while jumping, snowboarding and more. It's good for them to develop their sport activities before they can surf in the real ocean.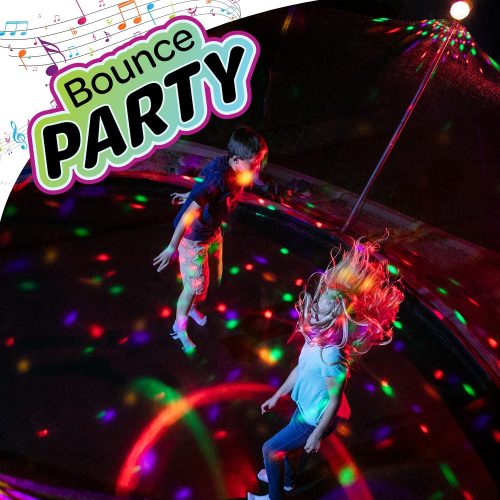 How about summer nighttime dancing in trampoline under LED lights and music? Which kids will say no to such a bouncing party? The trampoline lights are like clubbing lights designed to work with the rhythm of the musics. They have various colors and dance around with you. The lights are durable and very safe for kids. You just installed it 0n the pole, direct it into the springboard and turn them on. It's very easy to install. If you don't want to buy the new lights, you can also use your Christmas's LED Rope Lights to wrap around the trampoline enclosure as well. The kids will love it for their summer nighttime fun.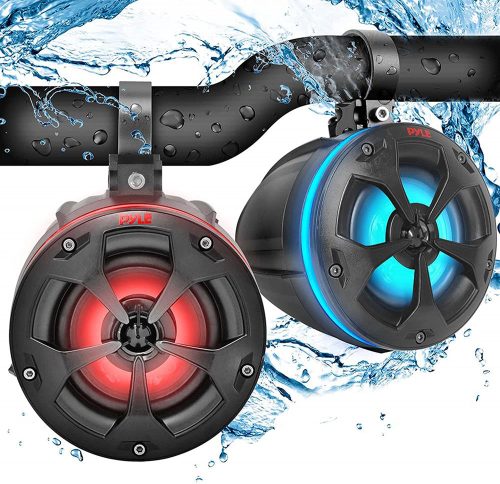 As we mentioned just above, music lights for trampoline is not complete without the speakers. Don't you think so? You can actually get one or two portable Bluetooth speakers along the lights so that the trampoline dancing club is well equipped. The portable speakers make it easy for you to just hand it on the pole with the lights. Then, connect it to your smartphone via Bluetooth. You can play and command any music just right from your hand. You can also use this speaker for both indoor and other outdoor activities as well. So, it's a one for all music tool. That sounds so much fun for kids right?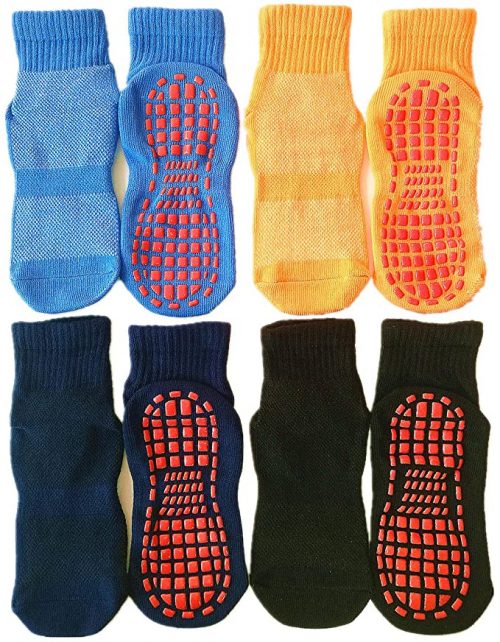 Trampoline socks are not necessary. But if you want to add extra comfort to your kids while playing on trampoline, you can consider having these socks for them to wear. Normally, they are recommended if your trampoline springboard are not comfort enough for the kids' feet. These socks can help protect their feet from any harm or accident as they are designed with thick pads like shoes. There are also various colors and styles for the kids' favors and very cheap, too. Anyway, make choice where you see fit.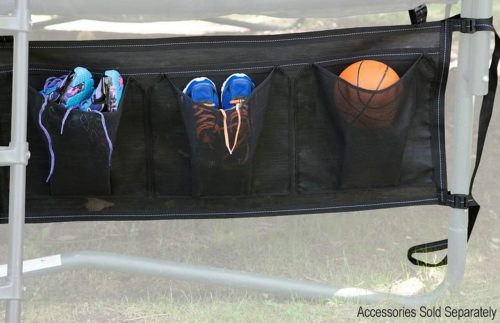 Why you need this shoe bag as part of your trampoline accessories? Well, this bag helps the kids to keep their shoes and other stuff properly when they climb up to play in the trampoline. The bag is designed with string to clip with the trampoline poles. It is very easy to attach and hang the stuff. It is always best to keep things well organized for kids. You can just grab it form Amazon or Walmart for just a few dollar.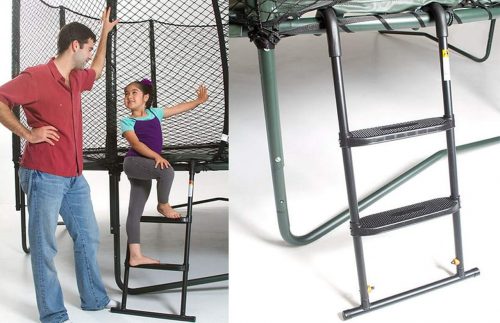 You may need the ladder for your kids to properly climb up the trampoline. You can actually carry them and place them in the trampoline as well. But as your kids grow up, they always to do something by themselves. So, ladder is among the trampoline accessories you should have, especially if you have a large trampoline. It also helps save you from spending time with kids all the time as kids can enjoy themselves without you. They can go and climb up the trampoline among their peers whenever they want to. Having the ladder setup and let them enjoy themselves.

This is the last accessory for trampoline you should have. Why you need them? Well, these anchor kit helps strengthen your trampoline and ensure it to stand with more stability. You don't want your trampoline to fall while your kids are in it, right? These anchor kit comes with 4 large heavy duty cork screw twisted into the ground. You connect them to the trampoline frame using a strong strap. The four straps will help prevent your trampoline from moving or flipping when there is strong wind as well. You should consider to have them equipped if you feel the need of them.
Conclusion
These trampoline accessories are very crucial to have as they do not only provide additional fun activities to you and your kids but also provide safety to them. However, it is not necessary to have all of them. You can just pick the ones you need. Hope this compilation is helpful to you. Feel free to add your opinion or share among your friends.