Leather adhesive or sometimes called leather glue is a life saver in our daily living, ranging from repairing our shoes, purses, bags, car seats, sofas or couches and many more. We accidentally tear our stuff apart very often, right? Therefore, we need to have at least one of these glues for our emergency. The list of the glues the glow in this review is not only for shoes or purse, some products are for paper sticker, fabric, metal and wood as well. So, if you are looking for the right glue for yourself, scroll down the list and find your right one!
List of the 10 Best Leather Glue and Fabric Glue in 2023
Reviews
10. Leader Glue 

Tear Mender Instant Fabric and Leather Adhesive

Leather glue Tear Mender is a well-recognized glue brand made for repairing fabric and leather products. The glue substance can stick and bond the fabric as well as leather together very quickly and flexibly. The Tear Mender leader glue is waterproof, machine washable, and dry cleanable which is very suitable for sticking or repairing your leader shoes, and other fabric stuff.
The glue is wearable within 3 minutes and washable in as long as 15 minutes. Furthermore, the glue has non-toxic formula that makes it friendly to your skin. You can even touch it with your hands. The best thing about this glue is that it doesn't require any heat or ironing during the application. Not to forget, you can use the glue indoors as well as outdoors.
Why we recommend it:
It's a Latex-based adhesive glue designed for repairing leather and fabric with flexibility.

Its bonding is resistant to water, machine wash and dry cleaning.

The bonds not flaming, no toxic and  no UV effect.
9. 

Coconix Leather Glue, a Vinyl Repair Kit for Couch, Sofa, Car Seat, Shoes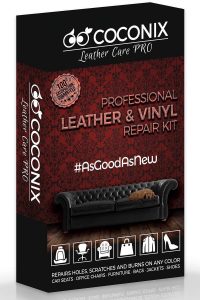 Do you always have a tearing issue with your car seat, leather sofa, a couch or even your shoes? If so, Coconix leather glue is the answer to your problem. This leader glue kit comes with a set and ability to restore any tearing material with any color of your choice. The glue can be used to fix scratches, holes, and a crack in your favorite furniture as well as repairing your shoes, belts and even your warming coats.
You don't need a heating tool to use this glue. Just apply it and it will do its work. Either you have an old or new genuine leather product, Coconix leader glue has no discrimination. It will just do its adhesive job. Unlike others, this leather glue is suitable not just for small tears and scratches but also for midsize and wide rips. Since the glue has thick consistency, it quickly dries and also free from stickiness.
Why we recommend it:
It's easy to use and restore the tearing part of your sofa, car seat, and shoes and more.

It's an expert fixer for scratch, hole, burn and crack of your leather products.

Works by itself without the help of heater

It's recommended by the professional with 30-day money back guarantee/1 year free replacement.
8. Gorilla Super Glue Gel, A 20-g Clear Leader Glue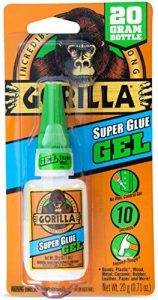 You know how strong Gorilla is, right? Well, this is about glue anyway :). The Gorilla glue gel is designed for repairing vertical surfaces of your equipment. It's a tough rubber substance which can stick your stuff very fast without the need of clamping. It's suitable for bonding plastic, wood, metal rubber, leather, paper, ceramic and more.
As opposed to its competitors, this leather glue is designed with an anti clog cap that prevents the glue from drying out. Another good thing about this glue is that it quickly dries. You don't need to apply the glue and wait for it to get dry. it hardly takes 10-45 seconds to get dry. Ideally, the glue is formulated to absorb impacts, shocks, and drops.
It's designed for fast setting and clog cap protection

Strong and resistant with most environment
It's welcome to fix almost any products ranging from metal to leather and to even paper.
7. 

Aleene's Leather Glue & Suede Glue 4oz

For Aleene's Leather & Suede Glue is made for dry cleaning leather only. Yet, it's the expert repairer for leather shoes, purse, belt, bag and other leather stuff. Sometimes, we humans have our memory stuff and we want it to stay with us for the rest of our lives. So, what are we gonna do if we accidentally tearing them apart? Well, here come the role of Aleene's Leather Glue fixer to keep our memory last 🙂
The interesting thing about this glue is that it doesn't soak through and stain the surface. Plus, it also dries quickly and ensures a firm bond. The only thing you need to keep in mind is that the glue is not washable or dry cleanable. With the fact that the glue has thick consistency and it offers reliable bond, the glue can also be used to make home décor and embellish your accessories.
Why we recommend it:
It's a simple and easy to use glue

It can repair leather shoes, belts, purses, bag and more.

That's it!
6. 

Shoe-Fix Glue, Instant Professional Grade Shoe Repair Glue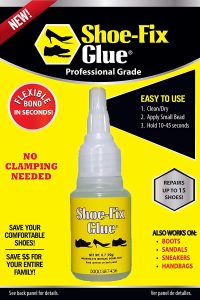 As the name tells, it's born to fix your shoes! Well, if you are a kind of person who accidentally tear your shoes apart often just like me, then let's get this Shoe-fix glue for our saver. It works well and can bond your shoe's tearing part instantly without the need of clamping. It's been used by the professional and known for shoe repairing expertise for more than three generations.
The glue can be used on various types of materials from rubber to vinyl. The unique thing about this glue is that it is unaffected by heat, moisture, and cold. Given the fact, the glue offers firm, reliable, and long-lasting bond. Though the glue is specifically made of shoe repair, you can use it to glue other things too.
Why we recommend it:
Can fasten your shoe's tearing part quickly

Create a flexible bond with is resistant to heat, cold and moisture.
Work for almost all kind of shoes; dress shoes, climbing shoes, boots, sandal and athletic shoes.
last for long and confident in itself.
5. 

Boot-Fix Shoe Glue, Instant Professional Grade Shoe Repair Glue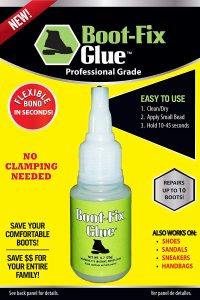 This leader glue is designed specifically for boot, but that does not limit its ability to fix other kinds of shoes anyway. Like other the shoe-fix glue, this one's main focus is for boot users. It can help repair your boot shoes instantly without the need of a clamp. In fact, the stickiness of the glue is so fastened that it can even reattach the separated sole. It's recommended by professional for its durable ability and strength.
Unlike other leather glues that are not good enough to be used vinyl and rubber, this glue can efficiently be used on almost all types of materials. Besides that, using the glue is also extremely easy. Simply, open the cap and apply a little bead of glue. That's it. In just 10-45 seconds, the glue will do its job.
Why we recommend it:
Fast bonding and quick dry

It's clear glue gel which can be used with any shoe color
It's tough and long lasting
It's not just boot repairing expert, but also many other kind of shoes.
4. 

Tandy Leather Eco-Flo Leather Weld Adhesive 4 oz. Leather Glue

Tandy leather glue is made for repairing and fixing all kinds of leather products, cloth, chipboards, paper based and more. It's glue gel which is flexible and easy to use. You can bring along anywhere with ease and it's gonna be a life saver. Anyway, you need to press the tearing part of your shoes or fabric stuff together until the the glue is dry before releasing it. It needs some time to dry but it does its job well after that.
The best thing about this leather glue is that it is incredibly user-friendly and completely eco-friendly. Besides that, the glue has no smell either. The glue has water-based formula that enhances its effectiveness hundreds times more.In fact, the glue is so effective that even a single layer of glue will sufficient for a firm bonding.
Why we recommend it:
It's an Eco-Flo Leather Adhesive Glue 4 oz

It comes a fluid form which is easy to fill in the hole
It's just simple as that. No complexity.
3. 

Fiebings Leathercraft Cement 4 oz Glue

The Fiebings Leathercraft Cement is a kind of leather glue for fixing or strengthening the bond of crafted leathers. It's non-toxic and non-flaming and get dry quickly to serve your need. Well, it doesn't only use for sticking leather shoes anyway, it can stick many things such as leather shoes, leather purses, leather bag, clothes, chipboards and paper. But make sure you clean up the dirt of your stuff before glueing it. Otherwise, the glue might not work well due to the dirt.
The versatility of this leather glue is the reason for its popularity for among the users. Plus, its remarkable user-friendliness also makes it a loved choice. If you're concerned about its usability, worry not. Just drop a little glue where the fabric is torn and wait for it to get dry. Once it is dried, the glue will do its job.
Why we recommend it:
It's well-known leather craft glues for its quality

It has many years of experience in sticking tasks

Customer satisfaction oriented products.
2. Tear Mender Instant Fabric and Leather Adhesive Glue, 1 Gallon, TG-128
Buy on Amazon.com
This is another Tear Mender fabric glue and leather glue which is well recognized for its adhesive work. The glue has the ability to repair any kind of leather and fabric products and bond the parts together for long lasting. The bongs are resistant with water and UV. It's a non-flaming and non-toxic glue with flexibility. It works best by itself without the need of heat or iron.
This leather glue is meant for the people who hate waiting. Unlike others, it offers instant bond. Just within 3 seconds, the fabric pieces are bonded as if they were never torn. In fact, you can wash that fabric piece just after 15 minutes and it won't be affected at all. Since the glue is not easily affected by the water, it can be efficiently used outdoors too.
Why we recommend it:
Usable within 3 minutes of application
Washable after 15 minutes
Meant for leather and fabric
Has non-toxic and acid-free formula
1.  

Fiebing's Leathercraft Cement, High Strength Bond for Leather Projects

Well, this is the last one on the list. Leathercraft Cement is good for its kind in repairing and fixing the leather and fabric stuff. It comes as water-based adhesive form, non-toxic and non-flaming. If you prefer this brand, then it's a good choice for you.
The glue has high strength and it offers permanent bonding. Plus, it also has strong resistance against water. Owing to the stickiness of the glue, it is capable enough to bond not just leather but also shoes, purses, wallet, jackets, gloves, and even furniture. What else you can ask for? Above everything, the glue dries quickly and leaves no mess behind.
Why we recommend it:
Has water-based formula
Multi-purposes
Offers quick drying
Has non-toxic and acid-free formula
FAQs
Can I use this leather glue to stick papers as well?
Yes, of course. These leather glues are multi-purpose. They can't only help you bond leather stuff but also papers, other types of fabric, accessories, and home décor stuff.
How do I apply the glue to the fabric?
Well, you don't need to worry about the application of the glue. Simply, open the cap and drop a bead of glue. That's it. Now, spread it with your fingertip or a brush all over the required area and press the other side of the cloth over it. It's done.
Can I wash my leather cloth after applying the glue?
Of course, you can. These glues are made keeping this factor in mind. After 15 minutes of application, you can wash your leather cloth without any worries. The glue won't go off no matter how many times you clean the cloth.
Conclusion
I hope my review above will help you find the right leather glue and fabric glue for your need. So, don't hesitate. Go ahead with your purchase and revamp your old leather jacket and shoes. In just a few bucks, you can give long durability to your old leather stuff. Have a nice day!
About glue in brief:
Glue or adhesive is a substance used to stick separated things together. It comes in different forms such as cement, mucilage, water based, or paste. Adhesive or glue was first discovered in central Italy some 200,000 years ago. It's too long to recall actually.
Last update on 2023-06-02 / Affiliate links / Images from Amazon Product Advertising API