Modern-day science and technology have given us appliances that have made our lives comfortable and have made everything available at the tip of our hands. There are various extremely useful appliances available in the market today that we have access to. The collapsible electric kettle is one of such appliances. Now, you don't have to go around looking for hot tea or coffee of your preference when on your trip. You can make it whenever you want with this foldable electric kettle which you can store it in just a small space of your backpack. This kid of collapsing electric kettle can also be used to warm and boil water or make instant noodles as well.
Many people who travel on a daily basis are worried about their health and hygiene. While on business trips, dedicating time and effort to maintain hygiene might not be possible under all circumstances. Carrying a personal portable kettle could be one way of taking care of your health while traveling. So, if you are on a hunt for one, check out our compilation of the best foldable and collapsible electric kettles below.
Top 3 Best Selling Collapsible Electric Kettles on Amazon
List of 10 Best Collapsible Electric Kettles in 2023
10. Cheapest Amongst All: Gourmia GK360 Travel Collapsible Electric Kettle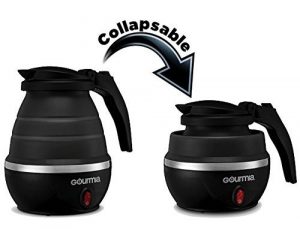 Brand: Gourmia
Warranty: Not mentioned
Colour: Black and White
Gourmia is a renowned name in electrical appliances, and its products have been trustworthy. This particular foldable electric kettle is very convenient to carry around. It is compact, foldable, and lightweight but quantitative enough to make yourself a bowl of oatmeal or a cup of coffee. This TUV certified kettle comes with quick boiling features and safety measures.
This foldable electric kettle has the potential to get overheated while in use. Hence, you will have to be very cautious while handling it and avoid touching it directly. However, it comes with safety features like sturdy lid lock, boil-dry protection, and integrated spout filter to ensure the safety of the customer before anything else. If you always run out of packing space, it's a good idea to get it along with one of these collapsible drinking cups and collapsible bottle to keep yourself hydrated.
Key Features
Speed boil feature ensures quick boiling
Collapsible design makes it easy to carry around
Light and Durable and therefore long-lasting
Has safety features for consumer benefit
TUV Certified and trustworthy
Size is 4.2 x 7.2 x 6.5 inches
Easy to use and handle
Has boil-dry protection to prevent unnecessary usage
9. Most Lightweight: Konika Portable and Collapsible Electric Kettle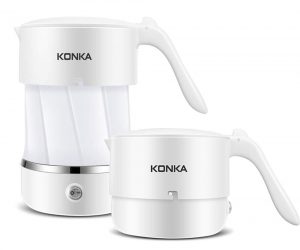 Brand: Konika
Warranty: Not mentioned
Colour: White
Konika, yet another brand name in the market of electrical appliances, offers innovative products to improve your lives. This foldable electric kettle is portable and durable and weighs only 2 pounds. Hence, it can be used while traveling. With its sturdy, silicon translucent pitcher, it makes your morning cup of coffee, tea, or bowl of oatmeal healthy and special. Dual voltage and universal adapter make it usable in any part of the world.
If you are looking forward to investing in a good portable electric kettle, this is a good pick for you. It can be used at home, in office, camping, hiking and traveling abroad.
Key Features
Folding design saves space
Dual voltage allows the kettle to adjust according to the available electricity
A universal adapter can be used anywhere around the world
Boil-dry protection technique prevents accidents
Fast boiling saves your time
Food grade silicone material ensures non-toxic food
Size is 8.6 x 6.9 x 5.2 inches
8. Best Kettle Overall: Loutytou Ultrathin Foldable Electric Kettle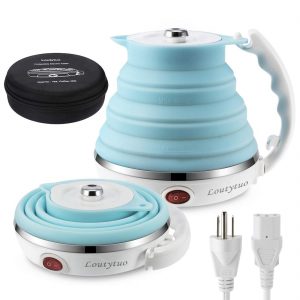 Brand: Loutytou
Warranty: Not mentioned
Colour: White and Blue
This Loutytou collapsible electric kettle comes with a separate heating plate making it easier to store, and a dual adapter makes it usable everywhere. Its folded size is just 170x139x132 mm. It is very compact and hence can be very conveniently carried everywhere. The kettle is made of food-grade silicone, and the heating plate is of stainless steel. The material, therefore, is of good quality and does not contaminate the contents. It is long-lasting and easy to operate.
This kettle product comes with a detachable handle, cord, and a portable storage bag with a zipper that helps in packing. With this kettle, preparing a preferred breakfast for yourself, hot tea and coffee is a task of a few minutes.
Key Features
Dual cord to plug into any socket
Portable storage bag with zipper for packing
Made of food-grade silicone to maintain the quality of food
Stainless steel heating plate prevents rusting
Detachable cord reduces storage space
Size is 6.69 x 5.47 x 5.2 inches
Easy to use with a one-button design
7. Best Value for Money: Nathome Travel Foldable Collapsible Electric Kettle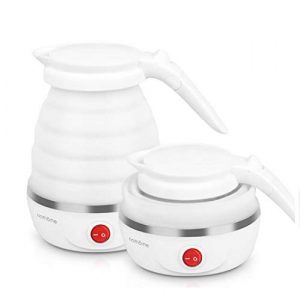 Brand: Nathome
Warranty: Not mentioned
Colour: White
This FDA certified Nathome travel kettle is the best pick for those who want to buy a portable kettle but do not wish to spend a surplus amount on it. It is lightweight, performance-oriented, easy to carry, and is a win-win for those who wish to grab a budget deal with great features. This electric kettle has a dual voltage system, fast heating capability, and is energy efficient, making it usable everywhere.
With boil-dry protection to ensure safety, this teakettle is your best companion to kick-start your day with a cup of tea or coffee or warm water. It is highly recommended for those who regularly travel abroad and like to have a personal tool for hot tea, coffee for breakfast.
Key Features
Speed boil feature saves time
Collapsible design helps in storage
Safe to use due to the boil-dry technique
Portable and durable
FDA certified guarantees quality
Dual voltage to regulate resistance heat and control current
Food-grade silicone for healthy and tasty food
6. Best Runner-Up: EasyGo Foldable Travel Electric Kettle | Collapsible Kettle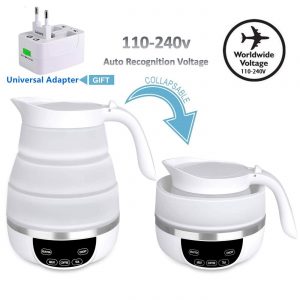 Brand: EasyGo
Warranty: Not mentioned
Colour: White
This collapsible electric  kettle has been added to the list because of its supreme features, ease of use, and a budget-friendly price. EasyGo brings to us this foldable electric kettle with a universal adapter and dual voltage for traveling purposes. For ensuring safety, it has boil-dry protection, overheats safeguards, and auto shut-off features. Foldable body and detachable handle make it easier to carry around.
Most importantly, it has a special feature of temperature control in three modes for heating milk, coffee, and tea, respectively. This product is a result of innovation and development in technology and will not require your undivided attention while it is functioning.
Key Features
Foldable body and detachable handle saves space
Dual voltage and universal adapter ensure worldwide application
Automatic shut-off and overheat safeguard makes it user-friendly
Easy to manage due to specific temperature control feature
Boil-dry protection prevents unrequited usage
Food-grade silicone ensures healthy food
Size is 6.6 x 6.6 x 4.2 inches
5. Most Safe: Kitchen Pro 101 Portable Electric Kettle | Collapsing Electric Kettle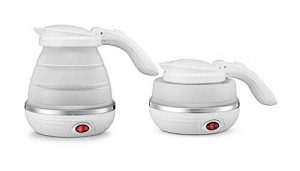 Brand: Kitchen Pro 101
Warranty: Not mentioned
Colour: White
This is a budget-friendly product and therefore is a good option for those who don't wish to spend a lot on a kettle. It has features like boil-dry protection, automatic shutoff, easy storage, dual voltage, fast boiling, and collapsible body. One special feature of this particular kettle is automatic insulation, which makes it a hot favorite among the customers. This feature enables the kettle to automatically start heating again once the water/milk has cooled down.
This kettle might not be an ideal pick for traveling purposes due to the absence of a universal adapter, but the other features make it useful for domestic application.
Key Features
Boil-dry protection technique prevents unnecessary usage
Easy to use and store due to collapsible body
Dual voltage regulates the flow of current
Fast boiling and quick working
Automatic insulation produces ready to consume food
Size is 7.8 x 6.1 x 4.2 inches
4. Best Collapsible Kettle under $30: Secura HF021E Travel Foldable Electric Kettle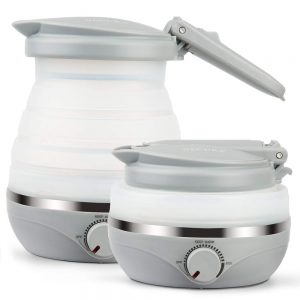 Brand: Secura
Warranty: 2 years
Colour: White
Secura's collapsible electric kettle is one of the best picks from the list available in this price range. It is promising, compatible, easily foldable, has the dual voltage feature, and also comes with a two-year warranty. Additionally, it has the rapid-boil and the automatic keep-warm feature and is also TUV certified. With food-grade silicone, stainless steel base, and a wide top opening, it uses its handle to lock it into position. All these features make it ideal for usage while traveling and maintain the quality of the food prepared.
The automatic shut-off feature prevents overuse and keeps you safe from any accident. You have to, however, be careful while using it because it gets overheated and could cause burns if not taken care of.
Key Features
TUV certification guarantees quality
Compact and durable structure for traveling purposes
Rapid boil and auto keep-warm features make it user-friendly
Food-grade silicone for healthy and non-toxic food
Dual voltage feature to regulate current
Size is 7.4 x 5.5 x 4.2 inches
Collapsible body helps in storage or packing
3. Best for Warm Water: Uwear Foldable Electric Kettle | Collapsible Kettle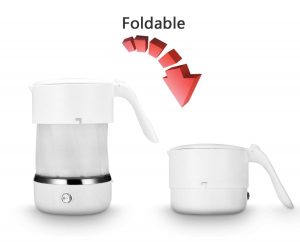 Brand: Uwear
Warranty: 1 year
Colour: White
Uwear Foldable Electric Kettle is among the most budget-friendly on the list. Its impressive features include a universal plug, an adjustable voltage, non-toxic plastic and food-grade silicone. They make it usable across the globe and ensure the maintenance of food quality. The kettle's safety features include the automatic keep warm and boil-dry protection techniques. With a capacity of 500 ml, it is suited for traveling users. It is long-lasting and comes with a one-year warranty.
It is ideal for boiling water but is not suited for preparing other food items because, due to its narrow top opening, it is difficult to clean. Some of us are habitual or are advised only to drink warm-water at all times. This particular kettle is a recommendation for them all.
Key Features
Universal plug and dual voltage from worldwide application
Collapsible body makes it portable and easy to store
Made of food-grade silicone, stainless steel, and non-toxic plastic
Automatic keep-warm and boil-dry protection technique for safety
One year warranty
Size is 6.7 x 6.5 x 4.8 inches
2. Best Design: MBQMBSS Travel Electric Kettle | Collapsible Electric Heating Kettle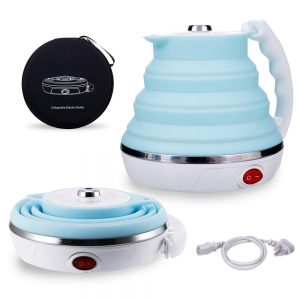 Brand: MBQMBSS
Warranty: Not mentioned
Colour: White, Pink and Blue
If you are looking for a budget-friendly, high-quality collapsible electric kettle, MBQMBSS's Travel Electric Kettle is for exactly that. This comes with all standard features of an electric but specifically attracts the eye because of its availability in different colors. It is fit for traveling and comes with a zipper bag to store and carry it.
This kettle has multiple applications. It can be used during camping, business trips or even in your house. It comes with dual voltage, quick-boil, and boil-dry protection techniques to ensure safety and is made of food-grade quality material for good quality food.
Key Features
Universal plug and adjustable voltage to regulate current
Portable zipper carry bag for storage
Made of food-grade silicone and stainless steel
Quick-boil and boil-dry protection technique make it user-friendly
Widely applicable and fit for traveling
Size is 9.8 x 7.9 x 2.8 inches
1. Most Healthy: Jephny Travel Foldable Electric Kettle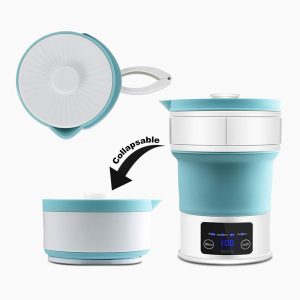 Brand: Jephny
Warranty: Not mentioned
Colour: White and Blue
The Jephny Travel Foldable Electric Kettle is light and made of a special odorless, rust-proof material taking into consideration children's health. The special feature of this kettle is that it has an LED display for the temperature. This helps you monitor and control the temperature of the contents while heating. It has a sturdy structure and is designed beautifully. When folded, it occupies very little space and can be carried around easily. The kettle also comes with heat regulators that prevent overheating when the kettle is in use.
This kettle is not ideal for those who travel abroad because it does not come with a universal adapter. However, for those who don't, this is a reasonable pick.
Key Features
Made using odorless, rust-proof, food-grade material
The collapsible body makes it easy to store and carry
The LED display of temperature helps to regulate it
Light and durable structure
Foldable handle decreases space occupied
Size is 7.3 x 7.2 x 4.1 inches
Conclusion
All the collapsible electric kettles on the list are the best among the many available in the market. The feature that forms the basis of this list is that all these kettles are collapsible and easy to carry around. Their design saves space and makes them useful for those who travel often and who stay away from home. Their features and functions are user-friendly and save time. These electric kettles also ensure hygiene and provide the means to the perfect coffee, tea, warm water, cereal, soup, or instant noodles. We have tried to include kettles from all price ranges and from different companies with a variety of features.
FAQs (Frequently Asked Questions)
Ques 1: Is it difficult to clean collapsible kettles?
Ans: This depends on the design and structure of the kettle. If the kettle has a wide top opening and is made of a material that does not let salts coagulate on the inside of the kettle, it is easy to clean. Some of the materials used to make the inside, however, are not as easily cleaned as the others. Also, some kettles are only made for boiling water. Using them for boiling milk or making noodles could be a problem. Therefore, it is necessary to check while purchasing.
Ques 2: Why is there a big price variation in the kettles?
Ans: The price of a kettle depends on different features. They might all seem to have similar features, but their prices might largely vary. This is because of the brand, the quality of the material, and the warranty period being different for each one. Not all companies use the best quality material for making their products. For this reason, while buying, you must remember to check certification.
Ques 3: Is it important to have a universal adapter for the collapsible electrical kettle?
Ans: This depends on your priorities. If you wish to buy a collapsible electric kettle for traveling to different countries, it is necessary. However, if you don't have any such plans, this feature is irrelevant. Different countries have different supplies of electricity and their sockets also vary. Some plugs have two flat pins, while others are tree-pinned. To be able to use the kettle in all countries, a universal adapter is required.
Last update on 2023-10-04 / Affiliate links / Images from Amazon Product Advertising API