While taking care of the plants in our gardens, we often water them more than their capacity. Overwatering results in weaker roots and also causes soil pollution. Rain gauge is a great device to manage the irrigation of our garden. As it measures the precipitation falling in an area, you will get an exact estimate of how much water your plants need. Suppose you worry that a giant rain collecting device might blemish the appearance of your garden. In that case, you should install a decorative rain gauge that is extremely efficient and compliment your garden's aesthetics. Here's a list of the ten best decorative rain gauges available in the market.
List of the Top 10 Best Decorative Rain Gauges in 2023
1. Best Overall: Evergreen Decorative Rain Gauge with Metal Frog Statue

Brand: Evergreen Enterprises, Inc.
Warranty: Not mentioned
Capacity: 5″
Evergreen Enterprises is renowned for providing quality home accessories and utilities since 1993. Its rain gauge with a metal frog statue is one of the best options available in the market when you are looking for a piece of effective equipment that amplifies your garden's beauty. The frog can be wrought in the ground, providing it a firm structure. It is made of outdoor safe and fade and corrosion-resistant materials like polystone and metal. The antique rust finish makes it a great choice for patio and lawns. Its compact design makes installation and maintenance very easy. This product has a long list of satisfied customers.
Key Features:
Product dimensions are 4 x 4 x 18 inches.
The product weight is 14.1 ounces.
It is made of poly stone, metal, and glass.
Fade-resistant and weatherproof.
Has a unique design.
Measures precipitation in both inches and centimeters.
2. The Most Sturdy: Kalalou Decorative Acorn Rain Gauge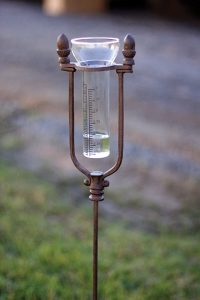 Brand: Kalalou
Warranty: Not mentioned
Capacity: 1.5″
Kalalou Acorn Rain gauge leaves all the products on the list behind when it comes to sturdiness. As it is built with heavy cast iron, it has real compressive strength and anti-corrosivity. This product has a very sophisticated design that will add perfect grace to your yard. The equipment comes in three pieces, and the best part about this udometer is that you will only need to wipe it with a damp cloth to get it completely cleaned. It is a strong and durable product. Although this gauge's capacity is slightly lower than others, it is still extremely suitable for areas receiving lesser amounts of rainfall.
Key Features:
Product dimensions are 4.5 x 2.5 x 32 inches.
The product weight is 2.49 pounds.
It is made of heavy cast iron.
Very giftable product.
Easy to clean.
Easy to install.
Also check: Top 10 Best Metal Garden Hoses and Garden Hose Reels in 2023
3. Best Runner Up: RUILAIYA BOAER Frog Figurine Rain Gauge

Brand: RUILAIYA BOAER
Warranty: Not mentioned
Capacity: 7″
RUILAIYA's beautiful frog figurine rain gauge is adorable and very easy to operate. The measurements written on the tube are very bright. Hence, making sure you get an accurate reading. It has an LED-powered light sensor control, which enables the bulb to turn on at night automatically. You need to turn the solar panel's button on the day to ensure that it gets an appropriate amount of sunlight to glow at night. This equipment can be easily installed as it doesn't require wiring and fixes well in the ground because of a strong metal stake. Its unique design makes it an ideal fit for your lawn.
Key Features:
Product dimensions are 44.5 x 6.5 x 6.5 inches.
The product weight is 15.8 ounces.
LED automatically switches on at dusk and off at dawn.
Built-in with 1.2 V AAA 300mAh battery.
It is rechargeable.
No wire installation for efficient garden placement.
4. Most Multi-purpose: Jobar All-In-One Solar Weather Station Rain Gauge

Brand: Jobar
Warranty: Not mentioned
Capacity: 6″
The USP of Jobar's Weather Station is that along with a rain gauge; it also comprises an anemometer, a wind direction arrow, and a thermometer. With this equipment, you will know about rainfall in advance. It also contains a solar lamp that provides optimal illumination at night. Thus, you will be able to measure at night as well. An iron and plastic body makes it very durable and resilient. The product stands 5 feet tall, ensuring no hurdles can hamper the mechanism of the gauge. Even with so many parts, it is easy to assemble and maintain.
Key Features:
Product dimensions are 15.01 x 2.55 x 7.65 inches.
The product weight is 2.29 pounds.
It can be used to measure rain, snow, and wind speeds.
It is topped with a solar-powered lamp.
They are designed with durable iron.
It is very easy to assemble.
5. Cheapest Among All: LeiDrail Outdoor Solar Powered Decorative Rain Gauge

Brand: LeiDrail
Warranty: 1 year
Capacity: 5″
This sunlight powered rain gauge is worth every penny you will spare. If the solar panel receives a necessary amount of direct sunlight, the LED light will automatically glow at night. Its unique and colorful design is highly suitable for decorative purposes and makes a great gift. LeiDrail's solar rain gauge is made of premium quality waterproof and heavy-duty materials. The UV resistant casting makes sure that the color does not fade with time. There is no socket or wiring required for installation, making the whole process very environment-friendly. It has built-in robust 1.2 V 600mAh rechargeable batteries.
Key Features:
Product dimensions are 4.9 x 4.9 x 36 inches.
The product weight is 1.2 pounds.
LED light glows for about 8 hours.
UV resistant casting.
It is rechargeable.
Built-in with powerful 1.2 V AAA 600mAh batteries.
Full payment refund within 30 days if the damaged product is received.
6.Best Under $30: Evergreen Rain Gauge with Solar Light

Brand: Evergreen Enterprises, Inc.
Warranty: Not mentioned
Capacity: 8″
This solar rain gauge is an extremely elegant product for your garden or lawn. The crystal-like LED light complements beautifully to this device and adds a nice glow at night. The size is large enough to be completely visible from longer distances. This udometer is highly recommended for areas receiving heavy rainfall as it can measure up to 8 inches of precipitation at a time. It has a high grade and weather-resistant metal that is capable of withstanding different kinds of outdoor elements. As a brand, Evergreen has set a benchmark in the market for its products' quality and beauty.
Key Features:
Product dimensions are 6 x 5.5 x 33.5 inches.
The product weight is 1.45 pounds.
Water-resistant and outdoor safe body.
Automatically lights up at night.
Operates on 2 AA batteries.
Effortless Installation.
7. Most Lightweight: SPI Home 33756 Bird and Nest Rain Gauge

Brand: San Pacific International, Inc.
Warranty: Not mentioned
Capacity: 5″
The SPI bird and nest rain gauge's biggest advantage is its compact structure that can easily fit anywhere in your yard. Its high-grade aluminum body can combat all kinds of unfavorable weather. It has a capacity of 5 inches, which is suitable for every place irrespective of the rain pattern. The straight rod fits perfectly well into the ground. It consists of a glass tube, unlike a plastic one that becomes brittle over time. The bird and nest design is very stylish and fits right into the landscape. Its paint is weatherproof, which means it will not chip off or fade away with time.
Key Features:
Product dimensions are 26.5 x 2 x 5.5 inches.
The product weight is 8.8 ounces.
It is made of aluminum.
Gauge held by a very sturdy rod.
Considerably accurate.
Well-built fixture.
8. Best Value for Money: Bits and Pieces Butterfly Rain Gauge

Brand: Bits and Pieces
Warranty: Not mentioned
Capacity: 7″
If you are looking for a decorative rain gauge that looks ornamental during both day and night, you can go for Bits and Pieces butterfly rain gauge. This battery-operated device captures sunlight and lights up the glass tube at night. It not only functions as a nice gift but also serves its purpose very well. You can measure precipitation in both centimeters and inches. As it is about 2 feet in height, it receives ample rainfall without any hurdles in the mechanism. This product is an amazing fit to take care of the decorative and irrigation needs of your garden.
Key Features:
Product dimensions are 8.5 x 3.5 x 16.3 inches.
The product weight is 1.05 pounds.
It consists of solar-powered LED lights.
It requires 1AA batteries.
In-built on/off switch on the solar panel.
Favorable for use in lawn, patio, and garden.
9. Most Stylish: LUNSY Frog Rain Gauge

Brand: LUNSY
Warranty: Not mentioned
Capacity: 6″
LUNSY frog rain gauge is made of high-grade material that is temperature resistant and has high durability. The plastic used is cold and crack resistant, which can be used for a long time. It has a very chic frog-shaped structure perfect for functional and decorative display in your garden or patio. This pluviometer has a 2 feet tall metal stake secured into the ground even in adverse weather conditions. It has a solid polycrystalline solar panel that can be changed completely only within 4-6 hours. It automatically turns on at night. This equipment has a long-stay baking paint surface.
Key Features:
Product dimensions are 12.1 x 6.7 x 3.2 inches.
The product weight is 14.4 ounces.
Crack and weather-resistance plastic tube.
It consists of polycrystalline silicon solar panel powered light.
Easy to read, even at night.
It stands firmly on a 2 feet long metal stake.
10. Most Natural Looking: Ebros Aluminium Bird and Branch Rain Gauge

Brand: Ebros Gift
Warranty: Not mentioned
Capacity: 5″
Along with being functional, this decorative rain gauge is a highly elegant piece of equipment. It is also very compact and lightweight. The aluminum body makes it hardy and outdoor-safe. Its entire body is hand-painted and polished with a bronze finish. Hence, ensuring that the paint doesn't get removed after a few rain showers. This home accessory doesn't require any battery to operate. It will help if you empty it after every rainfall to get an accurate measurement. The digits are printed in a bright color, which makes it very easy to read. It is a nice udometer to place in small gardens and lawns.
Key Features:
Product dimensions are 16.5 x 5.5 x 3.3 inches.
The product weight is 3.21 ounces.
It is made of aluminum.
It doesn't require a battery to operate.
Easy to assemble.
A beautiful piece for garden décor.
Verdict
All the above-listed products are the best in the market and have garnered top-notch customer ratings. The best part about these decorative rain gauges is that their installation and maintenance is extremely time-saving, even if it is the type that needs to be assembled. Most of them can measure precipitation up to a capacity of at least 5″, which is useful if you live in flood-ridden areas. These decorative udometers are manufactured by well-renowned companies that are known for their premium-quality equipment. Not only do these rain gauges accentuate the beauty of a garden, but they are very efficient in their measurement.
FAQs
Where Should I Put My Rain Gauge?
Location is vital while installing a rain gauge. To get an accurate reading, place the pluviometer in an open area away from obstacles like trees, fences, and houses. Having your equipment leveled inside the ground will provide a robust fixture and prevent rain from splashing out.
Are Decorative Rain Gauges Accurate?
Yes, they are accurate, just like an ordinary rain gauge. Suppose a company lists 1% accuracy for a rain gauge. In that case, it means that the difference between the actual amount of precipitation falling through the funnel and the recorded amount will be either less than 1% or slightly more than that.
Does The Size Of The Rain Gauge Matter?
No, the size of the rain gauge does not matter. It is because we measure the height of the water and not its volume. It is- advised that you buy a pluviometer with a narrow opening to avoid small debris clogging the apparatus and prevent unwanted water evaporation during hot weather.
Last update on 2023-11-30 / Affiliate links / Images from Amazon Product Advertising API