Splashing around in your own pool, having drinks with your friend, or playing with your kids is the fun and easy part of having a swimming pool at your home. The difficult part comes after when you have to clean the pool. Nobody wants to spend their time cleaning and scrubbing the sides of their pool. But keeping your pool clean is essentially important as no one would like to take a dive into a pool full of dirt or unclean water. A well-maintained pool is hygienic for you and your family and reduces the loss of water. To make your job easier, we bring you a list of automatic pool cleaners that require very little effort on your part and are quite easy to use.
List of the Top 10 Automatic Pool Cleaner in 2023
Video Review of Dolphin Nautilus CC Plus Pool Cleaner by Test of Time
1. Best Overall: Dolphin Nautilus CC Plus Automatic Robotic Pool Cleaner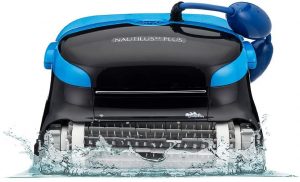 Item Weight: 19 pounds
Ideal Pool Length: 50 ft
Manufacturer: Maytronics – Pool
The Dolphin Nautilus CC plus automatic pool cleaner does an amazing job of scrubbing down poolsides, bottoms, and stairs. Most automatic cleaners will tangle themselves, but not Dolphin while completing the job as it comes with a tangle-free swivel cable. It features an elongated, sixty feet cord that cleans hard to reach areas. Plus, it comes in a compact, small size, which makes it lightweight and easy for you to pull out of the pool. You can use this cleaner to clean any type of pool. It comes with superior filtering functionality that locks and traps all sorts of debris and makes your pool crystal clear.
Key Features:
It does not tangle itself
Cleans hard to reach areas
Compact and lightweight
Clean all type of pool
Superior filtering functionality
Effortless cleaning
2. Best Runner Up: Dolphin E10 Automatic Robotic Pool Cleaner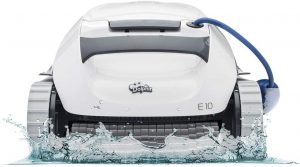 Item weight: 22.7 pounds
Ideal pool length: 30 feet
Manufacturer: Dolphin
Next on our list is another great pool cleaner by Dolphin that cleans your pool while you sit back and relax. There is no extra stuff required as it comes with all the necessary things installed. You have to just plug it, drop it, and walk away while it frees your pool from dirt. With floor scrubbing and filtering capabilities, your pool will sparkle and remain free of debris with this pool cleaner. An amazing thing about this machine is that it saves energy while maintaining your pool. With almost 35 years of experience, Dolphin provides the owners of the pool a hassle-free solution for maintaining their pool.
Key Features:
Easy to use
Simple to set-up
Cleans well
Energy-efficient
No extra stuff required
Cleans all types of debris
Also check: Top 10 Floating Pool Skimmers in 2023
3. Cheapest Of All: XtremepowerUS 75037 Climb Wall Pool Cleaner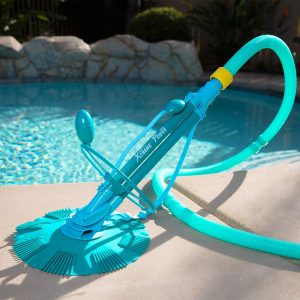 Item weight: 12 pounds
Ideal pool length: 30 feet
Manufacturer: XtremepowerUS
If you are looking for a budget-friendly automatic pool cleaner that removes all types of debris from your pool, then XtremepowerUS should be your pick. It is considered ideal for cleaning the bottom and sides. You require no tools, no electricity, and it attaches well to your existing system of filtration. Plus, it features a weighted stabilizer that keeps your cleaner on the bottom while completing the job. This cleaner has a smart design- first, it is adjustable, and second, it comes with a diverter that lets the machine easily climb the walls of your pool. On the whole, it is a nice automatic pool cleaner, which is also pocket-friendly. You may also need to consider getting chlorine tablet and chlorine tablet floater to maintain water in your pool clean and clear.
Key Features:
Budget-friendly
Ideal for cleaning bottom and sides
Smart design
Adjustable
Connect to existing filter
Easy to assemble
Also check: Top 10 Best Automatic Window Cleaners in 2023 | Best Window Cleaning Robot
4. Best Value For Money: QOMOTOP Robotic Pool Cleaner, Automatic

Item weight: 30.5 pounds
Ideal pool length: 50 feet
Manufacturer: OT QOMOTOP
This automatic pool cleaner is a smart investment for hot summer as it allows you to maintain your pool for a long time. It works on all pool types, such as vinyl liner, concrete, and fiberglass. Plus, it cleans in an environmentally friendly manner as it uses fewer chemicals. It is quick to set-up and requires low maintenance. With four powerful sponge brushes and a strong motor, it draws the debris out of your pool. Further, it comes with intelligent navigation and knows how to operate through the pool. This cleaner is quite lightweight and comes in a friendly design.
Key Features:
Intelligent navigation system
Quick set-up
Low maintenance
Cleans all types of pool
It has a powerful motor
Lightweight and durable
5. Best Under $300: Zodiac MX6 In-Ground Suction Side Pool Cleaner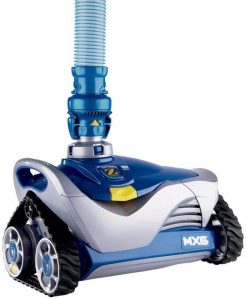 Item weight: 17.41 pounds
Ideal pool length:
Manufacturer: Zodiac
A mid-priced model highly recommended by its users Zodiac MX6 automatic pool cleaner is a well-efficient tool. It has an innovative low-profile design that is perfect for swimming pools with variable or 2-speed pumps. This cleaner hooks up extremely well to your pool pump and is quick at picking up small to medium size debris or dirt from your pool surface, sides, stairs. It comes with a strong suction power and is simple to assemble as well as install. Plus, the cleaner is well-sturdy and remains well-balanced inside the pool. On the whole, it is durable, cheap, and works well as an automatic pool cleaner.
Key Features:
Well-efficient tool
Low-profile design
Well-sturdy
Strong suction power
Simple to assemble
Easy to install
6. Ideal For Above And In-ground Pool: Dolphin Nautilus CC Automatic Pool Cleaning Robot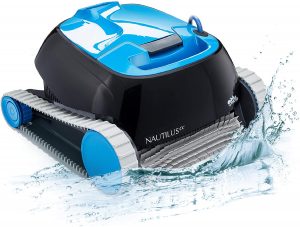 Item weight: 14 pounds
Ideal pool length: 33 feet
Manufacturer: Maytronics
Sit back or lay down and relax while your automatic Dolphin Nautilus CC cleans the pool for you. It is available in a compact size and perfect for a small pool up to 33 feet. The instant water release from the cleaner helps keep this tool lightweight and straightforward to remove from the pool. This automatic machine climbs up the wall and cleans easily. It is very versatile and works on all types of pool surfaces such as tile, plaster, and gunite. Plus, it takes only two hours to complete the job with just one button click. You can also schedule the time for cleaning as per your wish.
Key Features:
Schedule time for cleaning
Cleans all types of surfaces
Climbs up the wall easily
Simple to handle
Compact size
Lightweight and durable
Also check: Top 10 Best Robotic Vacuum Cleaners in 2023
7. Best Pressure Side Pool: Polaris Vac-Sweep 360 Pressure Side Pool Cleaner
Item weight: 14 pounds
Ideal pool length: 31 feet
Manufacturer: Zodiac
Polaris cleaners are a popular and recognized manufacturer of pool cleaners worldwide. They produce a high-quality product with optimum functionality. This Polaris Vac-Sweep cleaner is no exception and works extremely well in all in-ground pools. It features advanced cleaning technology that comes powered with triple jets and vacuums, sweeps, scrubs the full surface of the pool efficiently. Plus, it comes with a smart filter bag that removes waste from your pump basket, which prolongs the life of your filtration system. You can easily clean the filter bag for maintaining your pool cleaner. It works with a booster pump that provides strong power for quick and efficient functioning.
Key Features:
High-quality product
Works well in all in-ground pools
Advanced cleaning technology
Smart filtration system
It comes with a booster pump
Works quickly
8. Most Durable: Hayward W3PVS20JST Pool Cleaning Tool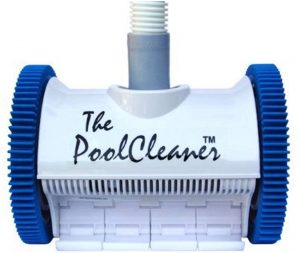 Item weight: 12 pounds
Ideal pool length: 33 feet
Manufacturer: Hayward
The Hayward pool cleaner offers the utmost performance, perfect reliability, and simple use. It comes with optimum functions that allow you to enjoy the pleasures of your pool as it keeps clean. First, it comes with a self-adjustable turbine vane, which ensures full power at any flow. Second, the robust tire treads give your cleaner increased climbing ability and obstacle maneuverability. Third, the steering system of the cleaner works well-efficiently all over the pool. Basically, this pool cleaner comes with all the necessary functions to make your pool crystal clear. It is further quick to set-up and easy to maintain.
Key Features:
Quick set-up
Easy to maintain
Reliable and safe to use
Works well-efficiently
Simple to assemble
Strong suction power
9. Best Suction Side Cleaner: Zodiac Baracuda G3 W03000 Pool Cleaner

Item Weight: 18.16 pounds
Ideal pool length: 36 feet
Manufacturer: Baracuda
Zodiac pool cleaner allows you to maintain your pool extremely well. It delivers premium performance and is relatively easy and simple to set-up. Plus, it works well with low-speed pumps for maximum efficiency. It comes in a compact size and inhales all types of medium-sized debris and dirt from your pool surface, sides, and stairs. This cleaner smoothly moves through your pool and does not get stuck anywhere. It has a wide base and can adhere to any surface type. Made from superior materials, it is durable and long-lasting. Plus, it is reliable and produces less noise while working.
Key features:
Simple to set-up
Works with low-speed pump
Compact size
Easy to store
Durable and reliable
Produces less noise while working
10. Most Versatile: PAXCESS Automatic Pool Cleaner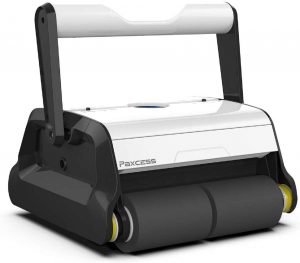 Item weight: 30 pounds
Ideal Pool length: 50 feet
Manufacturer: PAXCESS
The PAXCESS automatic pool cleaner is extremely powerful, versatile, and straightforward to use. It has a long, non-tangle foot cord that reaches far points of almost all pools nicely. It comes in a compact shape and cleans both the floor and walls of your pool. Plus, it is lightweight, effortless to pull out of the swimming pool for cleaning of the filter. It comes with a smart control system that lets you set the time for cleaning. Moreover, this cleaner features a powerful motor that easily navigates through your pool without any trouble. You can remove all large debris or dirt from your pool with the help of this machine. Lastly, it is available at a modest price and comes with a two-year warranty.
Key Features:
Versatile and durable
Lightweight
Straightforward to use
Smart control system
Powerful motor
It comes with a three-year warranty
Verdict
At the end of the day, all the above listed automatic pool cleaners work very well to clean your pool from all types of dirt and debris. They come installed with all necessary things, and you don't need to buy extra stuff for maintenance of your pool. These tools further are highly durable, reliable, and simple to use. Most of them clean all types of the pool as well as all types of surfaces. Plus, a few of them also allow you to set up a time for cleaning. All of these tools are lightweight, compact, and therefore easy to store.
FAQs
What Are The Two Types Of Automatic Pool Cleaners?
Automatic pool cleaner comes in two types- pressure and suction side. The first one uses water pressure to move along the pool and collect dirt in a bag. The second one connects to the filtration system of the pool and is better to clean sand, dirt, and small debris.
Which Is Better Manual Or Automatic?
Manual cleaners are cheaper but require more physical effort. They are ideal for small inground and above-ground pools. On the other hand, automatic cleaners are much better for a large pool and work more efficiently.
How Do You Choose An Automatic Pool Cleaner?
The first thing you need to find out is the type of pool you own. It is better if you focus more on the surface of the pool. Most automatic pool cleaners work on all surfaces. Second, find the size of your pool; if it is anything between medium and large, you should go for an automatic pool cleaner.
Last update on 2023-10-03 / Affiliate links / Images from Amazon Product Advertising API