Most people are fond of woodworking as it allows them to indulge in different home improvement projects. However, when undertaking these kinds of projects, you need to have a proper idea of the techniques and tools involved. One of the essential tools for woodworking is the table saw, which needs to be used very carefully. Dado blades are used with a table saw to make special cuts on woods. It is a type of circular blade that allows you to make dado cuts that add groove to your blades. Dado cuts provide a type of slot that will hold door panels or drawer bottoms. There are different types of dado blades available, and we have compiled a list of some of the best ones.
List of the Dado Blades for Carpenters in 2023
1. Best Overall: Freud 8″ x 24T Super Dado Sets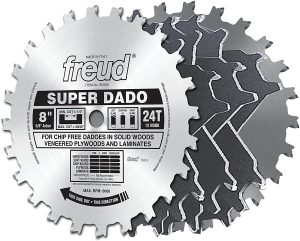 Brand: Freud
Material: Blend
Number Of Teeth: 24
One of the best on our list is the Freud dado set, which is carefully crafted using premium materials that boast durability and sturdiness. It is constructed from Tico Hi-density carbide and thus can withstand multiple sharpening. The set includes six chippers, two blades, a shim set, and a carrying case. Each blade is specifically designed to give precision cuts and superior performance. It can further accommodate a wide range of materials, and therefore, you can use it on multiple projects. You can use it to create grooves and dadoes in hardwood, plywood, softwood, and chipboard. Plus, this dado blade set is considered safe to use because of its anti-kickback design.
Key features:
Durable and long-lasting
Withstand multiple sharpenings
Precision cuts
Accommodates wide range of materials
Safe to use
Offers warranty
2. Best Runner Up: Oshlun SBJ-0830 Dado Blades

Brand: Oshlun
Material: Carbide
Number of teeth: 30
Next on our list is the Oshlun SBJ-0830 8-inch box, and the finger joint set is perfect for woodworkers looking to make precision cuts on different types of wood. The high-tooth count saw makes appropriate and smooth fingers and notches in two sizes- ¼ inch and 3/8 inch. Plus, it creates such professional joints that you can easily put two pieces of wood together as per your project. It effortlessly changes by reversing the inner and outer blade from ¼ to 3/8 blade. Made from carbide, one of the strongest materials for the blade, you can enjoy the perks of this blade set for a long time. On the whole, it is a great product that comes with a carrying case with detailed instructions for set-up.
Key Features:
Accurate cuts
Professional joints
Effortlessly changes from one blade to other
Strong material
It comes in a carrying case
Simple to set-up
3. Cheapest Of All: The Mibro Group 416381 Dado Blade

Brand: Mibro
Material: Carbide
Number of teeth: 24
Mibro has been in the business of supplying quality hardware products for almost 70 years for the DIYer. It is a recognized and popular brand that offers only quality products. This dado set lives up to the company name and won't disappoint you with its efficiency. It cuts a precise and even flat-bottomed groove in all types of woods, from hard to soft. The set comes with two outside cutting blades, five chipper blades, and seven metal shims, all of which allow you to take up multiple woodworking projects. On the whole, the set is simply amazing and has been crafted with perfection.
Key Features:
Ensures clean edges
Cuts through all materials
Easy to use
Provides sheerness
Works great
Durable case
Related: The 10 Best Dovetail Jigs in 2023
4. Best Value For Money: Freud 6″ x 10T Pro Dado Set (SD206)

Brand: Freud
Material: Blend
Number of teeth: 10
The Freud SD206 is engineered to deliver superior performance for your multiple woodworking projects. It comes in a variety of sizes and designs with Freud's unique coating that ensures sturdiness and long-lastingness. You can re-sharp its blades multiple times for smooth dadoes and grooves with even edges. In fact, these blades deliver precise cuts the first time only and eliminate the need to make repeated passes on the wooden piece. Plus, it accommodates a variety of materials from softwood to hardwood. This dado blade is safe to use as it features an anti-kickback design. On the whole, this blade is precisely the best, and all its users highly recommend it.
Key Features:
Safe to use
Multiple woodworking projects
Re-sharp multiple times
Precise cuts
Accommodates variety of materials
It comes with warranty
5. Best Under $ 100: Freud 8″ x 20T Box Joint Cutter Set (SBOX8)

Brand: Freud
Material: Blend
Number of teeth: 20
This is one of the best dado blades on our list that is simple to install and easy to use. Made from Tico high-density carbide, it doesn't disappoint you and works efficiently. This set features two sharp blades and comes with instructions for making different joints. Each blade is innovatively designed to deliver good results. Plus, this blade is basically a good choice for those who are required to make grooves between 1/4 and 13/16 inches. You can use this set for projects that involve laminate, plywood, softwood, hardwood. It requires less power to work and saves time and energy. Lastly, this blade set comes with a lifetime manufacturer warranty.
Key Features:
Easy to use
Simple to install
Made from high-density carbide
It comes with instructions
It saves time and energy
Requires less power
6. Best In Terms Of Sheerness: DEWALT Dado Blade Set, 8-Inch, 24-Tooth (DW7670)

Brand: Dewalt
Material: Stainless steel
Number of teeth: 24
DEWALT is a popular American company that manufactures power tools and hand tools for woodworking and construction industries. All its products boast durability and longevity. This dado blade set is no exception and delivers superior results owing to its exceptional features. First, it comes with a blade that offers precise slits. Second, it features four tooth chippers that give even flat-bottom cuts. Third, the stainless steel shims help you to make fine width adjustments. Moreover, all of these things come in a well-sturdy storage case that protects the blades against damage. This blade is basically suitable for cabinetmakers and woodworkers.
Key Features:
Durable and long-lasting
Delivers superior results
Well-sturdy storage case
Ideal for all woodworking projects
Easy to use
Simple to set-up
Also check: 10 Best Angle Grinders for Cutting, Polishing, and Grinding Works in 2023
7. Best In Terms Of Rotation: STCKD DADO BLD SET 8″12T

Brand: Diablo
Material: Carbide
Number of teeth: 12
Using this Diablo dado blade set, you can cut and rip wood accurately and cleanly. It comes in a strong carrying case with two wing chippers, two blades, and shims. Made from premium carbide materials, it ensures precise cuts and durability. Plus, even if you sharpen the blades, there will be no compromise in their productive life. The blades work in a perfectly fine manner on different wooden materials. It is also easy to set-up and cleans the blade set. All in all, this blade set is ideal for professional woodworkers as it is lightweight and efficient.
Key Features:
Cuts cleanly and accurately
Can be sharpened
Well-sturdy
Works well on all wooden materials
Simple to set-up
Lightweight and efficient
8. Best 8inch Dado Blade Set: Freud 8″ Stacked Dado Set for All Saws (SD208S)

Brand: Freud
Material: Blend
Number of teeth: 12
This Freud 8 inch dado blade set is considered one of the best in terms of longevity, which makes it a great investment. It is quick to install, as well as practical, and safe to use. The steel blades are sharp and therefore cut with accuracy. Basically, you can make any cut between 1/4 and 13/16 inches. This blade set allows you to do multiple woodworking projects with efficiency. The overall quality of each tool in the blade set is excellent. Plus, the blades especially come with I.C.E coating that ensures minimum heat build-up while you are working and simply keeps your blade cool and clean.
Key Features:
Quick to install
Safe to use
Makes cut with accuracy
Quality is excellent
Minimum heat build-up
Comes with instructions
9. Best For Professional Use: Freud SD208 8-Inch Professional Dado

Brand: Freud
Material: Carbide
Number of teeth: 12
Freud is considered the best brand for manufacturing craftsman tools such as a dado blade set. This tool is no different and offers precision cuts, clean edges, flat bottoms, and square shoulders. Plus, you can create efficient grooves and dadoes in multiple wood materials, from softwood to laminate. If you feel that the blades are not working rightly, then you can also resharpen them multiple times. It is a great choice for dado blade sets and, apart from blades, also includes a set of steel shims, chipper, and spacers. Lastly, Freud also offers lifetime warranty and safety operations.
Key Features:
Precision cuts
Create efficient grooves and dadoes
Can be resharpened
Lifetime warranty
Safe operations
Simple to use
10. Most Versatile: Oshlun SDS-0842 8-Inch 42 Tooth Stack Dado Set

Brand: Oshlun
Material: Carbide
Number of teeth: 42
This dado blade set is versatile as it offers multiple functions at a modest price. First, it comes with full-body six tooth chippers that make this blade set easy to install and ensures less vibration. Second, it comes with a different shim set for ideal adjustments. Third, it comes in a storage bag that is easy to carry. This blade set ensures premium cuts and comes with detailed instructions to guide you at every step. It can cut through multiple wooden materials and, therefore, is considered suitable for professional use. All in all, this dado blade set is simply amazing and highly recommended by its users.
Key Features:
Versatile and durable
Available at a modest price
Produces less vibration while working
Simple to install
It comes with instructions
Good for professional use
Verdict
All the above-mentioned dado blade sets are highly efficient in their functioning. They can work through different wooden materials and ensure precision cuts. Further, made from premium materials, these dado blade sets are durable and long-lasting. They are quite simple to set-up and use. Moreover, these blade sets come with all the necessary tools that will help you to deliver excellent results in all the woodworking projects you undertake. Therefore, if you are looking for dado blades, then selecting one from the above list can be a good idea.
FAQs
What Are The Different Types Of Cut That Can Be Made By Dado Blades?
Typically, a dado blade can make four different types of cuts.
Dado joint- It is the strongest woodworking joint that you get when the dado blade is used across the wooden piece.
Tenon- It is also called rail that is cut in such a manner that it is able to fit into any square or rectangular hole.
Rabbet- It is a groove that is cut into a piece of wood.
Finger joint- It is made by making a variety of rectangular cuts into two different wood pieces.
What Materials Should Be Dado Blade Made From?
The dado blade should be durable, rust-resistant, and long-lasting. Plus, it should be able to hold a lot of pressure, and therefore, titanium and high-density carbide should be your choice.
What Are The Two Types Of Dado Sets?
Stacked Dado Set- Popular for its versatility, it has two outside shims, chipper, and blades, which together ensure precision cuts. It is re-sharpenable and can be used with a range of materials.
Wobble Dado Set- It is a simple blade that uses different techniques to make groves. Plus, it is affordable and easy to set up. This blade set can cut through any material at high speed.
Last update on 2023-10-04 / Affiliate links / Images from Amazon Product Advertising API