Getting creative and doing DIY stuff gives a sense of satisfaction and accomplishment like none other. However, doing such things on a larger level, like dealing with bulk material, can be exhausting. Especially tasks that involve cutting and chipping using a saw requires real arm strength.
To make your work easier, we have an innovative saw that reduces the strength that you have to put in while chopping a piece of wood, metal, or stone. The lightweight and compact circular saws should be in your collection of tools if you are a DIY (Do It Yourself) enthusiast. They give you ultimate control and can be handled with just one hand. To help you in selecting the best saw for yourself, we have a list of the top 10 circular saws that you could look at.
Here list of the Best Compact Circular Saws in 2023
1. Most Trusted: TECCPO Circular Saw | Compact Circular Saw with Laser Guide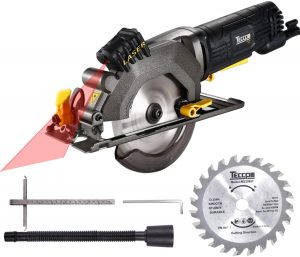 Brand: TECCPO
Warranty: 2 years
Colour: Black
TECCPO's compact circular saw comes with a mighty and durable copper motor that offers a maximum RPM of 3500. This compact and precise saw allows you to make deeper and clearer cuts. Due to this reason, you can use it with either one of your hands and use the other to hold the scale. This way, your work is more accurate with straighter cuts. Moreover, it has an adjustable knob that allows you to make multi-angle cuts ranging from 90° to 45°.
The trigger protection minimizes the impact of the saw blade and gives you more control to indulge in your craftsmanship with better comfort. This small but powerful product is not only useful to you but also to your surroundings as it comes with a unique dust catcher that prevents the saw-dust from flying into your eyes and clothes. It is an excellent pick for gifting to your creative friends.
Key Features
Powerful and durable copper motor with 3500 RPM
One-hand operation
Optimized rubber handle for better grip
Pocket-friendly
Two years warranty
Adjustable multi-angle cuts
Also check: The 10 Best Dovetail Jigs in 2023
2. Best Under $100: TACKLIFE Circular Saw | best handheld circular saw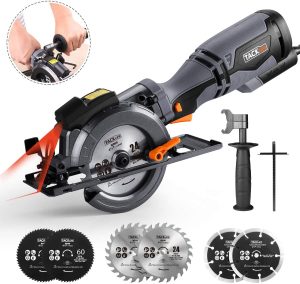 Brand: TACKLIFE
Warranty: 2 years
Colour: Black and Grey
This highly customized deep cutting circular saw is designed especially for working on wood, soft metal, tile, and plastic. Its metal handle makes the cutting process smoother and safer with an increased grip to decrease muscle stress. It is also equipped with a laser guide at its head. This allows you to track where and how you are cutting for enhanced precision. After all, clarity and tidiness at the primary level will make your work organized and presentable. The powerful 3500 RPM copper motor adds to the product's impressive features and supports its many functions.
The TACKLIFE Circular Saw with Metal Handle comes with six different blades that are designed to cut different materials like wood, tile, and metal with accuracy at different angles. Along with the powerful cutting performance and optimized ergonomic design, the blade is safe to use with the double protection switch. Therefore, this saw is the most convenient and secure choice for usage.
Key Features
User-friendly and safe
Durable and portable
Comes with 6 different blades
Special metal handle and laser guide
Multi-functional
3. Best Among All: HYCHIKA Mini Circular Saw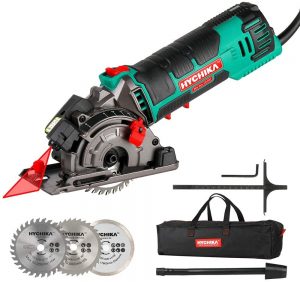 Brand: HYCHIKA
Warranty: Not mentioned
Colour: Green and Black
The brand HYCHIKA has always lived up to its motto of "Better tools for a better life." Adding to its list of products that make your life easier, we have the compact circular saw that is powerful and durable, and available at a reasonable price.
Its copper motor has a powerful maximum RPM of 4500, making it work faster and better. If you have a lot of work on your plate that needs to be finished, the speed of this saw is going to help you. It has been designed to make it extra durable and safe to quickly cut materials like tile, wood, plastic, plasterboard, and PVC. Thus, it offers the option of making precise and deep cuts.
Also check: TOP 10 BEST CORDLESS IMPACT DRIVERS in 2023
It comes with three changeable blades for cutting different materials. The soft rubber handle makes the grip tighter and working more comfortable. This compact circular saw is an excellent pick to complete your DIY projects quickly and a very efficient addition to the toolkit of your workshop.
Key Features
Compact and Lightweight
Powerful motor
Durable and long-lasting
Portable and can be carried anywhere
User-friendly
4. Cheapest Among All: Genesis Compact Circular Saw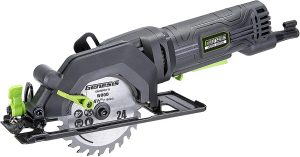 Brand: Genesis
Warranty: 2 years
Colour: Grey
Want to top-up your toolkit with a compact circular saw, but don't have enough savings to buy a good one? Here is a very enticing bargain of a tool for you. The compact circular saw comes with all standard features of modern saws. However, the best and most attractive part about it is that it is available at a highly affordable price.
With an impressive motor of a maximum RPM of 3500, it is useful, and its premium carbide blade quickly cuts through all materials. It also has a dust collector to protect your eyes and keep your working area clean and tidy. It is tested and certified, therefore, can be trusted by the customers.
Furthermore, the two-year warranty strengthens trust. This powerful, lightweight, and compact saw will be great for your work. You can also gift it to your friends who love engaging in DIY projects.
Key Features
Portable, light and powerful
Easy to use with practical design
Trusted and superior performance
Compact Size and Comfortable Grip
Pocket-friendly
5. Best Runner-Up: WORX WORXSAW 4-1/2″ Compact Circular Saw

Brand: WORX
Warranty: 3 years
Colour: Grey and Black
With a weight of only 5 lbs, which is 50% less than a traditional circular saw, this circular saw by WORX is a high-speed and high-performance tool. Its motor has a maximum RPM of 3500, and its design enhances the convenience of the user. It cuts through wood, metal, tile, and plastic with complete ease. The lightweight is an underrated feature for a saw. Handling a lighter saw is much more convenient than working with a heavier one. It eases your arm muscles and keeps them from getting tired. Using this tool, you can both enjoy your work and increase your productivity at the same time.
Also check: Top 10 Best Screw Gun and Buying Guide 2109
The 3-year warranty automatically builds your trust in the product, and the product ensures to live up to it. The saw is capable of making a variety of precise cuts with ultimate ease and speed. A good pick for DIYers and a tool that will definitely help your kids with their school projects.
Key Features
High-performance motor
Lightweight and compact
Sturdy and user-friendly
Trusted and with a 3-year warranty
One-handed operation
6. Best for Beginners: WEN Compact Circular Saw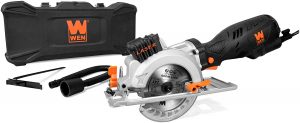 Brand: WEN
Warranty: 2 year
Colour: Black
If DIY projects and cutting and chopping materials to make them into something creative is your newly developed passion, a circular saw is a must-have for you. However, if you are not pro with its usage, but are willing to learn, WEN's circular saw is here to assist you. The bright laser guide guides you through all cuts and helps you make them precise and neat. Also, its comprehensive user-manual teaches you how to use the saw by explaining with detailed instructions.
Its package also contains a dust extracting tube to clear your workplace as soon as you finish cutting quickly. This saw with its 2-year warranty is perfect for cutting wood, tile, drywall, sheet metal, ceramic, and PVC pipes.
Key Features
Built-in LED lighting
3500 RPM motor
Compact and lightweight structure
Accompanied by a carrying case
7. Most Safe: Meterk Circular Saw Compact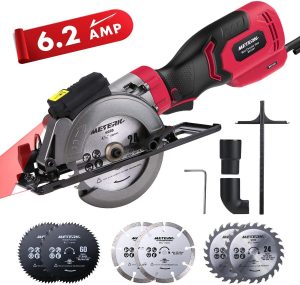 Brand: Meterk
Warranty: 2 years
Colour: Pink and Black
Meterk's circular saw comes with a powerful 6.2A motor that enhances the performance of the saw and makes cutting materials like tile, cement, metal, wood, and plastics smoother and quicker. It comes with a laser guide and scale rule for precise and straight cutting. The scale also helps you to measure and cut the specific length that you wish to. Most importantly, to ensure double safety and security, the saw switches on only when both the switch button and the safety button are pressed simultaneously. The safety of this saw is its most outstanding feature.
The sharp blade ensures deep cuts through multiple angles ranging from 45° to 90°. The circular saw can be handled with just one hand, and due to its lightweight, it protects your arm muscles from fatigue. Its package includes a circular saw, 6 different types of blades, 2 batteries for the laser light, a one-piece hex wrench, and one user manual.
Key Features
Full Range of accessories
Trusted security and safety
6 different types of blades
Pocket-friendly
Laser Guide and scale
Also check: 10 Best Angle Grinders for Cutting, Polishing, and Grinding Works in 2023
8. Best Value for Money: Rockwell Compact Circular Saw

Brand: Rockwell
Warranty: Not mentioned
Colour: Green and Black
Rockwell's Compact Circular saw is best known for its practical and thoughtful design. The left-handed blade has been very carefully designed to provide cut-line visibility. With this, you can very easily stand straight and keep an eye on the saw, so that it does not falter at all.
Moreover, its lightweight of only 5 lbs makes it easy to carry and use and eases your arm muscles. The slim, inline grip design provides great comfort, balance, and control. Rockwell's saw is perfect for especially cutting wood of any kind.
This small but powerful saw is proof that size does not determine power and capability. With a high maximum cutting depth and multi-angle cut ranging from 45° to 90°, it is a good value for money product.
Key Features
Portable and efficient
Convenient to carry and store while traveling
Pocket-friendly
Best quality material
A range of best quality and highly powerful tools
9. Most Compact: TECCPO Circular Saw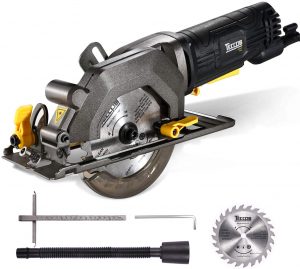 Brand: TECCPO
Warranty: 2 years
Colour: Black
Are you planning to redecorate your house? Along with creative ideas and material for the renovation, what you also need is tools. TECCPO's Circular Saw is here to be your helping hand in decorating your home. Its compact design and lightweight making it easier to work with and handle. It does not tire out your arms and make you get more work done.
The highly-powerful copper-clad aluminum motor is made to get loads of work done quickly. Your house will be neatly and creatively decorated in the blink of an eye, with the help of this product.
With this, you don't have to worry about your cuts being crooked. The 7 ruler makes sure that your cuts are measured and straight, just like you intend them to be. Therefore, this saw is a good companion for a house makeover this festive/holiday season.
Key Features
Powerful performance
Makes deeper, multi-angle and cleaner cuts
In-built 7″ scale
Trigger protection
10. Most Convenient: DEWALT Brushless Circular Saw

Brand: DEWALT
Warranty: 20 V
Colour: Yellow and Black
If you are looking for a highly developed and mechanically accurate circular saw, this is the one. It is made up of a brushless motor of high power. Most importantly, the motor is cordless, and therefore, it increases convenience. This motor can be used anywhere and does not need a power supply for it to work. With this, you can carry on your work even outdoors for a change of environment.
Also, it has a removable auxiliary handle for increased control and a better grip. Changing the blades has also been made extremely easy for this. It has an on-board blade key storage to change the blade for cutting different materials without any problem. This saw, therefore, is an innovative product that is sure to level up your garage.
Key Features
Brushless Motor
Portable and durable
Removable metal handle for convenience
In-built LED light
Pocket-friendly
Cordless
Conclusion
Whether you're a professional looking for a reliable tool, a DIY beginner, or a pro, you need a reliable saw to get your work done. This list comprises only the top picks with all the essential information that will make it easier for you to choose the right one. No need to browse the buyers guides to understand which one is good for you, we managed to put the most user-friendly products together. So indulge in your repairs, maintenance, or creation to the heart's content with these astonishing additions to your toolkit today.
FAQs (Frequently Asked Questions)
Ques 1: What impact does a brushless motor have on the product?
Ans: Brushless motors are gaining wide popularity over the traditional carbon-brush motors, nowadays. In these motors, the carbon brushes are replaced by circuit board to control direction. This makes the motors steadier while functional. Also, this makes the shaft simpler and lightweight.
Ques 2: On what power does the circular saw run?
Ans: Most of the compact circular saws that have been mentioned in the list above have wires attached to plugs that can be plugged into the power supply. Therefore, those saws run on direct electric supply. There are a few circular saws that have been made cordless for the convenience of the user. These run on either in-built rechargeable batteries or replaceable batteries.
Ques 3: How does laser light help the user?
Ans: While cutting a piece of metal, wood, or any other material, the impact and pressure of the working of the machine are such that we often forget the sense of direction. To prevent this from happening, and to prevent our future from being crooked instead of straight, the laser guide has been fixed in most of the saws. This shows exactly where the cut is going to be made by the saw and hence helps you to adjust direction.
Last update on 2023-10-04 / Affiliate links / Images from Amazon Product Advertising API