When people buy the furniture for their house, usually kitchen is overlooked despite the fact that it is the most used part of the house and you need a huge space here. This is why today we have come up with the best kitchen cupboards, which don't only provide extra storage to your kitchen but also make it look organized and clean. So, go ahead and check out the list:
List of  The 11 Best Cupboards For Kitchen in 2020
11- Inval America 4 Door Microwave Storage Cabinet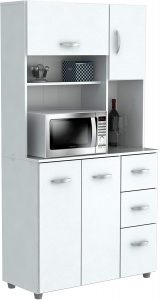 If you love wooden cupboards, go for Inval America 4 door microwave storage cabinet. It is designed with 10 blocks, out of them, 3 are accessories drawers with doors, 3 are open blocks, and 4 are big blocks with doors. All doors feature the brushed metal handle to make accessibility easier. If you're concerned about its durability, worry not because it is double laminated and finished in Laricina white. Given the fact, it is completely heat, stain, and scratch-resistant.
10- Kitchen Center With Breakfast Bar by Home Styles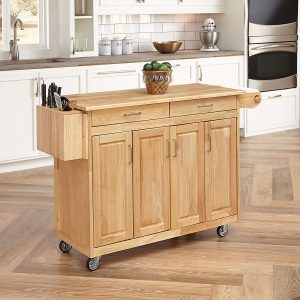 This has to be called a walking kitchen cupboard. Designed with 4 locking rubber casters, it can be moved around easily. To ensure you huge storage, it is inbuilt with 3 cabinets and each of them has an adjustable and removable shelf. Thus, it offers you more customized storage. Apart from that, it also features 2 utility drawers, a knife block, a towel rack, and a large breakfast bar. Speaking of construction, it is made of sturdy wood and features robust metal handles.
9- Country Lodge Pin Kitchen Island by Home Styles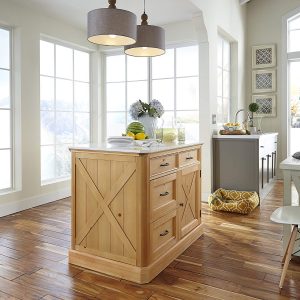 Getting a sturdy and durable kitchen cupboard with an alluring design is hard. However, Home Styles country lodge pin Kitchen Island has made it easy. Made of sturdy veneer panels with a robust pine frame, it is an elegant piece of furniture designed in 'X' pattern. Its canted corners and multi-layered honey pine finish add further beauty to this kitchen cupboard. Furthermore, it features 4 drawers and 1 big block with 2 adjustable shelves. You can keep some stuff atop cupboard too.
8- Kitchen Cart With breakfast Bar by Home Styles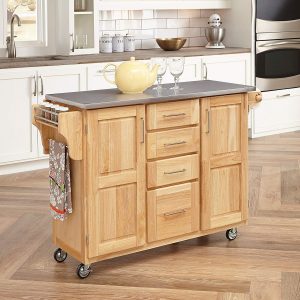 Get this Home Style kitchen cupboard and add a new style to your kitchen. Made of sturdy wood with a stainless steel top surface, this kitchen cupboard is sure to last for years. Its top roof isn't only durable but also easy-to-clean and rust-resistant. This kitchen cupboard features 2 big storage cabinets and 4 drawers. The drawers are inserted in the center and the cabinets are carved on both corners of drawers. Additionally, it features 4 rubber casters, which make mobility easier.
7- Home Source Industries-153BRD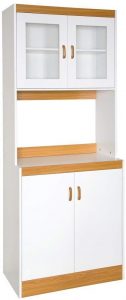 If your kitchen is big and you can place a large cupboard, Home Source Industries kitchen cupboard is made for you. It is big in size and offers you ample extra storage too. The cupboard features 3 cabinets. The top and bottom shelves feature 2 shelves. They are also designed with double glass doors with metal handles. The middle cabinet is big in size and doesn't feature any door. So, here place the stuff you need frequently. Other than its impressive features, it is sturdy and durable too as it is made of solid wood.
6- ClosetMaid 1556 Pantry Cabinet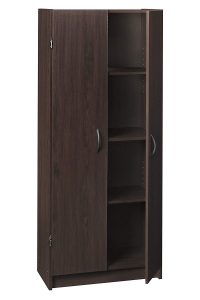 If you can't invest in a pricey kitchen cupboard, turn your head to ClosetMaid 1556 Pantry Cabinet. It is a simple, affordable, yet sturdy and high-quality kitchen cupboard. Unlike many other kitchen cupboards, it features only one cabinet that has 4 big shelves, out of them, two are fixed while the other two are adjustable. So, keep anything you want and close the door. That's it. The doors feature 2 handles to allow easy accessibility. Made of laminated wood, it looks elegant and is highly durable too.
5- Sauder Homeplus Base Cabinet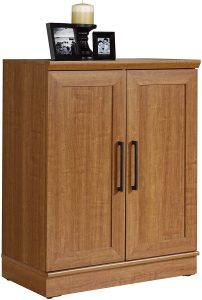 A simple, elegant, and alluring kitchen cupboard that will surely be an addition to your kitchen. Even after being small in size, it offers you huge storage to store things. The reason being, it features a hidden storage panel behind the doors. This shelf is adjustable and you can set it to your desired heights. Another good thing about this kitchen cupboard is that it is stackable and can be stacked on top of each other if you're running short of space.
4- Americana Distressed Oak Pantry by Home Styles

If you go after quality and durability, Americana distressed kitchen cupboard by Home Styles will surely impress you. It is made of robust veneers and finished with multi-step distressed oak. Also, it looks elegant. Its diamond-shaped carvings add further allure to its elegance. The kitchen cupboard features 6 adjustable shelves, which can accommodate even big items. Moreover, it features 2 two-sided doors. So, when you need to open the top part, just open the upper one only.
3- Nantucket White Pantry by Home Styles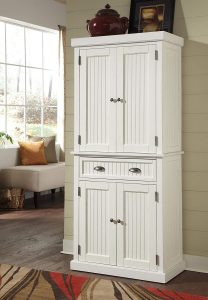 This white-colored Home Styles Nantucket kitchen cupboard is a blend of chic design and remarkable sturdiness. Made of solid engineered wood with a distressed white finish, it renders an elegant and vintage look. Speaking of storage capacity, it features 2 cabinets and both of them have two adjustable shelves. In addition to that, there is one more drawer in the center that features 2 handles. To ensure a reliable sturdiness, the shelves are designed with plate grooves.
2- Dorel Living Kitchen Island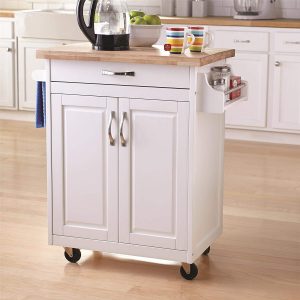 Dorel Living Kitchen Island is a small and sturdy kitchen cupboard with huge storage. It features 1 cabinet with 2 shelves, which are big enough to accommodate big items. Adding more to that, it features a little rack on the side, where you can store little items such as spices and little boxes. There is also a towel bar. Not only this, but it also features a big drawer that allows you further storage. Even after that, if you fall short of space, you can keep some stuff on the cupboard top.
1-Giantex Sideboard Buffet Server Storage Cabinet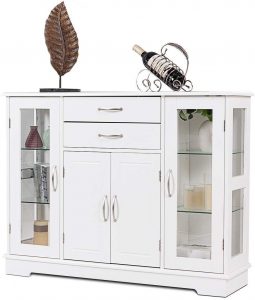 As the name suggests Giantex sideboard buffet server storage cabinet offers you giant storage. It is equipped with plenty of storage blocks including 2 large drawers, 6 adjustable shelves with the glass doors, and 2 big shelves with double-door. All doors and drawers feature handles to make accessibility easier. Speaking of construction, it is made of heavy-duty board, which is not only durable but also super stylish. Given its sturdy construction, it is scratch proof and corrosion resistance.
Conclusion
A cluttered kitchen affects your cooking efficiency. So, don't let your kitchen be messy and disorganized. Get one of these high-quality kitchen cupboards and keep everything organized in the right place.