As Christmas is approaching, markets are filled with beautiful gifts and eye-catching ornamentation. It's the festive time all over the world.  I'm sure you must also have some wonderful plans to make your Christmas merry. Well, add a little more to your plans by including a mini Christmas tree on your shopping list. Mini Christmas tree is awesome. They're not only space-saving but also extremely beautiful. I can guarantee, your kids would love them as much as the flocked Charismas trees. So, want to buy a tiny tabletop Christmas tree for your baby? Okay, here you go:
List of the Best Mini Christmas Trees in 2023
15. TURNMEON Pre-lit Mini Christmas Tree in Glass Dome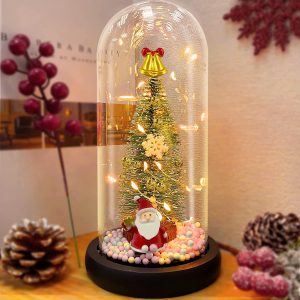 If you want to make your Christmas décor quirky and something unique, get this little wonder of sparkle. Unlike others, this mini Christmas tree is placed inside a glass dome, which renders it an appealing look. Featuring 20 LEDs, a tree topper, golden beads, a Santa clause, and foam balls ornaments, the tree brightens up the entire room when the lights illuminate.
Being battery-powered, the tree allows you easy accessibility too. Simply turn it on/off with the help of the switch. Since the lights are warm, they make sure not to dazzle your vision. As for the size, the tree measures 8.3×4.3 inches. To ensure reliable stability, it is also equipped with a wooden base. Given the fact, the tree can be used for indoor as well as outdoor decorations.
14. National tree company pre-lit artificial mini Christmas tree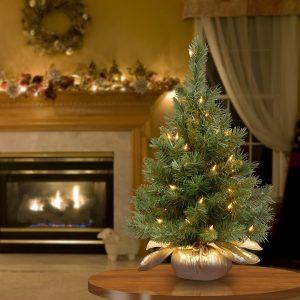 People, who love gold-color lights, will definitely find the charm of this Christmas tree irresistible. The tree is pre-lit with 35 UL white lights that remain lit even if a bulb gets damaged. To get the tree in action, all you need to do is to assemble it and put it wherever you want. Don't worry. Putting the tree together is a breeze.
If the pre-strung lights don't seem you enough, you can add more on your own. The tree is designed with 71 lifelike branches, where you can hang the lights of your choice. Having a size of 2ft×18inches, the tree is relatively large as compared to its competitors. Given the fact, it looks glittering when all illuminated. Coming to construction materials, the tree is made of polyvinyl chloride.
13. Prextex 23-inches DIY tabletop mini Christmas tree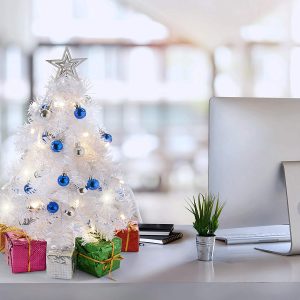 If you want really a tiny Christmas tree for your table decoration, this Prextex tabletop mini Christmas tree will please you. The tree measures just 23 inches and can be put on any table. Having a freestanding design, the tree also makes sure not to take much space. Plus, the assembly of the tree is also hassle-free. Just insert the stand, open the tips, and your Christmas tree is all ready to sprinkle its sparkle.
Featuring 35 pre-strung LEDs and a star topper, this Christmas tree would definitely be a go-to choice for you if you don't have time for decoration. And, if you have time, you can hang additional lights and make the tree more dazzling. The unique thing about this Christmas tree is that it has plug-in accessibility. So, you can put it anywhere there is a socket.
12. 24-inche Pre-lit Mini Christmas Tree by DEWBIN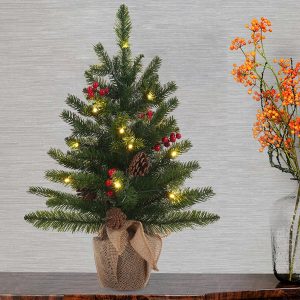 DEWBIN Christmas tree is one step ahead of its competitors when it comes to advanced features. Unlike others, it is designed with a timer, which allows you the flexibility to pre-set the lighting program of the tree. Just set it and forget. The Christmas tree will start sparkling once it hit the set time. Furthermore, the tree is battery-powered and requires a 3AAA battery. Given the fact, you don't need to deal with messy wires.
Adding further, the Christmas tree is equipped with 20 LEDs that illuminate in light green color and fill the atmosphere with warm sparkle. To make it look more gleaming, you can further decorate the tree with your favorite ornaments and lights. Being 2 inches large in size, the Christmas tree is space-saving. As for the construction materials, the tree is made of polyethylene construction.
11. Juegoal 24-inch Pre-lit Christmas Pine Tree
This mini Christmas tree is a loved choice of hundreds of users and you too will definitely fall in love with its awesomeness. From its design to features, this Christmas tree is different from its competitors. Unlike others, it is designed with 8 lighting modes that can be switched from one to another anytime with the help of the press button. Furthermore, the tree has 50 pre-strung LEDs and you can add more if you want.
The unique thing about this Christmas tree is that it is designed with crafted branch tips that render the tree a realistic full-bodied look. To ensure reliable stability, the tree is equipped with a stylish bag base that further enhances its look other than just preventing it from tilting. Coming to the size, the tree is 24 inches large and can be efficiently set up even on small-sized tables. Made of premium-quality plastic, the Christmas tree is durable, user-friendly, as well as reusable.
10. Best Choice Products 22 inches Battery Operated Tabletop Mini Christmas Tree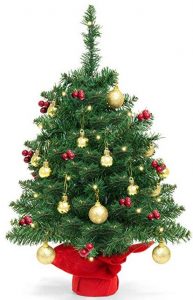 Bring joy with this Best Choice Products mini Christmas tree. It is pre-decorated. You don't have to do anything. Just buy and place it in your room and you're done. It will do the rest. There are 14 golden bulbs and 15 LED string lights. If they don't seem enough for you, you can definitely add the additional lights. The tree is battery operated, so make sure to charge it fully before lighting up. It requires AA batteries which you need to buy separately.
9. National Tree24 inch Majestic Fir Tree, Best Mini Christmas Tree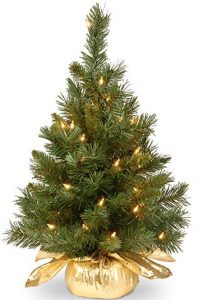 If you want an artificial mini Christmas tree with a touch of a real tree, consider buying National Tree 24-inch Christmas tree. It is so realistic that you'll assume it a real tree at first glance. To beautify it more, it is dotted with the 35 bulbs. These bulbs are secured with the twisted lock. Given the fact, there is little to no chance of bulbs falling apart. This 2ft tall mini Christmas tree is wrapped with a golden bag at the base which makes it even more beautiful.
8. Best Choice Products 26 inches Tabletop Christmas Tree Mini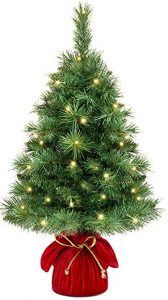 If it's a festive time, the aura of your house should match with the cheerful ambiances all around you. But, how you'll do that? Well, get this Best Choice Products mini Christmas tree. It is one of the most compact and hassle-free mini Christmas trees. Featuring 35 white LED lights, it is always ready to fill your house with lights and joy.  It comes handy because it is battery operated. No hassle of power cords and setting it up for hours. Just insert the battery and you're ready to go.
7. Kurt Adler 12Miniature Pine Tree, Mini Christmas Tree Flocking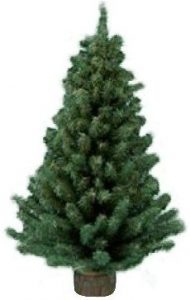 You can't get a cheaper tabletop Christmas tree than this.  Hands down, it is the simplest and the most classic mini Christmas tree. In fact, it can be a good choice for the Christmas gift too.  Designed in pine shape, it has 125 tips. However, it is not pre-lit. You need to put some efforts to see this Christmas tree illuminating. The best thing about this tiny tree is that it has a solid wood base which you'll hardly get in any other mini Christmas tree.
6. Vickerman Carmel Colored Pine Tree and Mini Christmas Tree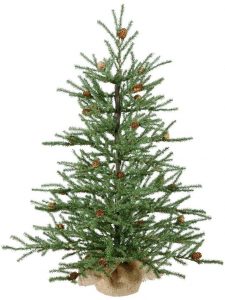 If you're looking for a large-sized tabletop Christmas tree, Vickerman Carmel colored pine tree might please you. It stands at a height of 30 inches and has 684 PVS tips. Generally, in mini Christmas trees, there are not many lighting tips but this one stands out of all. Its burlap base makes sure to keep it stable no matter where you place it. You need to fluff the branches out and then decorate them. This process might take some time.
5. 14-inch Tabletop Mini Wooden Christmas Tree by JOYIN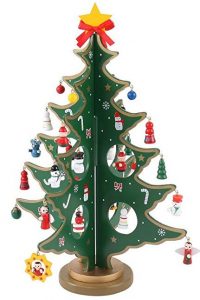 From design to ornamentations, this one is completely different from the others. It is made of completely wood from toe to top. The tiny tree is painted in green color and has red & white pigments which amplify its beauty. Since it is only 14 inches tall, it is the best mini Christmas tree to brighten your office table your maybe, your living room. Another good thing about this Christmas tree is that it's extremely easy to assemble and disassemble. Even a kid can do this.
4. Tabletop Mini Christmas Tree Set with Clear LED Lights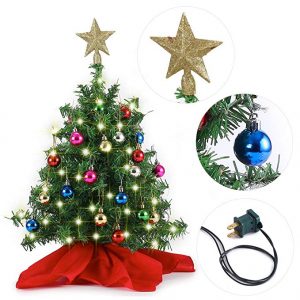 Replacing a battery after every few days can be really hectic for some people. The battery-operated stuff can fail even at the time when they're needed the most. Isn't it? Well, this happened to me. If you want to avoid this embarrassing hassle, get this mini Christmas tree. It needs no special tools. Just plug in and your room will be filled with the sparkling lights. The incredible Christmas tree includes 50 LED lights and 24 ornaments. You just need to place them on the branches tips.
3. Tabletop Mini Christmas Tree, Miniature Pine Tree by WesGen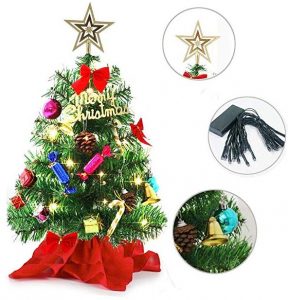 This is again a DIY Christmas tree. The set includes a plug-in charger, a star, and a number of small LED lights. You have to do ornamentation part on your own. If you want to place some additional lights, you can. Though there are only 20 tips, the bulbs can be places even in the middle of the tree. Place the star on the top. It has a robust metal stand with a plastic base. Given the fact, you can rest assured about its stability.
2. Holiday Essence 4 Foot Green Artificial Christmas Tree Mini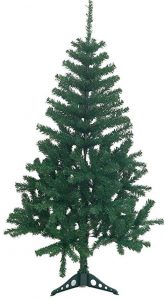 Nothing can match the attraction of an artificial green tree. Isn't it? It looks just so realistic. Don't believe me? Okay, look at Holiday Essence green artificial tree. Standing at a height of 4ft, this mini Christmas tree is designed with 300 tips and a stable PVC base. Fluff out the branches and put some lights. Branches are sturdy enough to hold even a heavy ornamentation. However, with this Christmas tree, you would need to buy the lights separately.
1. National Tree 3 Foot Kingswood Fir Wrapped Pencil Tree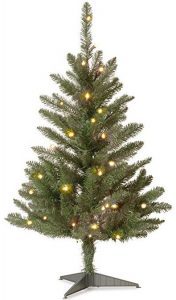 Here is a small, cute, and lovely Christmas tree to fill your home with joy and cheer. This 3ft mini Christmas tree is pre-strung with 50 illuminated lights. Every single bulb is secured by a clamp to the branch. Since the tree is made of robust metal, it is solid and fire-resistant. The center pole is wrapped with the artificial leaves which render a more realistic look. This beautiful mini Christmas tree is surely worth the price.
Buyer's frequently asked questions:
How much are small Christmas Trees?
The mini Christmas tree is available at the price from $20 to $100 and more. It's depending on the material used to produce the the tree. You can find the price when you click on the button of each product above.
How to decorate mini Christmas trees?
Well, some small Christmas trees do not need further decoration. Yet, if you buy the one which needs further decoration, let me introduce you tothe tutorial video below to get some ideas.
Conclusion
There are many ways to celebrate your Christmas occasion. Among those, Mini Christmas trees are always the simplest choice given the fact they are affordable, cute, and highly portable. So, get the one and let it sprinkle its glory all around your house. In case you want a shiny decoration for your house, check out the LED robe light for Christmas as well.
Last update on 2023-11-30 / Affiliate links / Images from Amazon Product Advertising API