Want to hold an exciting summer-evening pool-side bash for you and your friends? Pool Lights can go a long way in creating the best ambiance and atmosphere for a fun night! These lights help in lighting up your pools and become a stand-out feature during different celebrations and events. These lights help illuminate the water in the banks below, allowing you to see everything more clearly and efficiently while also allowing us to use the pool at any time during the night. Added to that, these lights will enable you to create many different sparkling effects and enhance the evening's vibrancy and mood.
Selecting the proper set of pool lights might prove challenging for you, given the number of options in the market. We have compiled a list of 10 pool lights to assist you in this task!
List of the 10 Pool Lights for Swimming Pool Decoration in 2023
1. Best Overall: UBEGOOD Submersible LED Lights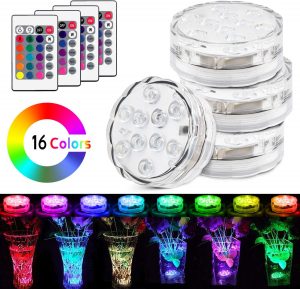 Brand: UBEGOOD
Measurement : 2.75 x 2.75 x 1.1 inches
Weight: 11.3 ounces
Styled with expertise, the UBEGOOD LED Lights can easily be used for both indoor and outdoor pool decorations. Made with a water-proof 1P68 Design and a silicone O ring, these can light up places like pools, bathtubs, fountains, etc. These lights can be readily used for lighting up your flower vases, fish tanks, and even aquariums with fantastic lighting effects.
These pool side lights come in packs of 4 with 16 color variants along with four dynamic color-changing modes. The package also includes a complimentary remote control.
Features
These are LED RGB Lights
Powered by 3 AAA batteries
Come in 4 color modes – flash,strobe,fade,smooth
Can be kept underwater up till 10 hours
Wireless and Safe
Convenient Usage
Video Reviews of Submersible LED Pool Lights by Robert Veach
2. Best Value for Money: HouLight Submersible LED Lights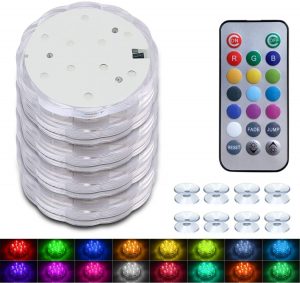 Brand: HouLight
Measurement : 2.1 inches x 1 inch
Weight: 10.6 ounces
Posing a  fashionable design, the HouLight LED pool lights are a great choice. These new and improved RGB LED lights come with water-proof technology as well as adjustable lighting modes. They also consist of LED chips, which provide efficiency to the lighting process. You can easily use these lights in several different settings, such as tubs, pools, parties as well as room decorations.
This set of pool lights comes with remote control as well as suction cups. The manufacturer also provides a 30 days unconditional satisfaction and quick return guarantee.
Features 
Powered by 3 AAA Batteries
Remote with a 30ft Control Distance
It comes in 13 primary colors, with specific dimness mode
It comes in packs of 2 or packs of 4
Can be kept at a maximum of 3ft underwater
Related: The 10 Best Chlorine Tablets For Swimming Pool in 2023
3. Life-Bulb LED Pool Light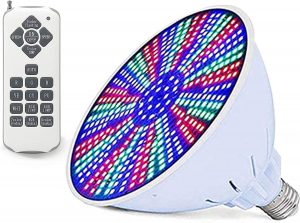 Brand: Life-Bulb
Measurement : 6.62 x 6.62 x 5.37 inches
Weight: 1.63 pounds
The Life-Bulb LED Pool Light sports an innovative design over other previous models. The lights are available in 16 different color modes – 7 fixed colors and nine lighting shows. The scientifically designed lights help provide energy efficiency while also allowing the lights to be bright and shining at all times. These lights are multifaceted and can also be used to light patios as well as gardens.
The package comes with a lifetime guarantee and an optional replacement with 50% off on the next purchase.
Features 
Easy to Install
Energy Efficient
It comes with a complimentary remote
Easy changing and Replacement process
Powered by 23A Batteries
4. Best Runner Up: ESUPER Floating Ball Pool Light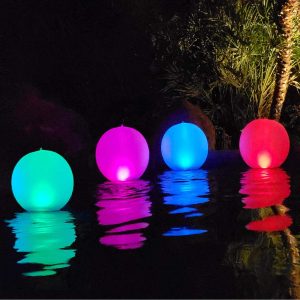 Brand: Esuper
Measurement : 14 x 14 x 14 inches
Weight: 2.48 pounds
Esuper Floating Pool Lights are masterfully designed. They are sport water as well as weather resistant. They provide multi-color alteration, providing a vibrant and colorful experience. These lights are floatable and are charged with sunlight, illuminating the surroundings automatically.  They are made of vinyl and are water-proof. These lights are durable and sturdy and can be used in a number of activities and situations. These lights are used for pool games, decorations as well as festive decorations.
Esuper provides a 1-year warranty on the product and unconditional customer support, and free replacement in case of quality issues.
Features
Solar Powered
Easy Installation
Inflatable and Portable
Colors change between green, blue, red, and white.
Lithium Polymer Batteries required.
5. Beautiful Life Floating Pool Lights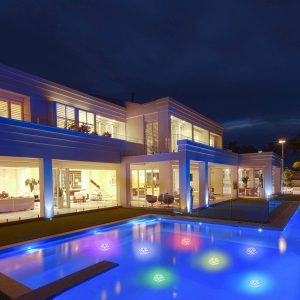 Brand: BeautfilLife
Measurements : 3.5 x 3.3 x 1 inches
Weight : 3.17 ounces
These are premium quality starfish lights with a charming design. They are sturdy and are made up of high-quality double-waterproof layers. They are also layered with watertight sealing. The floating light glows in 7 different color variants and creates beautiful color renditions. These pool lights are easy to install and have a wide application, providing lighting decorations for fountains, patios, pools, and other settings. They also do not require any wiring.
BeautfilLife products also come with a 100% no-hassle guarantee, allowing for a money-back return policy.
Features 
Easy to Install
Water-proof
It comes in 7 color modes
Provides an auto-switching feature
Powered by 3 AAA Batteries
6. Homly Pool Lights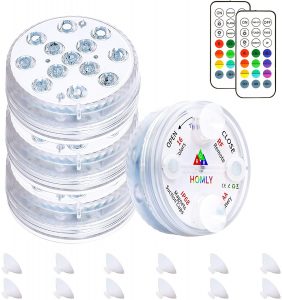 Brand: Homly
Measurements : 7.05 x 6.93 x 1.93 inches
Weight: 1.32 pounds
Homly Pool lights are stylishly built and sport a number of different features that make them great products. They are designed with 13 premium led beads, which allow them to show bright and vivid lighting. The lights also come with anti-rust magnets as well as silicone suction cups. These lights come with water-proofing coating and technology, with a thicker sealing ring, making them efficient in usage. These pool sets have a dynamic spectrum and can be easily used to light up fish tanks, boats, pools as well as fountains, and baths. The seller also provides 45 days of free return and quick unconditional refund options.
Features 
Come with Remote control, suction cups and User manual
Displays 16 colors with changing capacity
Has three modes – flash, fade and smooth
Powered by 3 AA batteries
Are available in sets of 1, 2 and 4
7. Ukey U Pool Lights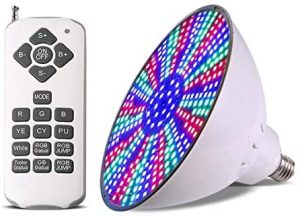 Brand: Ukey U
Measurements :  6.5 x 6.5 x 5 inches
Weight: 1.3 pounds
Ukey U Pool Lights are great products that have the ability to light up 25000 gallons of the pool, with lesser electricity usage. They are smartly designed and come with a temperature detection function as well. These pool lights boast a number of features, such as seven static modes and 8 animated modes for display purposes. Memory control chips also help in displaying previously saved color modes with ease. The on/off switch control also allows for easy usage.
Given its features, it is no surprise that these lights are steadily used under pools, for baths and fish tanks, as well as for lighting up gardens.
Features
Provides easy remote and switch control
It comes with energy-saving technology
Easy to install and use
It comes in 4 modes – color changing, transition, fade and jump.
Powered by 23A battery
8. Best under $: U UBEGOOD LED Lights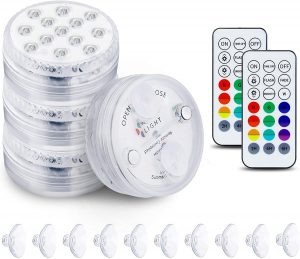 Brand: U UBEBOOD
Measurements :  5.9 X 5.7 X 1.8 inches
Weight: 14.4 ounces
These new and improved lights come with 16 beautiful and static color displays and dynamic changing modes. They have an excellent magnetic and suction cup function, which makes them the best products to use. The LEDs in these pool lights are three times brighter than others. These lights can stay lit for around 35-50 hours. They have 4 timer options, which make them flexible and easy to operate. They also show increased water-proof and weatherproof qualities. They can readily be used to light up gardens, ponds, pools as well as aquariums.
Features 
Provide easy and convenient usage
Boast of 3 dynamic settings, namely flash, fade and smooth
Wireless and powered by 3 AAA batteries
The range of the remote is 164ft in air and 16.4ft in water
Boast of 4 timer options: 2h, 4h, 6h, and time off.
 9. GEEDIAR Floating Pool Lights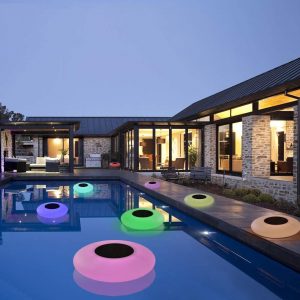 Brand: GEEDIAR
Measurements : 9.8 x 9.8 x 2.7 inches
Weight: 1.32 pounds
Geediar floating pool lights boast of a unique and multicolor design, with an array of different features and properties. The colorful LED has 16 different color modes and 4 sets of settings. These lights are multipurpose and can be used for indoor and outdoor decorations such as party decorations, pools, stage lighting, etc. These are solar-powered lights that come with rechargeable properties, which make them efficient and easy to use. They also have a long working time and can lit up to 8 hours. Geediar provides unconditional customer service via mail in case of unsatisfactory experiences.
Features 
Boasts of water-proof and weatherproof features
Powered by one lithium-ion battery
Can work with a remote control distance of 16.4ft
It comes with 4 setting modes – 3-color gradient, 7-color gradient,3-color flash and 7-color flash
Can light up to 6-8 hours
10. Cheapest of all: XERGUR Swimming Pool Lights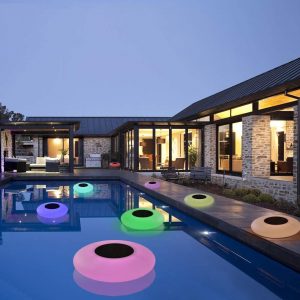 Brand: Xergur Store
Measurements : 4.29 x 4.25 x 3.58 inches
Weight: 5.6 ounces
These swimming pool lights are designed for vibrant and attractive projection, boasting of 7 colors and several properties. They have high quality LED saturation in 7 different colors and can be used in ponds, tanks, aquariums, ambient lighting as well as outdoor decorations. These lights are water-proof and come in different light show modes that can be used as per your requirements. The process of installation is also comfortable, making them efficient to use. They also come with transparent coating protection shells.
Features
Easy to use and install
Provide a variety of modes that can easily be switched across
Powered by 3 AAA batteries
Support a water-proof design
FAQ: Frequently Asked Questions
How To Select The Perfect Pool Lights?
On a personal level, you should always go for pool lights after narrowing down your specific purpose. It is necessary to ensure that the lights you choose fit your budget and are in tandem with your needs and requirements. The particular features of different lights should also be made known so that you are aware of the extent of their properties. Be sure to also keep in mind the settings in which you want to display these lights and go forward with your purchase.
Are Pool Lights Safe?
Pool lights are always safe for the users, provided that they have been installed correctly and have been checked thoroughly. It is necessary to check the voltage of the pool lights and connect them with sources that can support them. Correct voltage support along with proper installation will allow for seamless performance of the lights.
How To Install These Lights Properly?
It is necessary to be aware of the features and properties, as well as the energy requirements of the particular pool lights you choose. If you do not have electrical knowledge, it is vital to get professional help, to be sure of the specific wiring, chords, and voltage sources that need to be used.
Verdict
Pool lights are supposed to enhance the ambiance and atmosphere of your settings. It is necessary to always choose the lights which appropriate for your usage. Given the number of different variants in the market, make sure to go for one which complies with your needs and wishes. Be sure of where and why you want them installed and how much power they require. Always remember to make intelligent choices depending on your budget. We hope that the list above was able to provide you with some valuable information concerning the same!
Last update on 2023-10-03 / Affiliate links / Images from Amazon Product Advertising API