Mixing bowls are essential in every kitchen not because they do their job efficiently but because they save tons of your time in cooking and lessen the half of the efforts. But, before buying a good mixing bowl you should always do your work. Means, complete research! If you can't do this, don't worry. Here, we have researched all the information about the top 10 best mixing bowls in 2020. Just check out the list.
List of 10 Best Sets of Mixing Bowls in 2020
10. A Set of Stainless Steel Mixing Bowls by Finedine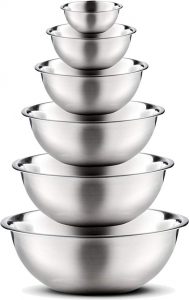 If you rely on the plenty of positive & happy reviews, Finedine Stainless steel mixing bowl would definitely be a catch for you. It is a set of 6 different sized mixing bowls together. They are descending on the sizes, so you can easily store them all in one place. Since they are made of stainless steel, they don't discolor, stain or absorb the odors. The rounded-lip design not only makes them look classy but also make it easy to hold them with an ease.
9. Pyrex Glass Mixing Bowls, A Set of 3 Medium-Sized Bowls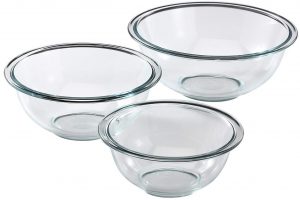 If you need a 3 medium-sized mixing bowls, consider buying this one. All the three mixing bowls are just minor different in size. Unlike the previous mixing bowl, this one is made of glass, so you need to be extra careful while using them. However, the glass is solid and hard-to-break. Having made of a pure Pyrex glass, the bowls are completely dishwasher and microwave- safe, so don't worry about the cleaning hassle. They can even be used efficiently in the ovens.
8. Top-rated Bellemain Stainless Steel Non-slip Mixing Bowls With Lids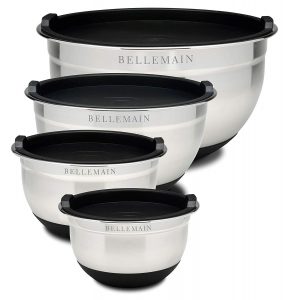 As the name suggests, the best thing about these mixing bowls is that they are non-slip. They are actually designed with small handles in both the sides which ensure the firm hold. Other than the handles, the bowls also include the lid which is another good feature of these mixing bowls. Bellemain stainless steel mixing bowls also beat the all other mixing bowls when it comes to fancy design. With their black lids and stainless steel bowls, these mixing bowls render a fascinating look.
7. Fitzroy and Fox Non-slip Stainless Steel Mixing Bowls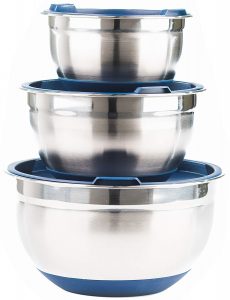 Another set of mixing bowls that has impressed the people with its user-friendliness. If you need the normal-sized mixing bowls with comparatively more space, don't miss to check out this mixing bowl closely. It is a set of 3 generous-sized bowls which are amazingly stackable in design. The thing I love about these mixing bowls is their non-slip bottom. Yes, they are designed with the silicon at the bottom which not only makes them non-slip but also easy-to-clean because silicon refrains the heat stains.
6. OXO Good Grips- 3 piece Mixing Bowls Set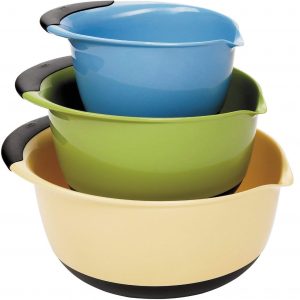 Some products are designed so alluring that one can't really resist buying them and the same is with OXO Good grips 3-pieces mixing bowls. Their attractive looks coupled with the ergonomic design make these mixing bowls a head-turner in the market. Unlike other mixing bowls, they're designed with the pouring spouts which enable you to pour out the food off the bowl effortlessly. To give the bowls an extra stability, they are designed with the non-slip bottom.  This set of mixing bowl will surely be an addition to your kitchen.
5. Pyrex Smart Essentials Mixing Bowl Set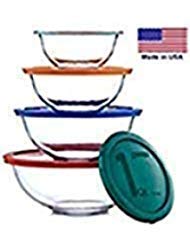 Another set of mixing bowls made of Pyrex glass. Though the bowls are made of glass, you can use them in dishwasher, microwave, and oven without any worries. The bowls are easy to clean and comfortable to hold. They are designed with the locking lids. You don't need to open them just to check what is inside. You can see it through the transparent glasses. It is a set of 8 different-sized mixing bowls with a two-year full warranty.
4. Finedine Preminium Various Sizes Stainless Steel Mixing Bowls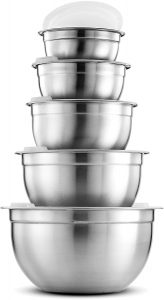 Finedine brand needs no introduction when it comes to good-quality mixing bowls. Made of premium stainless steel, this set of mixing bowls is made to serve your all needs in kitchen. Since they are generous in size, they can be used for many purposes such as mixing bowl, container, and as a food steamer. The bowls keep the food fresh for a long time. The lids are made of BPA-free plastic which not only makes them flexible but also durable. The small handles provide you an easy accessibility.
3. KUKPO Mixing Bowls 3-Piece Set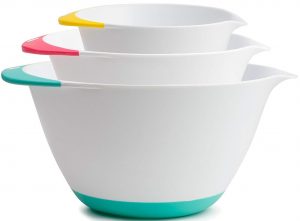 Want a high-quality, durable, and stylish set of mixing bowls at an amazingly affordable price, look no further than this mixing bowl. Seriously, it is an all-in-one pack if you're looking for these features. The bowls are made of solid plastic and have a non-skid bottom. Given the fact, you can use them without any worries of falling off and breaking down. To ensure you a firm grip, they are designed with the rubber handles. The pouring spout makes the bowls spill-free.
2. Farberware Classic Plastic Mixing Bowls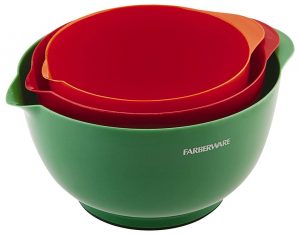 WOW! This amazing set of mixing bowls is hard-to- miss and the catch is its price. Yes, it is the cheapest mixing bowl on the list but its design and the impressive quality put it ahead than the many other mixing bowls. The mixing bowls are so smartly designed that they can be nested together saving a lot of space. Having made of farberware plastic, they are more flexible and durable as compared to other mixing bowls. They also feature the pouring spouts and the small handles.
1. Sagler Stainless Steel Mixing Bowl Set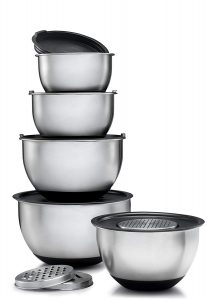 Sagler stainless steel mixing bowls made the top place on the list because they include all the features you can expect in a high-quality mixing bowl. From a long durability to easy accessibility and from stylish design to the generous holding capacity, this set of mixing bowls beats all. With their flat bottom and curved lids, these mixing bowls have attracted many people all around. It also includes 3 removable grater discs which you can use as per your needs.
Conclusion
Mixing bowls are something we need to buy almost every year when our old mixing bowl becomes worn out.  If you also want to buy a set of reliable mixing bowls, go through the list again. It will help you to get the best one.