Ceramic Christ tree – in recent few years, Ceramic materials have taken the world by storm. From utensils to decorative stuff, ceramic items have become the major catchment of eyes in the market. What to say more? Now, even ceramic Christmas tree is available for you.  As compared to other Christmas trees, ceramic Christmas trees are small, portable, and easy to manage. So, if you're intending to buy a good ceramic Christmas tree, check out the below list of top 10 best ceramic Christmas trees in 2020.
List of The 10 Best Ceramic Christmas Trees in 2020
10. Thomas Kinkade Illuminated Nativity Tabletop Ceramic Christmas Tree by Bradford Exchange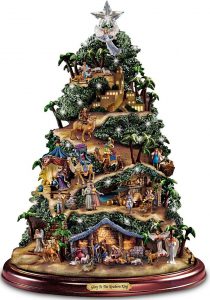 The most beautiful thing about ceramic items is their intricately crafted designs. Isn't it? Well, if you don't believe us, just look at Thomas Kinkade Bradford Exchange Christmas tree. Its breath-taking handcrafts will leave you awestruck. The tree is 1ft tall and has a star on the top.  A picturesque natural scene with more than 40 characters is crafted on the tree. It has a flimsy outer layer, so you need to be a bit careful while moving it around. It's an ideal Christmas gift for either your friends or yourself!
9. Bradford Exchange the Disney Tabletop Ceramic Christmas Tree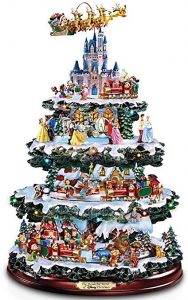 If you're a Disney lover, this ceramic Christmas tree would definitely swift you off your feet. Get this amazing world of Disney, and lighten your home with joyful Christmas spirit. Inspired by Hawthorne village, this ceramic Christmas tree has 10 unique scenes. To make it look more beautiful, it features over 50 handcrafted Disney characters. Not only this, it also has an animation feature which makes it really awe-inspiring. These characters come into life once you have set them in motion mode. It's 
8. ReLive Christmas Tabletop Christmas Tree Ceramic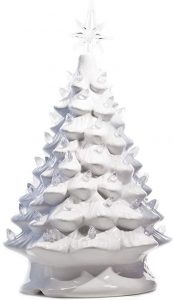 ReLive Christmas is the unmatched combo of elegance and modish design. Seriously, it beats all when it comes to remarkable design. The best thing I like about this Christmas tree is that it is pre-lit. Yes, it is designed with two C7 lamps and more than 50 translucent bulbs which are sufficient enough to illuminate your entire room. If you want to further decorate it, put some additional bulbs. The tree is 14.5 inches tall. Given the fact, it is an ideal tabletop Christmas tree.
7. Best Choice Products 15 inch Ceramic Christmas Tree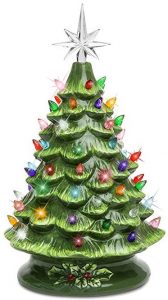 'Best Choice Products' needs no introduction when comes to reliability. You can go for this brand blindly. Speaking of 'Best Choice Product' ceramic Christmas tree, this vintage tree is one of its kind. Beautifully designed and hand-painted with shiny green color, this 15-inches tall ceramic Christmas tree is ready to illuminate your home with multi-colored lights. Its versatile décor makes it an ideal fit not only for Christmas but also for any special occasion. Unlike other ceramic Christmas trees, it is not battery-operated.
6. ReLive Christmas Tree Tabletop 

Ceramic 

Christmas Tree, 14.5 inches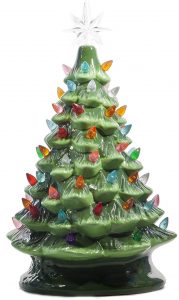 Relive your childhood Christmas celebration with this fascinating ReLive Christmas tree. Unlike the earlier ReLive ceramic Christmas tree, this one has a green glossy finish with multi-colored lights. So, if you didn't like the elegance of white color in that ceramic Christmas tree, get this one. With its parti-colored illumination, it will brighten your home with festive Christmas cheer. You can keep it anywhere as it is compact in size. It measures only 14.5 inches.
5. Milltown Merchants Ceramic Christmas Tree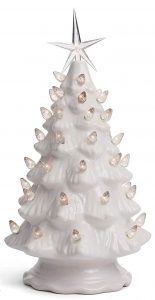 If you're looking for a tiny and quite small-sized ceramic Christmas tree, turn to this one. It is only 11.5 inches tall. With the fact, you can place it anywhere from tabletop to the bedroom.  The round shaped 6.5 inches base ensures a firm stability. Its glossy white finish with a classy design will surely dazzle your eyes. If somehow you manage to resist yourself against its alluring charm, the illuminating light of little white bulbs will make you go weak at the knees with amusement.
4. Joiedomi 9 inches Tabletop Prelit Ceramic Christmas Tree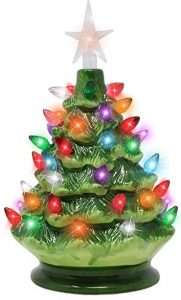 If you want even smaller ceramic Christmas than Milltown Merchant Christmas tree, Joiedomi tabletop pre-lit ceramic Christmas tree is here for you. Its 9-inches tiny height makes it an ideal fit for your Christmas decoration. It is equipped with multi-colored bulbs and a shining star. The star is placed on the top which amplifies the Christmas cheer. The best thing about this little ceramic Christmas tree is that it is battery-operated. No hassle of carrying a bundle of wire along with the tree.
3. Best Choice Products 9.5 inches Ceramic Tabletop Christmas Tree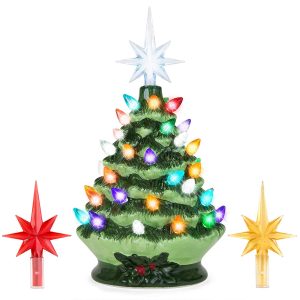 Again an incredible ceramic Christmas tree by Best Choice Products! With its mind-blowing design and fancy looks, this particular ceramic Christmas tree has garnered a plenty of happy customers under its cap. The thing that puts it apart from the others is its glittering lights. It comes with three big-sized and different colored stars. Place one on top which coordinates with lighting pattern and keep the remaining two beside the tree. The green glossy finish dotted with unnumbered of little bulbs add the further enhancement to the tree.
2. Joiedomi 9 inches Tabletop pre-lit Ceramic Christmas Tree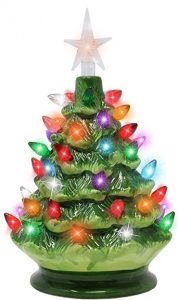 Affordable and alluring are the words that sum up a long detailed description of this Joiedomi 9 inches ceramic Christmas tree. Given the fact that it is pretty small in size, it is extremely portable and lightweight. The white star on the top perfectly matches up with the colorful lights and creates a vibrant aura. Other than its lightweight, the thing that makes it portable is its battery-operated system. Yes, you need 3 AA batteries to light up this beautiful Christmas tree.
1. Pinkada Lighted Tabletop Ceramic Tree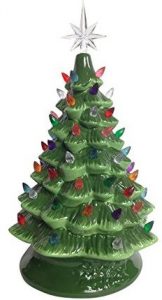 Here comes the best ceramic Christmas tree on this list. It has its own set of reasons to be on top. First of all, it is a brighter and low power consuming Christmas tree. It is equipped with 2 watts LED bulb. Still, it consumes relatively low power. To make the lights work properly, it is designed with an inline on and off switch. Other than a big LED star, it also features more than 50 little multi-colored bulbs. Just imagine how beautiful it would look once all lit up.
Conclusion
Forget those old same looking Christmas trees. Try these ceramic Christmas trees on this Christmas and fill your house with cheerfulness and elegance. These tiny Christmas trees will surely make your Christmas celebration grand.