Do you want to enjoy your favorite water sport activity with your favorite person? Well, then you should consider investing in a 2-person inflatable kayak that is the best option to enjoy water sports adventure to the fullest in every way. The reason for the popularity of inflatable kayaks among the water sports enthusiasts is their quick inflating & deflating functionality and remarkable portability. These types of kayaks are incredibly lightweight and they can be easily carried anywhere. The thing that is difficult with these 2 person kayaks is to pick the best one for you among the slew of options available in the market. However, you don't need to fret. We have already curated the top 10 best 2 person inflatable kayaks for you. Hit the list here.
List of the 10 best 2-person inflatable Kayaks in 2023
10- Intex Explorer K2 Kayak, 2-person inflatable kayak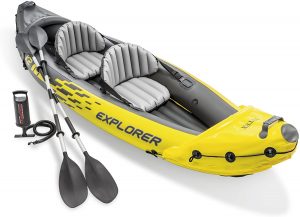 Intex Explorer K2 kayak has already amazed thousands of people and taken their adventurous experience to the next level. Having a size of 10'3"×3'×1'8", the kayak offers ample accommodation for 2 people. The weight holding capacity of the kayak is 400lb, while it itself weighs just 30.60lbs. Equipped with adjustable seats and backrests, the kayak offers you the full flexibility to customize it according to your convenience and comfort.
To allow you easy accessibility, the inflatable kayak is designed with a grab line and a grab handle at each end. Speaking of the construction materials, the kayak is made of rugged vinyl and has I-beam flooring. Given the fact, it is puncture-proof, sturdy, lightweight, and can efficiently withstand the weight of 2 people.
Why we recommend it:
Vinyl construction
I-beam floor
Features 3 air chamber
Weight holding capacity: 400lbs
Adjustable seat and backrest
9-Intex Challenger kayak Series inflatable 2 person kayak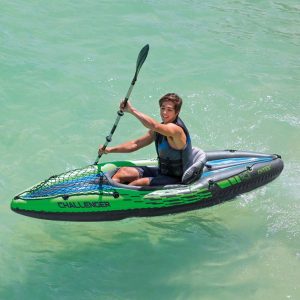 The eye-catching design of the Intex Challenger kayak series puts it apart from the crowd. The shiny green color with the sporty graphic offers the kayak clear visibility in the water. Adding more to that, this 2-person inflatable kayak has a cockpit design that never fails to offer you a comfortable kayaking experience. Not just the design, the kayak has a robust construction too. It is made of puncture-proof vinyl and has an I-beam floor, which makes it sturdy and rigid. In addition, it also features a cargo net where you can store your additional kayaking gears.
Moving on to the size, the kayak is 9'×2'6×1'1" and the weight holding capacity is 220lbs. Featuring 2 separate gas chambers and Boston valves, it ensures quick and hassle-free deflation and inflation. In just minutes, you can assemble or disassemble it.
Why we recommend it:
Equipped with 2 gas chambers
Quick inflating and deflating
Weight capacity: 220 lbs
Cockpit design
Vinyl construction
8- Sea Eagle 370 pro inflatable portable sport kayak, sea eagle 2 person inflatable kayak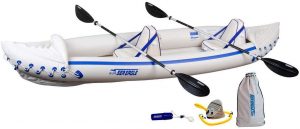 If you have a family of 2 people, Sea Eagle 370 pro inflatable portable sport kayak is made for you. Having a size of 12'×2'6"×10" and the weight of 650 lbs, the kayak can efficiently hold from 2 persons to 3 persons. Even after holding such a large weight, it works smoothly and offers you maximum comfort. All thanks to its extra thick PVC material that isn't only comfortable but also puncture-proof and tear-resistant. In addition, the floor of the kayak has an I-beam construction.
Unlike other inflatable kayaks, it is incredibly easy to operate too, as it features 2 paddles and comes with sturdy aluminum shafts. Besides that, the seat, backrest, handles, and other parts of the raft boat are detachable. On top of everything, its inflation and deflation is a breeze.
Why we recommend it:
Size:12'×2'6×10"
Weight capacity: 650lbs
Can hold up to 3 people
I-beam floor
Thick PVC construction
You may also check: Top 10 Best Inflatable Speed Boats in 2023
7- Intex excursion Pro kayak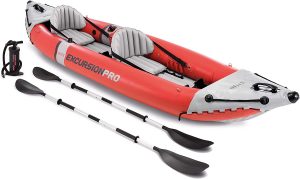 Whether you prioritize a sturdy construction, easy user-friendliness, advanced features, or stylish design, this Intex 2 person inflatable kayak won't let you down. Having a sturdy flooring of I-beam construction and the core body of heavy-duty PVC, the raft boat isn't only weight-resistant but also durable, tear-proof, and lightweight. Furthermore, the size of the kayak is 12'7"×3'1"×1'6" and it is capable enough to hold the weight up to 400lbs.
The kayak comes with 2 detachable skegs, 2 footrests, 2 fishing rod holders, and 2 adjustable seats. Besides that, it also features 2 mounting brackets that are adjustable and removable. The unique thing about this kayak is that it is equipped with spring-loaded high-pressure valves that don't only intensify your kayaking experience but also allow you quick and convenient assembly and disassembly.
Why we recommend it:
Size: 12'7"×3'1"×1'6"
Weight holding capacity: 400 pounds
Features 3 chambers
I-beam floor
PVC construction
6- Sea Eagle 370 deluxe inflatable portable sport kayak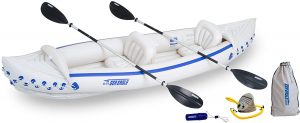 Another Sea Eagle kayak that has secured a place on this list because of its impressive features and mind-blowing design. Having a large size and huge weight holding capacity of 650lbs, the kayak is meant to hold 3 people. Despite its bulky size, it itself is very lightweight. It just weighs 32 lbs and can be lifted even by little kids without causing any trouble.
With the 2 smooth paddles, foot pump, and 2 aluminum shafts, the kayak makes sure to offer a thrilling kayaking experience. In addition, it also features 2 molded skegs on the bottom that intensify the speed and offer you better tracking experience. Furthermore, the floor of the boat raft has a sturdy construction of I-beam, which is break-resistant and withstands the estimated weight effectively.
Why we recommend it:
Stylish design
I-beam flooring with5 tubes
Comes with 2 paddles
Weight capacity: 650lbs
Lightweight and portable
5- Sevylor Quikpak K1 Kayak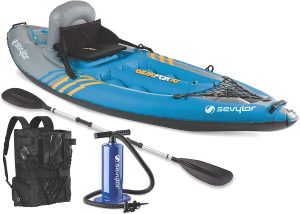 Known for its breeze assembly and foldable design, Sevylor Quickpak K1 kayak is a popular 2-person inflatable kayak in the market. As opposed to its competitors, you can put this boat raft together in just minutes. Not just that, but the kayak is also portable and lightweight. Made of heavy-duty PVC and having a sturdy tarpaulin bottom, this 2-people inflatable kayak is puncture-proof and can withstand the rigors of the water efficiently.
The best thing about this kayak is that it is equipped with multiple gas chambers. So, just in case, one of them gets punctured, the kayak won't be affected at all. It will remain inflated. To ensure easy inflation and deflation, it is designed with a double-lock valve. Besides that, the kayak also offers you the flexibility to set the footrest in your desired position and enjoy the maximum comfort.
Why we recommend it:
Quick setup
Features multiple gas chambers
PVC construction
Double-lock valves
Weight capacity: 400lbs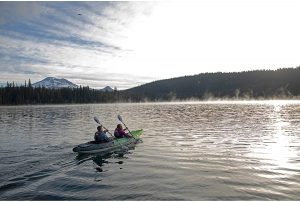 Get this feature-packed kayak and take your adventure to a whole new level. Having a size of14'6"×37" and weight holding capacity of 500lbs, the 2-person inflatable kayak is sturdy and large enough to accommodate up to 3 people. The touring boat has a drop-stitch floor construction that is super robust and offers smooth paddling, that too without adding much weight to the boat.
To operate the kayak at ease, you can adjust the position of footrest and seat according to your needs. The good thing is that this inflatable kayak has a ready-to-go design and it doesn't need an hour-long setup. It comes equipped with quick-release fin, accessory strap, drain plug, seat, paddle keeper, seat & footrest, D-ring, molded handle, and all other essential accessories. Above all, it offers you one-year's full warranty.
Why we recommend it:
Weight holding capacity: 500 lbs
Can accommodate 1-3 persons
Size: 14'6"×37"
Adjustable footrest and seat
Ready-to-go design
You may also check: Top 10 Best Swimming Vests for Your Safety in 2023
3- SereneLife inflatable stand-up boat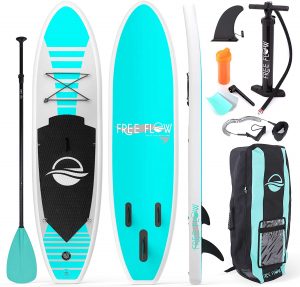 SereneLife inflatable stand-up boat is one step ahead than its competitors when it comes to innovative features. Unlike many others, it is a paddle kayak. Given the fact, operating this kayak is incredibly easy and requires no effort. Adding further, it is equipped with triple-bottom panel fins and a smooth handle that altogether ensure flawless paddling maneuverability and let you glide through the water as if you're a water creature itself.
The size of the kayak is 10'5ft long and 30 inches wide. Though it is such large in size, it is remarkably lightweight and incredibly portable. In fact, you can put it even in your car tank after folding. With the fact that it is a stand-up kayak, it is an ideal fit for adults and young people only.
Why we recommend it:
Stand-up operation
Portable and lightweight
Size: 10'5×30 ft
Weight holding capacity: 275lbs
Equipped with three-bottom panel fins
2- Intex 68310VM Dakota K2 2-person kayak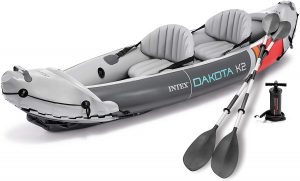 Intex 68310VM Dakota K2 2-person inflatable kayak is known for offering swift and quick movements in the water. Equipped with long as well as short skegs, this raft boat ensures great straight-line tracking and quick turns. To provide easy accessibility, the kayak is designed a grab line and easy-to-hold handles on the front as well as the back.
Speaking of the construction materials, the kayak has a sturdy I-beam floor and the tear-resistant vinyl body. Furthermore, the boat also features 2 adjustable as well as removable backrests and seats that can be adjusted or removed as per your needs. Not just that, but it is also designed with 3 gas chambers and robust Boston valves that simplify the inflation and deflation process. Moving on to the size, it is 10.25×3×1.6ft large and can hold up the weight up to 400 pounds.
Why we recommend it:
Weight capacity: 400 pounds
Size: 10.25×3×1.6ft
Vinyl construction
I-beam flooring
Lightweight and portable
1. Sea Eagle 330 Deluxe inflatable sport kayak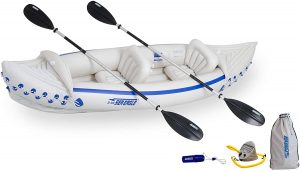 The mind-blowing user-friendliness, incredible features, and affordable price make this awesome inflatable kayak a loved choice of users. Despite its low price, the kayak is packed with highly advanced features. Having a large size, it offers you ample space for 2 people to sit comfortably. Its weight holding capacity is 500lbs, while it itself weighs just 26lbs.
To ensure cozy and comfortable experience during the kayaking, the kayak is equipped with 2 cushioned seats and footrests that can be adjusted according to your needs. Furthermore, it also 2 skegs that are meant to provide easy tracking and swift movements under the water. Not to forget, it also comes with a carry bag that lets you carry the kayak anywhere. Just fold it up and take wherever you want.
Why we recommend it:
Weight capacity: 500lbs
2 bottom skegs
2 removable seats
I-beam floor
Quick inflation and deflation
Key factors to consider while buying a 2-person inflatable kayak
These types of inflatable kayaks are not just a random purchase. To make your money worthwhile, you need to take a whole set of factors into the account prior to your purchase. Those vital factors are as follows:
Size
Start with the size. See how large your prospective 2-person inflatable kayak is and make sure it can easily accommodate 2 people. At the minimum, it should be 12ft long and 3ft wide. This much space would be enough for two people.
Construction materials
The next thing you need to consider is the construction materials of the kayak. There are different types of kayaks made of different materials available in the market. Among all, the ones having vinyl core body and I-beam flooring are considered the best, as they are sturdy as well as lightweight.
Weight holding capacity
The sturdier the kayak will be, the more weight holding capacity it will have. This is why be sure your inflatable kayak is sturdy and can hold at least 400lbs efficiently. That's is the minimum weight holding capacity of a good-quality 2-person inflatable kayak. If you can get a kayak with more weight capacity, that would be better.
Additional features
Before concluding your consideration, throw a glimpse at the additional features of the kayak. Check the valves, bottom pins, skegs, and numbers of chambers of the kayak. Besides that, also pay attention to the swiftness of inflation & deflation, portability, and accessibility of the kayak.
Conclusion
Get closer to the water and take the thrill of kayaking to new heights. The thrill of an adventure is doubled when you enjoy it with your friend or soul mate. Isn't it? Then, what is holding you? Just get one of these 2-person inflatable kayaks and add spices to your thrilling kayaking experience.
Last update on 2023-10-04 / Affiliate links / Images from Amazon Product Advertising API