How many trips do you make of the spiral binders' shop each month? All the commutes, money, and time spent waiting in the line; can be avoided if you purchase your own binding machine. A lot of people believe they don't need a spiral binding machine, and it is partially true. Not everyone needs it, but if you are someone who makes frequent stops at the binders' shop, then it's worth considering, especially if you deal with paper works all the time. The machines are easy to use, you won't struggle. We have prepared a list of top 10 spiral binding machines for all purposes.
List of the Top 10 Best Spiral Binding Machines in 2023
You may also need one of these Top 10 Best Heat Press Machines in 2023
1. Best Overall: Trubind Spiral Binding Machine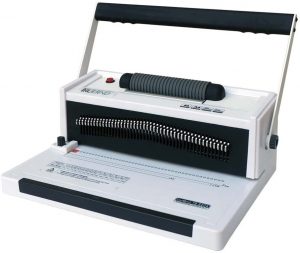 BRAND: TruBind
WARRANTY: Two years
DIMENSION: 18 x 15 x 10 inches
Trubind is a popular choice because it comes with an additional electric coil inserter that includes a crimping tool. It ensures you get professional-looking binds at the comfort of your home. It comes with margin adjustments that allow you to control where you want the holes punched in. The full handlebar and its sturdy grip allow you to punch through 20 sheets of paper at once.
The open throat design lets you bind papers which are larger than letter size. You can use whatever coil size is available in the market, and it's compatible with all sizes. The largest coil size for the electric coil inserter is 7/8 inches long. The warranty on this product is two years and is highly recommended for office usages.
Key Features
Comes with an electric coil inserter
Margin adjustments give you full control
Can punch through 20 papers at once, one-sided
Comes with an in-built crimping tool
Lightweight, easy to move around.
2. Cheapest Amongst All: Makeasy Spiral Binding Machine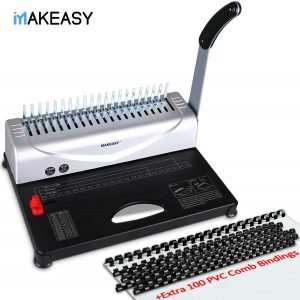 BRAND: MAKEASY
WARRANTY: not available
DIMENSIONS: 16.93 x 12.2 x 7.09 inches
Makeasy is known for its quick customer support and reliable products. This machine comes with 100 pcs of 3/8" black 21 ring comb binds. The blade is oiled so as to protect it from rusting, if you are worried about staining some important document then use oil removing papers that are always included with this tool.
The newly upgraded combs are suitable for A4 size papers (21 holes), letter size (19 holes), and A5 size (15 holes), so you never have to worry about whether the papers will fit or not. Its edge guide is 3mm to 5mm for pinpoint precise punching. The body is made up entirely of metal, unlike some of its peers, which makes it extremely durable. It's available in two colors: silver & black, both of which are quite sleek and powerful.
Key Features
Available in two different colors
Compatible with a lot of sizes, not just letter size
100 pieces of ⅜ inch 21 ring combing binds
3mm to 5mm pinpoint punching
Durable metal body
Can punch through laminated papers
3. Best Runner Up: Fellowes Binding Machine Pulsar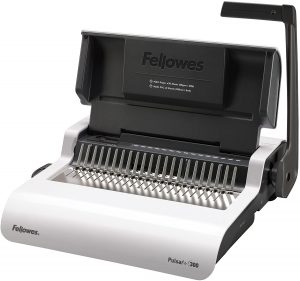 BRAND: Fellowes
WARRANTY: Two years
DIMENSIONS: 5.13 x 15.38 x 18.13 inches
Fellowes, as a brand, has been a reliable name for tools such as paper shredders and binders. This spiral binding machine can bind up to 300 pages of A4 size with a 1-1/2" comb. It comes with built-in comb tray storage with integrated document measuring for quick set-up. It can manually punch through 20 sheets at once. For accurate punch alignment, it loads papers vertically so that the holes are uniformly placed.
With a plastic body and gray color, the sleek design is beautiful. If you are trying to punch papers larger than A4 size, let's say 17 inches long, then folding them in half will do the trick. You need to be careful and really patient. The edge control lets you decide the spacing.
Key Features
Built-in comb tray storage
Integrated document measuring for easy setup
Sleek, gray design
Two-year warranty
Sturdy and from a reliable brand
Can bind up to 300 sheets of A4 size paper with a 1-1/2" comb
4. Best Value For Money: PPE Binding Machine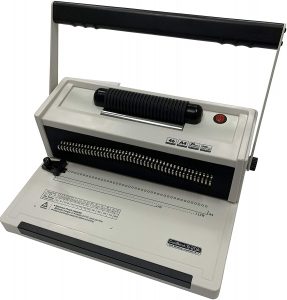 BRAND: PPE
WARRANTY: Not available
DIMENSION: 17.8 x 13.8 x 8.7 inches
The full handlebar allows two-sided punching as well as one-sided left/right punching. This spiral binding machine comes with a built-in electrical coil inserter and a crimping tool, which saves you from spending more money on essential add-ons. Maximum 20 sheets of paper (8g paper) can be punched at once.
The electrical coil inserter is located at the top for convenience. Its lightweight design makes it easy to use for official work as well as for casual use at home. PPE binding machine uses 4:1 pitch plastic binding coils that can be manually inserted into your document or by using the rapidly spinning electric coil roller given at the top of the tool.
Key Features
Uses a 4:1 plastic pitch binding coils
In-built crimping tool and electric coil inserter
Binds up booklets as thick as 2 inches
Allows double-sided punching.
Weighs about 18 pounds
Lightweight and portable
Also check Top 10 Best Laminator Machines in 2023
5. Best Under 70 Dollars: Fellowes Spiral Binding Machine Star+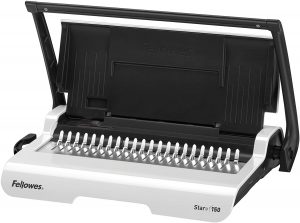 BRAND: Fellowes
WARRANTY: Two Years
DIMENSION: 3.1 x 17.7 x 9.8 inches
This particular model has five different sizes available in its range for you to choose according to your requirements. The design is sleek and easy to use. Manually, it can punch up to 15 sheets of paper and binds up to 150 sheets of paper with a 3/4 inch comb. The vertical document loader makes sure the alignment is accurate and uniform.
It comes with an adjustable edge control that gives you full control over where you want the document to be punched. The comb guide helps users choose the proper comb width. The plastic body is painted gray, which gives it an attractive look. Weighing about 9 pounds, it is designed for light-duty usage
Key Features
Gray sleek design
Can punch through 15 sheets of paper
Vertical loader ensures proper and accurate alignment of the document
Weighs about 9.7 pounds
Comes in five different sizes
Adjustable edge control
6. Most Portable: Ranzhix Spiral Binding Machine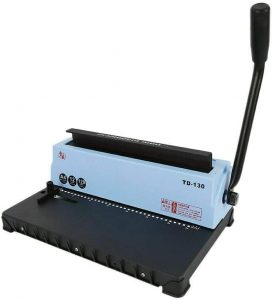 BRAND: Ranzhix
WARRANTY: Not available
DIMENSION: 11 x 10 x 9 inches
This is widely used for bookbinding in publishing houses, graphic stores, conference documents, and schools. If you are looking for a small machine which you will be able to carry around, then this is perfect. The metal body makes it sturdy, and the lightweight design makes it completely portable.
The machine comes with a carbon steel cutter, a 34 hole steel knife, and the perforated shape is circular. The adjustment knob is located on the left side. It has an electric coil inserter and an anti-slip sturdy gripping handle for easy usage. It can punch through 12 letter-sized papers at once with closed coils and has three different margin sizes.
Key Features
120 binding capacity
2.5mm, 3.5mm, and 4.5mm margin sizes
Electric coil inserter
Ring range is 4.8 to 14.3
Weighs 8 pounds, portable and easy to handle
Anti-slip gripping handle
7. Most Stylish Amongst All: Tianse Binding Machine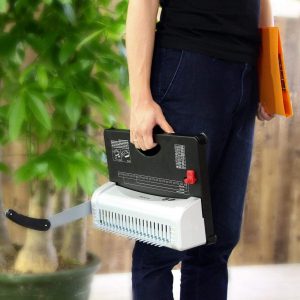 BRAND: TIANSE
WARRANTY: Two years
DIMENSION: 14.6 x 10.24 x 9.25 inches
Along with the two-year warranty, this product has a refundable policy. This spiral binding machine comes with 100 pieces of 3/8" 21 black ring PVC comb spines starter kit, which saves you a lot of money. With a binding capacity of 450 sheets, it can manually punch through 12 sheets of paper. It comes with a removable handle that helps in saving storage space. The customizable margin has 3mm, 4mm, and 5mm dials.
It is compatible with letter-sized, A4 sized and A5 sized papers. The lightweight and sleek design make it a powerful and widely recommended choice. The anti-rust paint protects the whole body from rusting. The handle is removable; you can remove it at any time if you don't want it.
Key Features
Refundable
Weighs only 6.6 pounds
Removable handle
Has a binding capacity of 450 sheets
Solid metal body
Anti-rust paint
8. The Most Sturdy One: Trubind Coil Binding Machine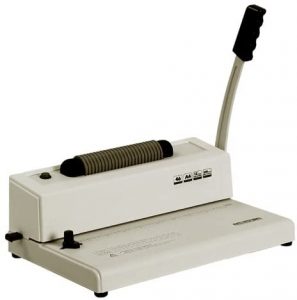 BRAND: TruBind
WARRANTY: one year
DIMENSIONS: 17.26 x 8.26 x 13.26 inches
Weighing about 15 pounds, the design of the binding machine is sturdy and powerful. A crimping tool and an electric coil inserter are included in this package, making it an enticing package. The coil binding machine inserts the coils electronically to save you from intensive labor. It can punch through construction papers without any issue, but you can punch only a few sheets at once.
As for normal standard-sized papers, this spiral binding machine can punch through 12 sheets. If you want a professional finishing on your booklet, then use the heavy-duty manual coil crimping pliers, which are included in it. If it malfunctions or doesn't meet your expectations, you can return it within one year of its manufacturing date. They also have a refund policy.
Key Features
Can punch through construction papers
Open throat model allows binding of large-sized papers
Works at the slightest pressure
Weighs 15.22 pounds
Depth margin allows you to punch holes wherever you want them.
Also check Top 10 Best Portable Color Printers In 2023
9. Best For Heavy-Duty Usage: Yowin Binding Machine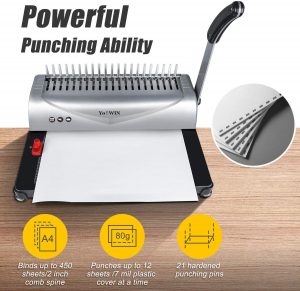 BRAND: YoWin
WARRANTY: Not available
DIMENSION: 16.93 x 12.2 x 7.1 inches
The package includes a free starter kit with 100 pieces of 3/8" 21-inch black plastic comb spine. The handle works at the slightest touch so you can handle it with a single hand. This spiral binding machine capacity is 450 sheets; at a time, it can punch through 12 sheets or 20lb of paper. The model is built while keeping mobile office work in mind; just grab the handle, which is provided in the middle section of the headboard.
You can contact the manufacturer for a video tutorial in case you can't figure out how to use it after purchase, but the tool is fairly easy to figure out. The manufacturers boast of having the best customer support system and claim to provide you with the help within 24 hours of your reporting an issue.
Key Features
Weighs about 8lb
Free starter kit of comb spines
Sturdy and easy to move
Friendly customer care unit
Has a binding capacity of 450 sheets
10. Best For Casual Use: Trubind Coil Spiral Binding Machine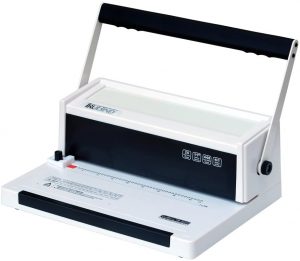 BRAND: TruBind
WARRANTY: Two years
DIMENSION: 17.25 x 8.25 x 13.25 inches
With this affordable binding tool, you can create professional-looking booklets and documents from the comfort of your home. It has a full handlebar that allows left-sided, right-sided, and double-sided punching. The open throat design helps you punch non-regular papers. A little pressure on the handle does the job.
The 4:1 pitch plastic coil is easy to insert into the booklets manually. This efficient, sleek model is versatile and can be used for casual as well as office work. The weight is 14 pounds and is easy to move around. As with most other products from this manufacturer, you will get two years of warranty after purchase. At a time, you can punch in 20 sheets of paper with this machine.
Key Features
Double-sided punching
Compatible with non-standard papers
Two years of warranty
Will punch through 20 sheets of paper at once
Coil crimping pliers included
Weighs about 14 pounds
Verdict
So ease up on your pocket by getting a spiral binding machine for yourself. The bundle work is actually easy and can be fun too. Whether you want one for office use or are a music instructor who'd like his music sheets to lie flat, the machine is never a bad investment. It's fairly useful if you are a student and helps you put together notes. The binding machine makes your documents look professional and keeps your personal booklets organized. Drafts such as tax files, brochures, business proposals, user manuals, planners, and notes can be created within a short amount of time if you have a binding machine nearby. Now that you know the importance of having one, we hope this list helps you make your mind about the perfect binding machine for your home or office.
Last update on 2023-10-04 / Affiliate links / Images from Amazon Product Advertising API