A single bowl kitchen sink can be a great option if you are looking for a functional and stylish sink while saving space at the same time. These sinks come in many different sizes, styles, and materials, making it easy to find the perfect one for your needs if your space can't accommodate the double bowl sinks. In this blog post, we will take a look at some of the best single bowl kitchen sinks on the market today. We will also discuss some of the benefits of using a single bowl sink in your kitchen. So, if you are considering purchasing a new kitchen sink, be sure to read on for some helpful information!
List of the 10 Best Single Bowl Kitchen Sinks in 2023
10- Kraus pro 32-inch Under Mount Single Bowl Kitchen Sink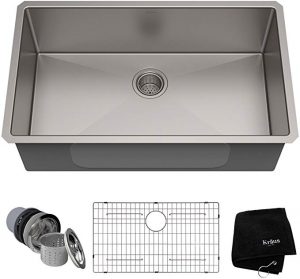 Whether you prioritize the construction or the size of a kitchen sink, Kraus single bowl kitchen sink won't let you down. With a sturdy steel construction and a large size of 32 inches, it can hold a large number of washing utensils including the big pans, skillets, and cookware without any problem. The drain-opening mount is 3.5 inches thick that quickly drains out the filthy water and avoids the mess. To minimize the annoying noise of utensils, it is inbuilt with noise defend soundproofing technology, which does its job perfectly. 
9- Kraus KWU110- 32 Single Bowl Steel Kitchen Sink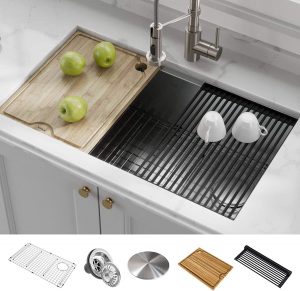 Kraus KWU110-32 single bowl steel kitchen sink is a stylish, pricey, and high-quality kitchen sink. Unlike its simple-featured counterparts, it is inbuilt with a ledge that allows you additional space across the sink to keep the washed utensils and save the space in your kitchen countertop. Being in a grid form, this ledge is a perfect fit for dish drying and rinsing the water from food items. With a large size of 32 inches, the sink is designed with tight radius corners and an offset drain, which together provide a hassle-free dishwashing experience. 
8- Kraus KGU-413B Single Bowl Granite Kitchen Sink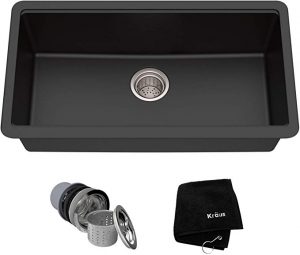 If you find steel sinks noisy and difficult-to-clean, look at Kraus KGU-413B  kitchen sink that is made of glossy granite. Owing to its solid construction materials, it is super sturdy, amazingly quiet, and incredibly easy to clean. Just with a flow of water, it will be all cleaned up leaving no stains and mess behind. Furthermore, it is naturally hygienic and resistant to dirt, heat, and stain. Having a large size of 33 inches and deep sidewalls, it provides huge workspace and prevents splashes coming out of the sink. 
7- Kindred Steel Utility Sink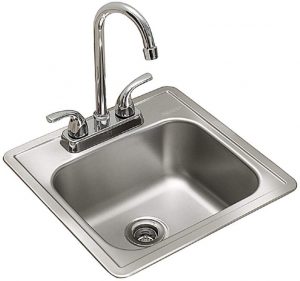 Kindred steel utility sink is a good fit for the people, who are looking for a small-sized yet top-notch single bowl kitchen sink. With a measurement of 10×12×6 inches, it provides you an uninterrupted workspace without taking much space in your kitchen countertop. To avoid the irritating noise while cleaning the dishes, it is inbuilt with an ultra-quiet and sound-deadening technology. Speaking of construction, the sink is made of sturdy steel with a chrome finish. Given the fact, it is super sturdy and incredibly durable. It is also designed with a proper space to let you install any kinds of faucets on it.
6- BOCCHI 1138-001-0120 Single-bowl Kitchen Sink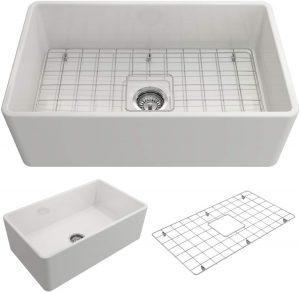 If you're not much fond of steel and granite single bowl kitchen sink, look at this BOCCHI kitchen sink that has a sturdy and organic fireclay construction. This 33 inches sink is capable enough to hold even your largest cookware. To your delight, the sink is completely stain-resistant as it has a non-porous surface. Adding more to that, it is also resistant to fading, scratching, and cracking. To further enhance the functionality, it comes with an additional bottom grid and a strainer. 
5- MENSARJOR Single-Bowl Kitchen Sink, 32×19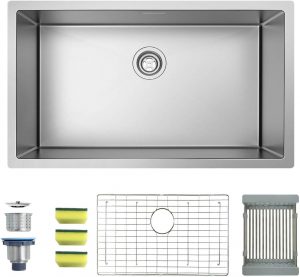 There are only a few steel-made single bowl kitchen sinks in the market that are super quiet, and MENSARJOR kitchen sink is one of them. To offer you quiet dishwashing experience, it is inbuilt with noise reduction rubberized pads and anti-condensation noise reduction coating, which together absorb the sound from the sink and offer you a noise-free operation. The remarkable thing about this kitchen sink is that it is designed with a sloped bottom that ensures easy drainage leaving no water behind in the bowl. 
4- Kraus Standard Pro 23-inch Under Mount Single-Bowl Kitchen Sink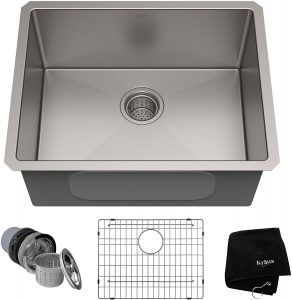 This 23-inches Kraus steel single bowl kitchen sink is a perfect fit for the people who need a medium-sized kitchen sink. Though it is made of steel, it ensures super-quiet operation as it is inbuilt with noise defending technology and sound-guard undercoating. If you're still concerned about the noise, let me tell you it also features extra-thick pads that cover the vital areas of the sink and minimize the noise. Furthermore, it is designed with a slightly tilted bottom that quickly drains out the water. 
3- MENSARJOR Single-Bowl Kitchen Sink, 30×18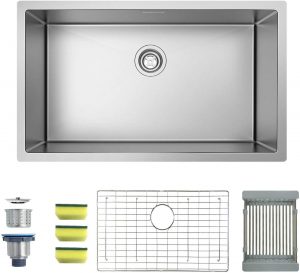 Another single bowl kitchen sink by MENSARJOR. Made of robust steel, it is remarkably durable, scratch-resistant, easy-to-clean, and capable enough to hold heavy cookware. Unlike other steel kitchen sinks, it is also ultra-quiet. The reason being, it is designed with noise reduction rubberized pads and a noise reduction coating that both minimize the noise to a great extent. Furthermore, its 'X' grooves design with a tilted bottom doesn't only provide some additional space but also easy and smooth drainage preventing water standing in the bowl. 
You may also like: Top 10 Best Silverware Holders for Kitchen in 2023
2- Friho Steel Kitchen Sink, 33×22 Inches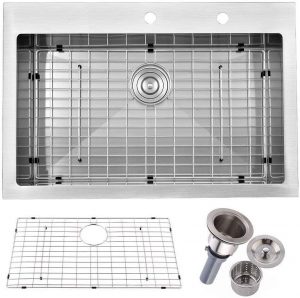 If your main focus is on the solid construction of a kitchen sink, hands down, Friho single bowl kitchen sink is designed for you. Made of extra-thick 18-gauge steel, it is not only robust but also incredibly long-lasting. To ensure quiet and noise-free operation, it is inbuilt with a sound barrier & sound-absorbing technology, which does its job perfectly and provides you a quiet dishwashing experience. Furthermore, it is equipped with rubberized dampening pads and stone guard undercoating that further minimize the noise.
1- Ruvati 33-inch Kitchen Sink Steel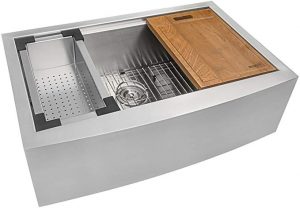 Ruvati 33-inch steel kitchen sink is a universal kitchen sink that can be used in any workstation and farmhouse other than just the kitchen. Unlike others, it is equipped with a bundle of accessories including a wooden cutting board, roll-up rack, and a deep-walled steel colander, which provide you additional space and enhance the functionality too. Furthermore, it is designed with thick rubber padding and solid sound guard undercoating in order to reduce the noise. To prevent the water standing in the bowl, it is inbuilt with a sloped bottom. 
Key factors to consider when buying a single bowl kitchen sink
With that fact that single bowl kitchen sinks are the essential kitchen appliances, you will find multitudes of them in the market. Just don't fall for any random one. Make sure to consider the below-mentioned factors before buying the one. 
Start off your consideration with the size of your single bowl kitchen sink. Though the big-sized kitchen sinks of 32-inches are considered good as they provide ample workspace, the size of a good kitchen sink differs from person to person. What fits in best in your kitchen space might not be a good fit for other people and vice versa. So, don't follow the folk in this factor. Just go with the one that is suitable for you. 
The next vital factor that must be brought into your notice while buying this type of kitchen sink is the construction material of the same. These sinks are made of a variety of materials including copper, steel, granite, cast iron, fireclay, and natural stone. They all have their uniqueness to impress the users, and neither of them can be said superior over the other one. 
The thing that puts them apart from each other is their alluring design and price. Like, steel kitchen sinks are simple in design but affordable in price. On the other hand, granite and fireclay sinks are elegant but pricey. Given the fact, consider this factor carefully. 
With style, here we don't mean a modish or a simple single bowl kitchen sink. Instead, we're talking about the different varieties of sinks. There are different types of sink available in the market such as drop-in, under-mount, and wall-mount. They are different in their mounting methods.
For instance, drop-in sinks require a pre-cut hole in your kitchen countertop, while the under-mount sinks are mounted to the undersurface of the countertop. And, the wall-mount ones are mounted simply on the kitchen wall. So, look into this thing cautiously and buy the one that is best suited to your kitchen space.
Imagine, how irksome it would be to wash your dishes in a sink that produces an irritating bumping sound every time you put a vessel. Really annoying, no? This is why, buy kitchen sink that is inbuilt with sound reduction technology, noise guard coating, and sound minimizing rubber pads. If your prospective sink is not efficient with the noise, just drop it out of your head. Else, you'll have a headache each time you'll clean the dishes.
Conclusion
Keeping your kitchen cleaned is not a big issue if you have a kitchen sink. This is why buy one of these single bowl kitchen sinks and make your kitchen tidy as well as alluring. Their contemporary design coupled with a sturdy construction will seamlessly blend in with your kitchen décor. 
Last update on 2023-10-04 / Affiliate links / Images from Amazon Product Advertising API