No matter how expensive a car is, it needs good maintenance and care all the time. Else, the excessive heat, cold, and rain won't take much time to make your luxurious car just another piece of garbage. So, if you really want your favorite car to be with you for years, invest in a good car tent or car umbrella, which protects it from all environmental havocs and boosts its overall durability. 
Considering the availability of umpteen numbers of car umbrellas in the market, finding the right one might be a bit challenge for you. Isn't it? Well, worry not. Here, we have put together the top 6 best car tents or car umbrellas in 2023 for you. Check them out below!
Key factors to consider before buying the car tent or car umbrella
Materials: make sure the materials use to produce the car tent is anti-UV, anti-snow, and anti-dust.
Size: check out your car's size and the car umbrella's dimension if it fits in. There are a full and not-full coverage size. So, make a wise choice for your car.
Functionalities: do you want the umbrella just for your car or for outdoor activities as well? Well, some canopies can be used for both.
Weight: Does weight of the car tent matter to you? If you can't handle heavy weight, then select the lighter one.
List of the 6 Best Car Umbrellas | Car Tents for Protecting Your Car in 2023
6- Reliancer Car Tent Semi-automatic Umbrella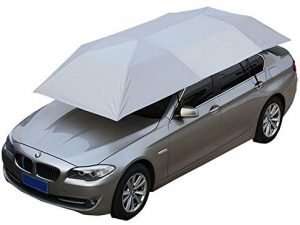 Reliancer car umbrella is one among the best tents for car protection that you can rely on. From its high-quality construction materials to mind-blowing features, it never lets its users down in any way. Made of premium polyester with a silver coating, it makes sure to prevent UV rays up to 99%. Thus, it reduces the interior temperature in summers and keeps your car cool regardless of blazing heat outside. Moreover, it is also completely waterproof. Given the fact, it can withstands the heavy rain and light snowfall, too. However, it is not recommended to use the car tent in the extremely bad weather such as strong wind, storm, hail!
Talking about the designed material, the car umbrella by Reliancer is also made in combination with fiberglass holders, steel wire, hooks, and soft rubber-made suction cups in order to make it fit perfectly and securely in the car. It only takes a breeze to install in on your car, like 30 seconds if you are quick.
Key specifications/features:
For all-season car protection against UV, snow, frost, bird drops, tree leaves and rain.
High quality materials: Oxford canvas with fiberglass holders and plastic connector.
Portable and easy to operate.
Fit various types of cars with size open: 86.62″ x 157.48″
Can add triangular bracket to use for outdoor BBQ, pinic and so on.
Weight only 14.33lbs or 6.5kg
5- Jolitac Car Tent Semi-automatic, Portable Car Umbrella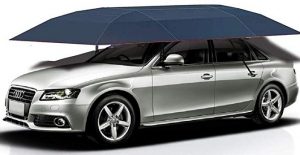 As the name suggests, Jolitac car tent is a portable umbrella. You can carry it even in your hands wherever you want. It has a weight of 14.3lbs and length of 34.25 inches. To your surprise, it is also very easy to install in the car. The installation process even takes less than 30 seconds if you are act quick enough. The car umbrella by Jolitac is made of high-quality polyester materials with a rich silver coating, making it waterproof car protector, anti-snow, dust-proof, anti-UV and more. The umbrella can efficiently withstand every weather condition and protect your car from the damage.
To ensure the maximum security and coverage, it is designed to with sturdy steel ropes and hooks, which are meant to secure the canopy firmly in the car. The structure design of the tent also makes possible stand against heavy windy weather, but not extreme storm.
Key specifications/features:
Protect cars in all seasons with anti-dust function.
High quality materials.
Portable and easy to operate.
Fit various types of cars with dimension of 34″ x 10.6″ x 7″
Can use for both car protection and outdoor activities.
Weight only 13.15lbs
4- Rooftop Car Tent by Artpixel, an Automatic Semi-auto Manual Folded Car Umbrella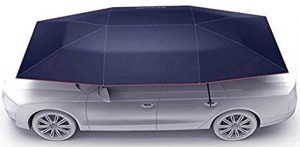 Artpixel Rooftop tent is another name of security for your car. With a stylish design and impressive features, it never fails to impress its users. Its foldable and portable design doesn't only ensure easy storage but also makes it easier for you to carry it anywhere you want. Made of high-quality plastic, oxford cloth, and fiberglass, it provides reliable protection against the sun heat, snow, rain, dust, and other such elements.
Unlike many other car umbrellas, it is designed in 'Y' shape, which ensures firm stability and strong wind resistance. To ensure further stability, it is designed with 6 sturdy windproof straps and hooks in all corners. You just need to secure them properly. The installation process of this car tent is quick and easy. Simply push and pull to fold and unfold as per your needs.
Key specifications/features:
Built for all-season car protection.
High quality materials.
Portable and easy to operate.
Fit many types of cars: 177.2″ x 90.5″ x 19.7″ in dimension
Can use for both car protection and outdoor activities.
Weight only 12.5lbs
3- Portable Car Protection, Car Tent by Etetata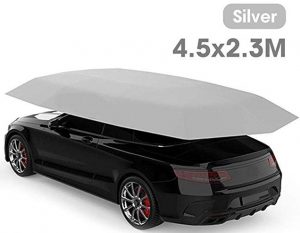 Etetata portable car protection tent is a budget-friendly option for you if you're running low in budget but your car urgently needs a UV protection umbrella to stand above it. Though it is low in price, it is powerful enough to protect your car from water, dust, UV rays, acid rain, and toxic gases. What makes it endure such extreme havoc of weather is its high-quality construction materials of oxford cloth and polyester. In fact, its silver-plated polyester effectively blocks UV rays up to 99% and keeps the interior temperature of your car cool and comfortable. 
Considering its impressive features and sturdy construction materials, it can efficiently be used outside even in windy weather. The good thing about this car umbrella is that it is incredibly easy to install. There are no straps, no hooks, and no buckles. 
Key specifications/features:
Built for car protection in all seasons.
High quality materials use.
Portable and easy to install and operate.
177.17*90.55 in in size to fit with various cars.
For for car protection and activities outdoor.
Related: The 10 Best Car Tissue Holders to Keep Your Car Neat and Organized
2- LANMODO Pro Semi-auto Car Tent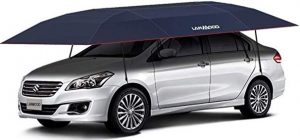 If you are looking for a car umbrella which can provide a complete coverage for your car, this is where LANMODO car tent comes in. Built with a larger size from other car umbrellas,  the LANMODO Pro has an ultra-stylish design to provides large coverage and protects your car completely from sunlight, bird droppings, tree leaves and snow. With its special features, it acts as a remarkable sunshade in summers, protecting your car entirely from the sun damage. Not only this, but its big design also makes it a reliable canopy for winters as well as the rainy season. 
Though it is bulgy in design, it remains in its place even in heavy windy weather. The reason is its strong suction base and 8 adjustable windproof ropes that make the tent sit firmly on the car roof. 
Key specifications/features:
Built in larger size and quality materials to protect many car sizes.
For car protection in all seasons.
Portable and easy to install and operate.
Dimension: 33.5 x 9.5 x 8.2 in.
Weight: 18lbs.
1- Dream House Car Sunshade Tent, A Movable and Portable Car Protection Umbrella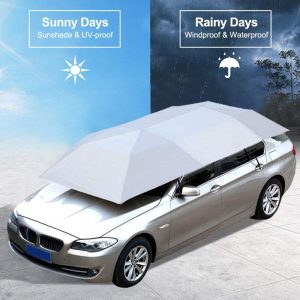 Dream House car sunshade tent is the final truly a dream house for your car in our list. Made of 100% polyester with a silver coating, it can protect your car all year round. In summers, it blocks UV rays up to 99% and ensures a cool internal temperature. Furthermore, it also works as a wonderful car canopy in winters as well as the rainy weather. Being waterproof, it effectively withstands heavy rain, snowfall, and even wind.
To make it stable in its place, it is designed with 4 strong adjustable ropes and hooks in all four corners. Even after this, if you're still concerned about its stability, you can use fiberglass holders and rubber suction cups, which will also prevent any possible damage to your car's paint. But, not recommend to use against storm, hail and extremely bad weather, ok? Nothing can withstand against the the anger of mother nature. So does out car tent! 
Key specifications/features:
High quality materials: combined Oxford canvas with fiberglass holders, and plastic connector.
For all seasons protection.
Portable and hassle-free installation process.
Dimension: W86.61″ x L 157.48″
Weight: 13.33lbs.
Conclusion
Get one of these quality-packed car umbrellas and keep your car away from the damage. Be it a hot, snowy, or rainy day, these portable car canopies will effectively protect your car and offer you peace of mind.
Last update on 2023-10-04 / Affiliate links / Images from Amazon Product Advertising API