An overbed table is generally seen used in hospitals. However, gradually, they are making their way to the household as well. These tables are set just next to the bed in order to provide you a good workspace and easy accessibility to your belongings while you're on the bed. They are the perfect fit for the people, who can't skip working even after having some physical disabilities, certain health conditions, or they are just too lazy to get up and walk to their working room. If you're also one of these people, invest in a good-quality overbed table. Our team has done the researched into the product and have picked up the 10 best overbed tables from the market for you as follows:
List of the 10 Best Overbed Tables for Your Working in 2020
10- Vaunn Medical Adjustable Overbed Bedside Table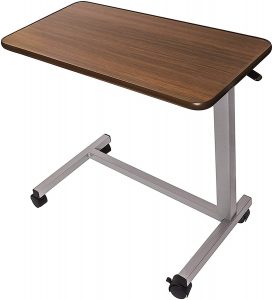 Vaunn medical adjustable overbed table is a combo of stylish design and sturdy construction. Made of robust steel with a glossy chrome finish, it can bear the weight up to 50lbs. The tabletop is made of walnut wood and has rounded corners that avoid the damage. Furthermore, it is designed with a spring-loaded locking handle, which allows you the flexibility to adjust the height of the table from 28 to 40 inches. To ensure you easy portability and mobility, it is designed with 2 roller casters.
9- Silver Spring SDL102 Adjustable Overbed Tables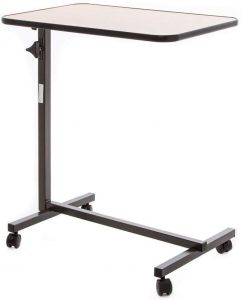 If you want your meals, drinks, laptop, mobile, documents, and other necessary belongings in your bed itself, Silver Spring SDL102 overbed table deserves your attention. Its sturdy steel frame with a laminated tabletop makes sure to accommodate everything flawlessly. You can adjust its height from 28- 43 inches and tilt it in any direction depending on your needs. The remarkable thing about this overbed table is that its 'H' shapes design allows you the freedom to slide it under the bed to save the space in your room.
8- Drive Medical Non-Tilt Top Table Overbed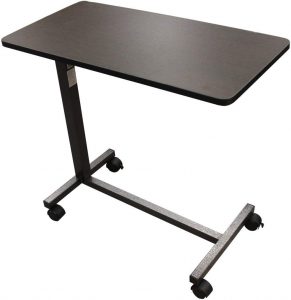 Drive Medical non-tilt overbed table is a stylish table with a large weight holding capacity of 40lbs. The table size is completely adjustable. It can be raised or lowered from 28-45 inches just by pushing the height adjustment handle slightly upward. Given the fact, it can meet the needs of people of all ages. After making height adjustment, lock the tabletop in its place and then you're ready to go. Furthermore, it is designed with 2 swivel casters that make it easy for you to take the table from one place to another.
Anyway, if you are planning to get this kind of table at home and think this one is too small for you, then you can consider the overbed rolling table instead. It is larger, more desktop, more flexibility and more convenient to use. The large overbed rolling table can even be used for two persons if you are a living couple.
7- Invacare Overbed Tables for Patients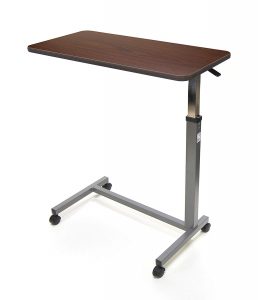 Invacare overbed table is here to take care of your health by providing you easy accessibility to your necessities from your bed itself. Having a robust steel frame and solid walnut tabletop, it can hold a good amount of weight efficiently. Owing to its construction, it is also super durable and sturdy. Furthermore, the height can be customized between 28-40 inches with the help of its spring-loaded locking handle. Just slightly push it upward or downward and the table will reach your desired height.
Also check: The 12 Best L-Shaped Desks for Your Pick in 2020
6- Vaunn Medical Deluxe Adjustable Table Overbed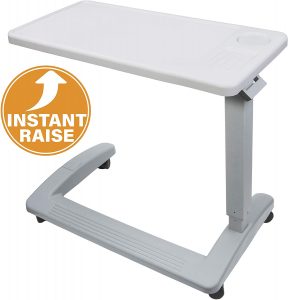 Vaunn medical deluxe overbed table is a versatile and robust table that keeps your almost all essentials within your bed reach. From your meals to drinks and books to gadgets, everything is handy when this Vaunn table is with you. Its sturdy steel construction covered with a protective layer of polypropylene ensures a huge weight holding capacity as well as long durability. Furthermore, its lever handle also allows you the freedom to adjust the table height from 28 to 42 inches as required.
5- Vaunn Medical Adjustable Tilt Overbed Bedside Table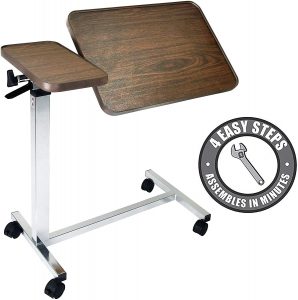 If you want your overbed table to tilt in any direction, this Vaunn medical table is made for you. Unlike many other overbed tables, its top surface is divided into two parts, which allow you dual-tilt functionality. Given the fact, you can tilt the table in either direction, that too enjoying the utmost comfort. You can achieve this function simply with the help of its controlling handle. Adding more to that, the height can also be adjusted between 29- 41 inches. Speaking of weight holding capacity, it can hold up to 45 lbs.
4- Vive Overbed Table XL, Hospital Bed Table – Swivel Wheel Rolling Tray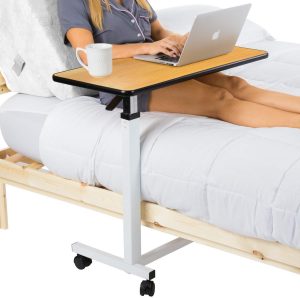 From construction materials to user-friendliness, Vive overbed table is one-of-a-kind. Unlike its competitors, it can efficiently be used with a sofa, recliner, or wheelchair other than just the bed. You just need to adjust the height from 28 to 39 inches according to your needs. Simply press the adjustment lever to upward or downward and the table will reach the optimal height and position. Speaking of construction, it is made of a sturdy steel frame and has a wooden top, which together make the table capable enough to hold the weight up to 50 pounds.
3- Carex Overbed Table | Flat Rolling Bed Table with Adjustable Height For Home Use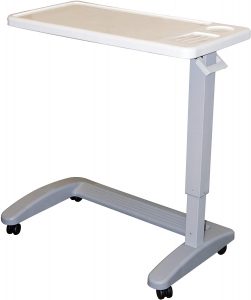 Carex overbed table is a good fit for the people who are looking for a small-sized table. Despite its small size, it is capable enough to accommodate the weight up to 50 lbs and height adjustment range of 28 to 42 inches. With a sturdy and chic polypropylene top surface, the table allows you the freedom to use it for different purposes with ease. Furthermore, its 'C' shaped design ensures you closer and better access to the table. Moreover, the table is easy to move around as it features 4 swivel casters.
2- Medical Deluxe Tiltable Overbed Bedside Table by Vaunn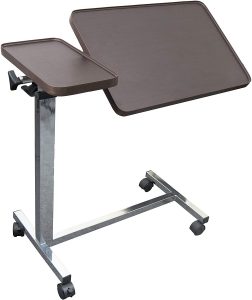 Another remarkable overbed table by Vaunn on this list that has a weight holding capacity of 50lbs. From dining to working, this overbed table can be used for a number of activities. The best thing about this table is that it is designed with a two-parted top surface, which allows you the freedom to use the table for two different purposes at the same time. In addition to that, it is also inbuilt with a dual-tilt function, which makes the table to tilt in any direction. The height can also be customized from 28-47 inches.
1- Invacare Overbed Table with Tilt Top and Adjustable Height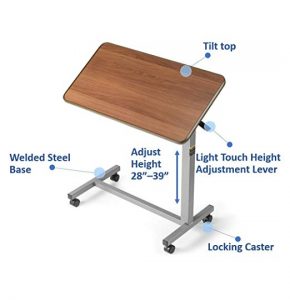 This elegant, versatile, and feature-packed overbed table truly deserves to be on top. Having a sturdy steel frame and wooden top surface, it is capable enough to hold a good amount of weight. Furthermore, it is inbuilt with a flexible top surface that can be tilted in 3 different directions with the help of its tilt-release lever. Other than the tilting, you can also adjust the height of the top surface from 28-40 inches. Adding more to that, the tabletop has also molded rounded corners that prevent it from damage. Furthermore, it also features 4 wheels, which ensure smooth mobility and easy portability.
Key Factors to Consider when Buying an Overbed Table
If you think buying an overbed table is just like buying any other table, let me tell you that you're wrong. The reason being, this table is meant for a different purpose, so it is designed differently. Given that, it needs a deep consideration in certain factors, which are:
Tabletop dimensions
The first thing you should consider while buying your overbed table is the size of the table. For instance, if you're buying it for a kid, you would need a small table. On the other hand, you would need a big table with a large top surface if you're buying it for a person who has lots of work to do.  So, be clear with your needs and look for the one accordingly. Generally, the overbed tables with a long surface of 24-30 inches are considered the best as they can accommodate several things together.
Construction
Next, pay attention to the construction material of the table. In general, overbed tables are meant to hold some heavy and sensitive stuff like laptops. Given that, they have to be solid enough to withstand any type of weight flawlessly. Though there are different types of overbed tables available in the market, the overbed tables with a steel frame and wooden top surface are the first choices of users. So, you too go for the combo of steel and wooden if you want your overbed table to be efficient with its job.
Height adjustability
Another critical factor that needs your attention. All overbed tables are adjustable with their height, as people need to change it regularly. Here, the thing that you should investigate is the height range of the table. Generally, the top-notch overbed tables allow the height adjustability between 28-40 inches providing you the most suitable height depending on your needs. So, pay close attention to the height adjustability of your prospective overbed table.
Tilt function
A person, who is in the bed, can't sit straightly for too long. Considering the fact, your overbed table must have the tilting ability so that it can be set in different angles allowing your body full comfort without disturbing your activity. Not all overbed tables are equipped with this feature. Usually, you will get tilting feature only in top-quality overbed tables that can be tilted in 2-3 directions. An overbed table with only a flat surface is simply not worth buying.
Frequently Asked Questions
What is the best overbed table?
An overbed table is furniture designed especially for serving patients in the hospital. The best overbed table is the one designed with the tilting top and the adjustable height in order to best serving meals and medicines for the patients. More than that, the table can also be use for placing the laptop for working as well. So, if you have issue with your back, you can also have one at home so that you can work more comfortably in your bed.
What can an overbed table be used for?
Actually, the overbed table can be used for various purposes. Normally, the doctors use the table for the medicine and meals placement for patients. On the other hand, the patients usually use the table to place book to read or place laptop to do their work as well. However, the overbed table is not limited to hospital use. It can also be used at home, in the dorm and in the hotel as well. So, it has many advantages depending on your needs.
Conclusion
Don't let your daily routine be affected or your work spirit die just because you're not well and has been recommended for bed rest. Simply get one of these multi-functional overbed tables and make the things go smoothly. These tables will not only keep your essentials within your bed reach but also allow you a complete workspace.